Mariaflora Lehec (nee Papapanagiotou) has been interested in fashion from a very young age, coming from a home where both her mother and grandmother had sewn their own clothes. After leaving school she got into styling and briefly worked for acclaimed Greek magazines, before making the decision to move to London and study fashion at Central Saint Martins.
Upon graduating she worked alongside some of Britain's leading fashion designers, including Rafael Lopez and Alexander McQueen. She worked next to Christopher Kane as his assistant and head of studio, before returning to Athens to establish her award-winning blog Miss-Athenes. Before getting involved with the creation of SOMF (ΣΟΜΦ) clothing she admits she hadn't found her identity as a designer, despite a decade in one of the world's most creatively vibrant capitals. The return to Athens and being around her friends during times of hardship was the inspiration boost Mariaflora needed. Instead of being held back by the crisis she seems to be constantly pushing through.
"It may sound too romantic, but I really love what I do," she tells Neos Kosmos.
"SOMF is a big creative outlet for me and let's just say, I was never into this for the money in the first place. I am determined to live off my dream and make it work, for as long as I enjoy it."
Her first collection focused on simple, easy to wear pieces with tattoo-style illustrations prevailing. Sheer tops and leggings featuring occult and ancient-Greece inspired prints have set her label apart, formulating a very distinct identity. Later on, she added leather and other fabric laser cuts, silk-screen and digital prints while producing two collections per year.
Mariaflora has just launched her Winter 2017 collection, which again features the Α and Ω including many elements from the Athenian daily life. SOMF has its own hashtag on Instagram, #somfettes, which has gained a significant following as more young women around the world are discovering Mariaflora's clothing, with Somfclothing.com delivering to most countries.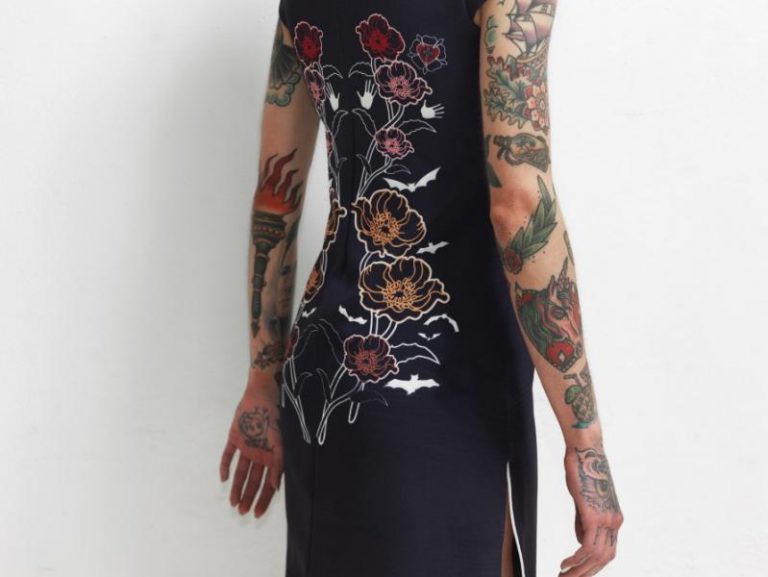 What inspires you the most?
Music. That divine power that appears out of it and creates fantastical worlds into one's mind.
What materials and techniques do you use?
I love embellishment of any kind, on simple silhouettes. I use a lot of digital prints and laser cut-outs to create lace patterns, but I also love traditional techniques such as screen print or embroidery. I try to work mostly with fabrics that have a slight stretch, I hate the battle of comfort against slim fit. Why can't one have both?
Is there another fashion designer whose work you admire?
Christopher Kane will always remain my biggest influence and role model, he is a true talent and never seizes to amaze me with his ingenuity.
What does the term 'somfette' stand for?
'Somfettes' is a gang of like-minded individuals of all ages, that share a passion for SOMF, adventure and fun-loving mischief. They are my real muses, I look at them and their lust for life for inspiration. They manifest their anger and joy with hugs, pranks and tear-smeared mascara selfies. They are recognised by their staple tattoo leggings, their laser-cut mini skirts and tongue-in-cheek prints and have been known to cast spells of success and love.
Have any influencers worn your clothes?
The biggest influencers so far have been the most loyal somfettes, and most of them are just next door wonder-girls, some with a celebrity status but most often, just special people with a devoted local following. A lot of them are showing some love at #somfettes
What is your motto?
It's a Greek one, that came via my mother. Το μάτι δειλό, μα το χέρι τολμηρό. I am too shy to translate in accuracy.
Photo: Constantinos Caravatellis; Somfette: Jen Jenny; Beauty: Sophia Kossada
What can we expect from your new collection?
Psychic Society is about the mystical powers that join the female consciousness.
Where do you see SOMF two years from now? Do you dream big?
Hopefully with a stronger e-commerce platform. At the minute all my thoughts are very digital-related. I often just focus on smaller targets and hope to make them organically grow into dreams. I like to think of myself as a pragmatic dreamer. I'm also hoping for a unisex identity to the brand to be honest. I feel that, more than ever, we all just need to add a few sizes and get rid of some labels and am hoping to do that on some products soon.
For more go to www.somf.gr