Costa A prefers to remain anonymous. Not only because he has a day job (a career in "teaching", as he vaguely says), that he wants to keep separated from his work as a political cartoonist, but also because this way, he lets his cartoons do all the talking.
And they do. Regularly featured in the New Matilda website − an outlet for left-leaning opinion and reporting − his work helps make sense of the current Australian political climate, with humour and clarity. Clarity is the key word here, as it is his signature style: clear lines, simple structures condensing powerful and complex messages in a very creative use of the medium. And yet, Costa did not start as a cartoonist.
"I wasn't into comics as much as I was into animation," he remembers.
"I did two animated short films, one of them made it to Tropfest (short film festival) in 2004, it did quite well and became a music video for (record company) Ministry of Sound, but animation is hard, it is a really hellish process. I found it too exhausting. I was 20 at the time and I wanted to stay creative and I was shifting towards cartoons more and getting interested in politics more, so the two kind of merged together. I wanted to express my thoughts on politics and I had an ability in illustration, so political cartoons made sense to me. You're trying to crystallise an idea, find the perfect visual metaphor. I feel that some of my comics are failures, if they are not condensed enough, if they are too wordy."
This description is accurate, given that Costa uses his comics to address the issues and causes that are important to him.
"It's not just an artistic expression but also a political expression, for me," he says. "When I get really upset about something, or when I feel that people need understanding, I use my comics, I try to do something useful with this skill I've got.
"A lot of his comics deal with the plight of the refugees, or climate change.
"We're at a critical decade for this issue, and it weaves in with a lot of other issues. Embracing green energy means creating jobs in engineering and innovation and helping farmers, it is a win-win kind of thing." He does sound like a teacher and he agrees that there are parallels in these two paths. "In both cases, you try to take complex ideas and make them understandable."
One of the causes dear to him is drawing attention to "things like the Freedom of Information Commission, which is horribly defunded by George Brandis and no-one is paying attention to it. Or legal aid; I've made more comics on that than probably anyone ever has," he laughs.
What is it about legal aid that he wants to tell the world? "Community legal services have been constantly underfunded for quite a long time; they're regarded as a luxury, while in fact they're a matter of life and death," he explains.
"There are cases when access to a lawyer is no different than access to a doctor. If poor people can't get access to lawyers that means that they can't deal with issues like domestic violence, or accidents. Sometimes they end up homeless, or in prison, or in welfare, so the cost for the community is actually much higher."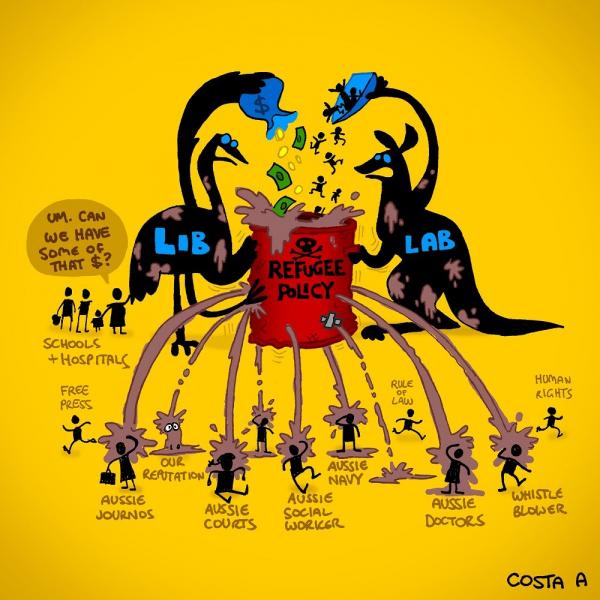 Anyone who is interested in seeing cartoons about legal aid, climate change, the failure of Australian politics, should look at the websites that host Costa A's work such as New Matilda, the Vocal, or SameSame (which features news and stories about the LGBTI community); but his main platform is Facebook.
"Social media is the perfect platform for me," he says. "I'm a big defender of social media; it has problems, like a lot of shouting, which makes things more confusing, but ultimately it is more democratic, people are having a conversation. When Julia Gillard gave her big misogyny speech, the mainstream media dismissed it as no big deal and moved on. Then social media exploded about how extraordinary that speech was and it travelled around the world and now it is analysed. And it is not that there are so many great Australian speeches that resonate with people. It was a rare example and it would have been lost forever if not for social media."