Alec Leos and James Kerlidis had big grins on their faces come Monday morning when they received their ATAR results, and rightly so, having achieved a perfect score of 99.95, joining 0.05 per cent of VCE high achievers.
They join 33 other students across Victoria, five of whom are from Penleigh and Essendon Grammar School and another five from Haileybury, which ranked best in this year's VCE exams, while Alexandra Liacos from Girton Grammar School received 99.55.
Surprised by his score, Alec says he has yet to decide exactly which course he will be pursuing, but has his heart set on the biomedical field at Melbourne University, which has already offered him a scholarship.
But his secret to success is simpler than you'd think, and a philosophy that others would be wise to take on board.
"I chose classes that I liked," Alec told Neos Kosmos.
"That's why I was always committed, because despite the difficulties and fatigue, I loved what I did."
Aside from that, he is thankful for "the support and guidance I received from my parents", which he says played a vital role, namely his mother, who took the year off work to be by his side.
But it is his late grandfather to whom he says he owes his current success. Having migrated to Australia from Arcadia in 1955, where he worked hard to build a life for himself and his family, it is his perseverance and spirit that are a constant source of inspiration for the teenager.
"The story of his life taught me a lot. I have no idols, but hopefully inherited endurance and perseverance," he said.
Meanwhile, the Greek Language Community's (GLC) evening schools had a successful year, with Theofano Tsentikopoulou achieving the highest study score in Modern Greek with 49.
The year 11 student at Balwyn High moved to Melbourne from Greece a year and a half ago, and decided to complete her VCE Greek a year earlier.
Making her family and teachers proud, her father Nick told Neos Kosmos his daughter is a dedicated student and looking to study architecture.
Joining Theofano were fellow GLC high achievers Eleni Ioannou with 47, Despina Haidemenos 46, Harrison Giavris 41, and Erini Kallergis with 40.
The GLC also boasted the top three achievers in Classical Greek, Jason Wong taking out the top spot with 38, Karyakos Douros 37 and George Gabriel 36.
"Apart from these excellent students, noteworthy high scores were achieved by other students as well, which shows the quality of our teaching program, the highly-qualified teaching staff, the nature of the pedagogical approach and diligence of the students of our schools," said Mr Manos Tzimpragos, principal of the GLC schools.
Oakleigh Grammar also had a record year, with more than a third of the student cohort achieving an ATAR over 80.
Dux for 2016 was school captain Michaela Takos, who is looking to pursue studies in biomedicine, and was joined in the top three by fellow Monash scholars Phillipos Kormos and Perry Katapodis.
Dimitris Antonopouolos, Christina Katatriori and Erini Souli were the school's high achievers in Modern Greek, received a score over 40.
At Alphington Grammar the highest ATAR was achieved by Shawn Lin with a score of 98.15, followed closely by five students.
Forty-nine per cent of the participating student body achieved an ATAR of 80 and above, with a considerable number of students receiving scores of 40 plus in subjects including Modern Greek, English, history, and maths (further, specialist and methods) among others.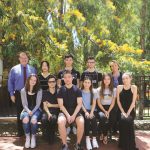 St John's College also had one of its most successful years, with 75 per cent receiving a score of 80 and above, the school dux Mihir Pradhan achieving a close to perfect ATAR of 95.75, followed by Zois Stavrakas with 90.85.
This year a record number of Victorian students completed their VCE, totalling 49,765 with 14,649 achieving a study score of 40 or more in a subject.
On Monday, Minister for Education James Merlino met students at Maribyrnong College to congratulate them on completing their VCE and to discuss their plans for the future.
"Completing VCE is a significant achievement and I congratulate all of our Year 12 students − you should be very proud of what you have achieved," said Mr Merlino.
"Parents and teachers play a big part in supporting Year 12 students through their VCE and I thank the families and schools for the encouragement they've given students throughout this year."
While many students will seek a place at a university, Mr Merlino urged students to remember that there are other options as well, including TAFE, apprenticeships, traineeships or employment.
"If you didn't get the results you wanted, seek advice from your school and remember there are many pathways to success in life," he said.
High achievers of Modern Greek*:
Tsentikopoulou Theofano (49) Greek Orthodox Community of Melbourne and Victoria (GOCMV); Ioannou Eleni (47) GOCMV; Saltas Kontastantinos (46) South Oakleigh Secondary College; Kouklatzi Chrysoula (44) St John's Greek Orthodox College; Laladakis Konstantinos (44) Northcote High School; Paloukas-Lappas Zacharias (43) VSL – Box Hill/Blackburn/Doncaster; Souli Eirini (43) Oakleigh Grammar; Antonopoulos Dimitris (42) Oakleigh Grammar; Baoustanos Lydia (42) Alphington Grammar School; Georgiou Maria (42) Nestor Greek College; Giavris Harrison (41) GOCMV; Katatrioti Christina (41) Oakleigh Grammar; Kallergis Eirini (40) GOCMV; Lountzi Georgia (40) St John's Greek Orthodox College; Mitropoulos Felicia (40) Pythagoras Greek School.
The following students of Greek Australian background were high achievers in 2016, with a study score of 47 and above*:
Accounting: Kaloupis Nicholas (50), Christopoulos Stephen (48)
Biology: Karakistos Peaton (47), Liacos Alexandra (47)
Business Management: Kaloupis Nicholas (50), Arvanitis Tomas (49), Avramidis Zoe (48), Mihelakos Kirk (48), Taklis Alexander (47), Zarkadas Amy (47)
Chemistry: Bastas Alysia (50), Leos Alec (49), Karamesinis Alexandra (47)
Dance: Raptis Dimitri (49)
Economics: Leptos Alexander (48)
English: Kerlidis James (50), Macaronas Luke (50), Papageorgiou Nicholas (50), Chisomalidis Helena (49), Efthimiou Georgia (49), Lambrineas Lauren (49), Sylivris Jacqueline (49), Tomaras Foti (49), Alexiades Nicola (48), Arvanitis Tomas (48), Bakoulas Zackary (48), Dendrinos Ariana (48), Keriakes Sen (48), Leptos Alexander (48), Semertzidis Jordan (48), Zogopoulos Ruby (48), Dadalias Steven (47), Delios Rhys (47), Kanakis Joanna (47), Konstandopoulos Phillip (47), Kypraios Dimitri (47), Tsinanis Tia (47)
English Language: Antolos David (48)
Health and Human Development: Pappas Lily (50), Iliadis Marie (47), Tsarpalas Ellie(47)
IT Computing Informatics: Zissis Catherine (47)
IT Software Development: Papachristos Nicholas(50)
Legal Studies: Nikolakakis George (50), Varlamos Luca (50), Vlahogiannis Eirene (50), Pantelidis Tina (49), Alateras Lilian (47), Yiangou Andreas (47)
Further Mathematics: Georgakas Phoebe (50), Hondrakis Luke (50), Efthimiou Georgia (49), Leptos Alexander (49), Sylivris Jacqueline (48)
Mathematics Methods: Goulopoulos Daniel (50), Leos Alec (49)
Mathematics Specialist: Leos Alec (50)
Media: Paleologoudias Nikodimos (47)
Physical Education: Pasahidis Natasha (47), Savickas Sophie (47)
Physics: Kerlidis James (49)
Political Studies: Balis Anna (50), Macaronas Luke (49), Vlahogianis Eirene (47)
Studio Arts: Arvanitis Tomas (49)
Theatre Studies: Tsatsos Chloe (47)
Visual Communication Design: Ioannidis Chloe (50), Loucas Tanya (50)
* Please note: Students who requested that their results not be published have not been included.