Of all the wedding photography accounts on social platforms out there, there is one that stands out, and it's from Greece. Its latest styled shoot of a winter cliffside elopement in Meteora was one of December's most shared posts.
To showcase Greece's less-known areas, which would make a beautiful setting for a wedding celebration, they partnered with Phaedra Liakou Events and an awesome team of creatives.
"The Greek countryside offers some amazing locations to explore during winter. We decided to organise an inspirational photo shoot in one of those places, in order to introduce its beauty to our future couples who are seeking adventures in Greece," Fanis Rami and Jenny Grapatsas say.
The mountainous scenery of Meteora is incredibly mesmerising during the foggy days of winter and thus inspired us to create a unique event − the union of two young, free-spirited love birds."
Various elements that remind of the winter season were used to create the perfect backdrop for this cliffside elopement. This was all about two lovers celebrating their big day in their own, unique way. A couple that embraces an unconventional wedding makes such a beautiful and inspiring statement.
Every image Fanis and Jenny share proves that they are not just wedding photographers, but travellers and lovers who love to photograph fun, free-spirited, passionate and lovestruck couples getting hitched across Greece.
"We focus on the story that unfolds in front of us and act accordingly. We love to witness the emotions each couple share, and observe how they interact with each other.
"Our everyday life is a story of coffees and good food in favourite places, strolls around the city and explorations of the countryside, music, movie nights and a lot of editing," they muse. "We absolutely love road trips, fall and spring, and our crazy dogchild."
The two met approximately five years ago, while both working in fashion − Jenny as a stylist and Fanis as a fashion photographer. Since they became an item, they started collaborating on many fashion projects. Meanwhile, Fanis had already started to shoot weddings.
"I began to photograph with his camera and that's when he suggested I should join him as his second camera at weddings," Jenny tells Neos Kosmos.
"We started shooting weddings together and we really loved the outcome; so we decided to quit everything and launch a wedding photography business together. We really enjoy working together, and our couples seem to love the fact that we are a real couple too."
So this is the story behind Days Made Of Love and the pair's unique storytelling and creative photographic style. Even though they acknowledge their style may not be a good fit with everyone, the duo is always excited to open up to new unconstrained ideas.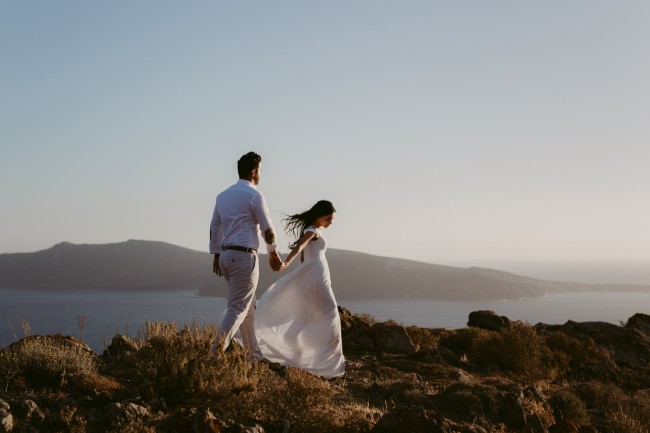 What services do you offer? Is it just photography? Do you collaborate with other creatives?
Our services include photographic coverage of weddings, engagement and portrait sessions. Throughout these years, we have collaborated with some talented videographers, wedding planners and other creatives in the wedding industry for both real weddings and editorials.
What sets you apart from other wedding photographers?
Each wedding photographer has their own style and taste, and there are so many talented photographers out there with a variety of photographic styles. When it comes to us and our work, there are some specific values we follow. We always treat our couples more as 'friends' rather than just 'clients'. We like to spend time chatting with them before every session, in order to get to know them and vice versa. This is how we fight awkwardness. This approach helps them relax in front of our cameras, and thus allows us to capture their real emotions. Another important aspect for us is to make the perfect fit with our couples, which is also fair for them in order to have the result they dreamed of. Lastly, we love all things adventurous and non-traditional. We prefer to shoot elopements and small intimate weddings, rather than traditional, often impersonal weddings.
You work with both Greek and international couples? Any differences there?
We have worked with Greek couples a lot, while the past year we collaborated mostly with international couples, who visited Greece for their wedding, engagements and honeymoon. There are definitely some differences between the Greek wedding practice and other foreign cultures. Foreign couples tend to be more relaxed and willing to leave their comfort zone to get adventurous. Their wedding celebrations are way less traditional and always oriented to their style as a couple. Truth is that more and more young Greek couples have lately started to focus on a specific style and avoid too much traditional stuff. We are always happy to work with these people.
Where do you usually shoot? Would you be keen on shooting weddings outside Greece?
We work mainly in the Greek islands, while we are always excited to explore the Greek countryside and its less known places. And yes, we definitely want to shoot more destination weddings outside of Greece. This year we will visit Italy and France with the intention to expand our work in Europe.
What do you love most about your job and what is the most challenging aspect you have to deal with?
Our favourite part of our work is that we get to constantly meet people and make new friends from around the globe, get introduced to other cultures, travel a lot and explore places. The most challenging aspect of our work is to make our couples feel comfortable in front of the cameras. It is very important for us to capture their genuine feelings rather than directing them on how to pose.
What are you looking forward to in the years to come?
In the years to come we are looking forward to collaborating exclusively with couples that make a good fit with our aesthetics, shooting more small weddings and travelling more.
To find out more head to www.daysmadeoflove.com