The 35th Greek Festival of Sydney was crowned with success, as crowds flocked Darling Harbour for a weekend of music, dance, food and comedy. Glykeria and Gerasimos Andreatos, the festival's headliners, proved to be particulary popular, attracting the largest crowd ever recorded since the festival's relocation to the city centre. The two singers offered a taste of genuine Greek culture to the delighted audience, performing a series of beloved songs.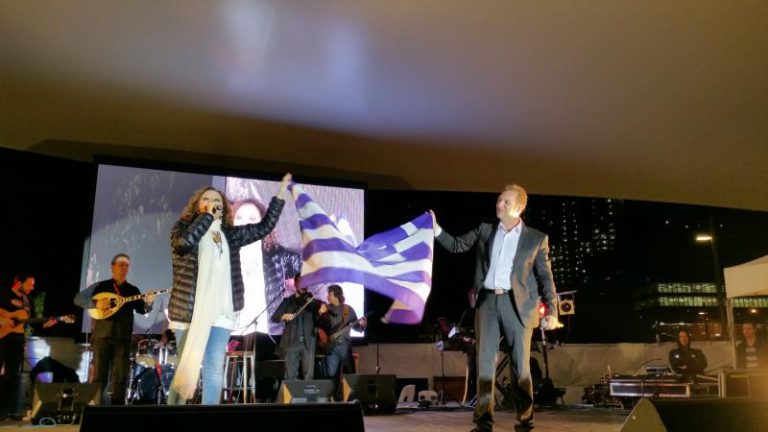 But the large crowd and great music were not the only reasons that made festival organisers happy. It was also the presence of the state representative, MP Mark Coure, who presented the Greek Orthodox Community of New South Wales with a donation of $20,000 for the purposes of the festival. Given that funding had ceased in recent years, this gesture is more significant than the actual sum, as it comes as a promise for more funding from the state government.
Another measure of the festival's success was the presence of many young Greeks, who came to admire the talent onstage − the younger generation of the Community was in charge of the festival's second stage, which attracted not only Greeks, but also the broader community and many tourists.
Despite rainy weather being a minor setback, dance groups still performed on Saturday, much to the enjoyment of those who defied the rain. Particularly impressive was the Greek Community Dance Group, led by the mother-daughter duo of Paroula Thurban and Nicole Englezos.
Sunday was comedy day, with George Kapiniaris taking on the role of MC with his usual gusto, welcoming on stage popular comedy acts, not least among them Mary Coustas in her iconic 'Effie' moniker. A performance by Karagiozis proved to be popular among children of all ages, as was the loukoumades eating contest. The SBS Greek program was broadcast live from its own stage, around which gathered many festivalgoers. President of the Greek Orthodox Community of New South Wales, Harris Danalis, thanked the community for their support and, in his address, emphasised the festival's contribution to the state's multicultural status.
Among those who attended was the Consul General, Dr Stavros Kirimis, federal MP Tony Burke, NSW State Opposition Leader Luke Foley, Sydney councillor Angela Vithoulkas, Delphi Bank head of NSW Tom Christopoulos, vice president of the Cypriot Community of NSW, Sotiris Tsouris, chairman of the Ethnic Communities Council of NSW, Panagiotis Doukas, and also honorary chairman Jack Passaris, as well as other prominent members of the broader community.