The Aegean summer is drawing to a close and after three months at her Cretan refuge in Agios Nikolaos, writer Victoria Hislop is preparing to head back to London to promote her new book. Not that Cartes Postales from Greece needs much help in that respect. In its first three days on sale in Britain in August it sold a staggering 22,700 copies – more than 7,500 per day – and leapt to the top of this year's bestselling UK paperbacks.
On Brexit: I feel more European than British, but now someone has told me 'that identity doesn't exist any more for you; you've got to be British' and I find that profoundly upsetting
A passionate reflection on contemporary Greek culture, her latest book is her most accomplished to date; a canon of work that began with the mega-successful The Island in 2005 (turned into a major series for Greek TV) followed by The Thread, set in Thessaloniki, and The Sunrise, which has as its backdrop the 1974 invasion of Cyprus. The new novel is her most profound Hellenic adventure so far: a contemporary story of love, loss and redemption – with the life-affirming effect of Greece's beauty and culture at the heart of its narrative.
I've arranged to interview Hislop using Skype. As if on cue, as we begin I can hear the unmistakable sound of bleating goats in the background.
"Oh yes, there are six goats that come rampaging around the garden," she says, unfazed by the interruption. Life in Crete suits this prolific writer, who admits that her actual writing takes place usually in a quiet library in central London.
Fluent in Greek, (she embarked on a course of intensive lessons 10 years ago and continues to study daily), Hislop's deep appreciation of Greece, its people and its culture, has never been more articulately revealed than in Cartes Postales.
Research for the book involved a journey across mainland Greece and the northern Aegean, accompanied by photographer Alexandros Kakolyris, tracing the route Anthony (the main character in the story) took. Kakolyris's evocative photographs are used extensively to counterpoint each story.
"I went about everything in a different way," says Hislop.
"The intention was to create a story as we travelled."
As she experienced each town or village, each landscape and community inspired a story that ended up as a chapter, and a tale Anthony would retell.
From the Mani to Meteora, from Delphi to Icaria, Cartes Postales is a set of compelling stories within a story; modern-day fables. Hislop's skill is to imbue each tale with an almost documentary clarity and style, and introduce the reader to poignant and powerful insights into contemporary Greek culture.
"It's such a pleasure when people say, 'They are true stories aren't they?' but the fact is, they are completely out of my imagination, apart from the one set in Icaria about Daedelus.
"When I'm telling a story it has to have that believability: perhaps this happened, given the place, its atmosphere, traditions and culture. That's what storytelling is about for me."
An extract from Anthony's notebook in the opening pages of Cartes Postales encapsulates the underlying plot.
"…I had no fixed destination and no idea where instinct or fate would take me. In the following weeks and months, everywhere I stopped people talked to me… Many of them told me stories. I listened and noted it down, each day learning surprising things about this country, and new things about myself. The voices of strangers poured into this void, filling the silence you left…
"Who knows if the tales people told me are true or false. I suspect that some of them are complete fabrications… but perhaps some of them are real. You can decide."
Surprisingly perhaps, Hislop's research not once involved seeking real stories from residents of the places she visited. "I keep myself very much to myself," she says. "For me, as soon as I start talking to people and get real stories, it's all over.
"I get many emails from people in Greece wanting me to tell their family's story, but I shrink from that. It's a huge compliment, but creatively that would be anathema for me. It's not what I do."
An important strand that permeates Cartes Postales is Greece's economic crisis and the damage it has inflicted, particularly on young Greeks. Hislop portrays the effects of the crisis head on. Ten years on from The Island when she says she had "quite a superficial, rosy-coloured view" of the country, her prose reflects the anger and despair felt by many young Greeks.
"In that decade as the economics got worse and worse, there was that extra layer of feeling that promises were made and never kept."
On the subject of political chicanery, Hislop, like many Brits, is enraged over the 2016 Brexit referendum result. "It's dark and bleak and wrong, and continues to be," she says. "There's nothing right about it."
Just after the result was announced a Greek radio station asked to interview her and she wept on air. The following day she booked a flight to Crete.
"I couldn't stand to be in England. I thought 'Who are these people who I share my country with?'
"I feel more European than British, but now someone has told me 'that identity doesn't exist any more for you; you've got to be British' and I find that profoundly upsetting. I feel slightly exiled, though nothing yet has happened."
With no European ancestry to pursue an EU passport (many Brits have already embarked on finding an Irish grandparent to stake a claim for Irish EU citizenship), Hislop says leaving the UK permanently is certainly an option.
When I suggest half-seriously that the Greek government might be persuaded to give her honorary citizenship for her services to Greek tourism, Hislop is understandably keen on the idea ."I'd be very happy to pursue that," she says enthusiastically.
With Cartes Postales already published in China, Denmark, France, Greece, Israel, Poland, and the UK, a project she has just embarked upon will take her deeper into Greek literary culture than ever before. Hislop is embarking on a new translation of CP Cavafy's short story In Broad Daylight. She says a love of Cavafy's poetry, "taught me new things about the Greek soul and mentality.
"The translation that exists in print is unspeakably dull. The beauty of the Greek was not always matched by the sometimes clumsy English words printed on the page, but there are so many layers, so much irony in Cavafy's text. I hope I'll do it justice."
With this wordsmith's passionate embrace of Greece, her translation of Cavafy will no doubt prove again – if not as commercially popular as her bestselling novels – this philhellene's place as one of the world's great interpreters and promoters of Greece and its people.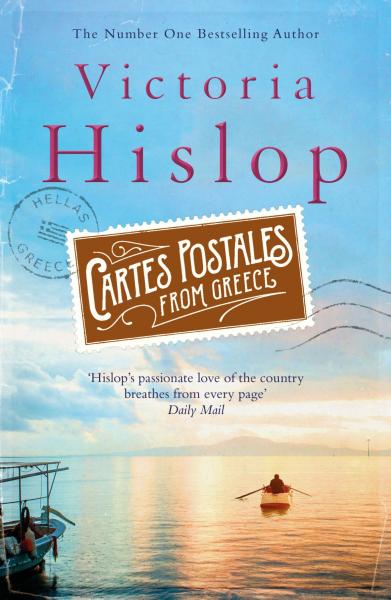 * On October 10 Cartes Postales from Greece was published in paperback by Hachette Australia.