"The story has to move me on some sort of emotional level because I need to be comfortable when the audience is sitting in a cinema that they are going to be just as moved as I am reading the script and hopefully more so," says Alexandros Ouzas when asked why he chose to fund Melbourne-based director Jason Raftopoulos' first feature film.
From the audience's reaction when it screened at the Venice International Film Festival, West of Sunshine has proven to be a very moving story, but it's not just that. It is an artful and incisive exploration of fatherhood, the emotional ties that bind families together, and how masculinity is defined through the relationship between a father and his son.
In terms of the film's quality The Guardian's reviewer Xan Brooks went as far as describing it as being of the same calibre as David Michôd's Animal Kingdom and Kriv Stenders' Boxing Day.
Shot in Melbourne in just 18 days, West of Sunshine is based on Raftopoulos' 2011 short film Father's Day and depicts one day in the life of a gambling addict father, Jim (Damien Hill) and his son Alex (Ty Perham) as they travel through Melbourne while Jim tries to find $15,000 to pay back the dangerous loan shark Banos (Tony Nikolakopoulos).
The film also proves to be a very Greek Australian affair; as well as its artistic director and its business director, the cast and technical team are dominated by Greek Australians such as Arthur Angel, Peter Stefanou, Eva Seymour, and Ari Mandylaris.
In November, Alexandros Ouzas informed us the movie will be heading again to Europe. This time it will be screening at the Thessaloniki International Film Festival, and later the Tallinn Black Knights Festival in Estonia and Bratislava International Film Festival in Slovakia.
"It's been sold to a Chinese distributor and it will definitely be shown all around China. I am not sure how widely they are going to take it. In China there is a quota on how many arthouse films can be released a year so we've been lucky to get a distribution deal to begin with. Also we are very close to finalising a theatrical deal with a French distributor that will see it going out onto 20 screens in France," said Alexandros, adding that the film will ideally be released in Australia in the week of Father's Day in 2018.
The gritty, pragmatic, almost raw reality that defines Raftopoulos' stylistic approach has critics comparing it positively to the 1948 Vittorio De Sica classic Bicycle Thieves.
Raftopoulos enforces the authenticity of the film by casting a non-actor for the leading role of eight-year-old Alex; Ty Perham has no previous acting experience, and in real life is the stepson of leading actor Damien Hill.
We caught up with the artful master (Raftopoulos) and the business mind (Ouzas) of West of Sunshine to talk about this new creation which bears all the hallmarks of future success.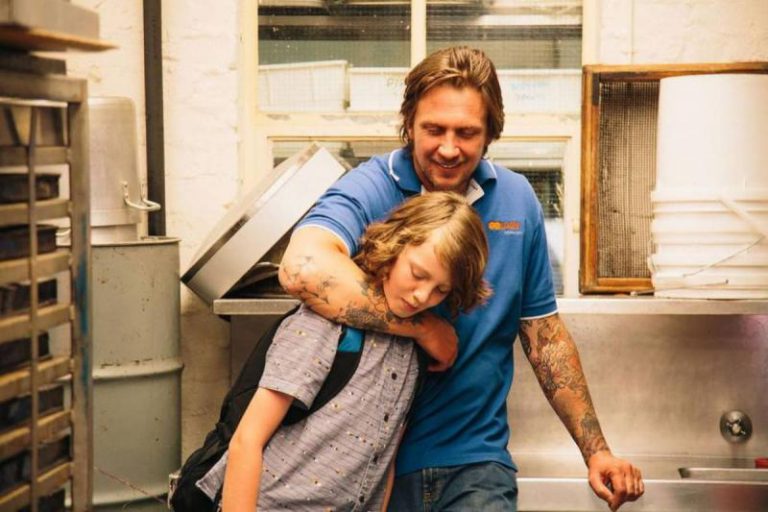 How do you feel after the reception of your film in Venice?
Jason: I feel relief! What you feel when you are about to show your film for the first time becomes quite primal, you want to make something that not only speaks to yourself but hopefully lands in someone else too. So now after its screening I'm at least able to let it go.
How was it to work with a child that has no previous acting experience?
Jason: It's twofold. Non actors are completely open to the new world you're asking them to believe in and so what they give you is raw and authentic, but then the flip side is that you have to talk to them differently than you would professional actors so you need another set of tools for that. I cast him because he was great for the role; I always wanted to cast a non-actor specifically for that role, and the fact that he is Damian's stepson just added to the dynamic of the relationship that is completely authentic.
You adopted a neo-realist style to the way you told this story. This is a post-war genre. Why did you choose to have this story told in this way?
Jason: It's a time in cinema that I really love. It's about trying to capture something authentic that exists in the world, in what is happening in our present reality, so shooting that way was important to capture the energy and feel for the characters and the city in which they live. You have to be open to the challenges that style of filmmaking confronts you with, but the upside is that you can capture moments that would be impossible to manufacture. The place and people themselves become integral to the fabric of the film and if you're lucky and open you can capture some real gold.
This is your second project exploring the relationship between a father and son. Why does this subject interest you so much that after Father's Day you choose to explore it further?
Jason: The family is a source of so many emotional stakes, so for me exploring the nature of fathers and sons is a natural extension of my fascination [with]the emotional ties that bind families together or rip them apart. I was also interested in what constitutes notions of masculinity in today's world.
"West of Sunshine is a metaphor for Jim's life. It's a place where the sun never sets, the place in your mind where family is, where love is, where hope and the future resides". This is how you describe your film and it is a description that assigns an optimistic sentiment to the story. The story itself though is about a relationship that is marred by frustration, loss of trust, disillusionment, and addiction. How does optimism manage to come out of such bleak realities?
Jason: Part of the narrative at the beginning of the film is about this character not knowing where to put his attention, he has yet to find that 'place'. It's a notion or a fantasy of where happiness might be, the story of the film is how he finds insight into his past trauma to realise that happiness or contentment could be right in front of him.
How does your Greek heritage inform and/ or influence your work and your perspective towards storytelling and filmmaking?
Jason: One of the first books ever given to me was a children's version of ancient Greek mythology called Gods, Men & Monsters. I still have that book on my shelf and it completely captured my imagination. I read that book over and over and when I went to Greece for the first time as a nine-year-old, I knew immediately that I was connected to that place. It was on that holiday that I shot my first images through an 8mm camera that my dad had given me. I still have that footage.
Do you find it easier or harder to work with other Greek Australians?
Jason: As well as my producing partner Alexi and Tony there was also Arthur Angel, Peter Stefanou, Eva Seymour, Ari Mandylaris, and other actors, non-actors and crew with Greek heritage involved in the film, and they were all incredibly generous and fantastic to work with.
Alexandros: It makes it all easier rather than difficult. I think we have similar points of reference, similar values. A lot of our parents are working immigrants and I hope that their values have translated to the children and grandchildren of the immigrants. Overall I've always found it to be a rewarding experience.
Why did you choose to put your money into West of Sunshine?
Alexandros: Jason and I met a few years back at the screening of Father's Day and in 2015 we made a decision that we wanted to work together so we put the wheels in motion to do that. We wanted to make a larger scale production and we were working on some scripts. We essentially got bored of writing all the time and we thought 'let's go make something!'. We thought his short film Father's Day was a great concept for a feature film as a starting point and basically we just went from there.
Also there are two things that play a major role in my decision. The story has to move me on some sort of emotional level because I need to be comfortable when the audience are sitting in a cinema, they are going to be just as moved as I am reading the script and hopefully more so.
The second one is certainly the director that I am working with. That's a huge factor in my decision making. I need to be fully confident that the director is able to deliver on their promise, to execute their vision. So I do believe in working with pragmatic directors. I think making a film is like going to a war, you know you are out there working every day with 40-50 people and sometimes in tough conditions so you need to be confident that the person you are working with is able to lead that team.