It might not be quite a Mykonos or Santorini, but as of last month, those residing or visiting South Australia won't need to wait to travel to Greece, Italy or a tropical island to experience a Mediterranean-style setting, with the opening of the Moseley Beach Club.
Inspired by the premium offerings of Mykonos, Nice, Capri, and other exotic European destinations as well as south-east Asian island retreats, the temporary European-style beach club can hold 350 people in its dedicated 750 square metres of beach space just north of the Glenelg Pier.
Venue director Tom Sellar told Neos Kosmos, "We drew our inspiration from established beach bars around the world and although it was a long process that cost us a lot, we are very pleased with the overwhelmingly positive feedback we have received from the tens of thousands of people who have embraced our project."
Operating daily, Australia's first licensed beachfront getaway opened its doors mid-January offering eight sunbeds and 48 sun lounge serviced from a simple bar and kitchen facility, with security and live music.
"Our Australian shores are so under utilised compared to overseas and I am just so happy that we finally have our own little slice of heaven without having to travel overseas," says Anastasia who lives in the area of Glenelg and was always yearning to experience this type of setting in Australia.
"Being able to finally lay back and relax listening to live music and sipping a coconut cocktail right on the sand is heavenly and brings back memories of the precious warm summer days I have spent in Greece."
The Moseley Beach Club has already welcomed thousands of visitors, attracting international tourists and interstate visitors, while it also appears that the cosmopolitan venue has already contributed in boosting the local economy by increasing both the overall traffic in the area and businesses performance.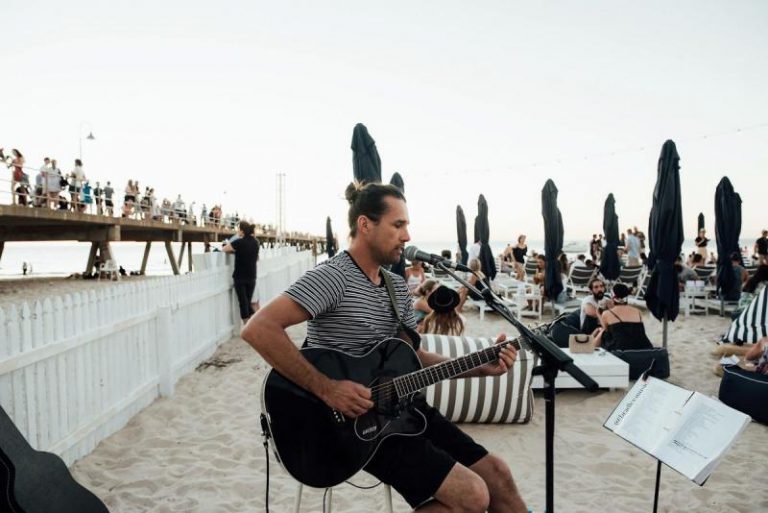 The new beach-side offering from the owners of The Moseley Bar and Kitchen, says it has created 30 jobs in the area, and is being viewed as a potential blueprint for similar operations around Australia.
"It's a shame to have so many wonderful beaches around the country and not to be able to enjoy them the same way we enjoy various cosmopolitan European destinations when we travel.
"Thanks to the support we have had from City of Holdfast Bay Council, we are in a position to offer South Australians the opportunity to enjoy a drink on the beach in a relaxed and family-friendly environment and the people's response is evidence that this is what Australians want," said Sellar.
"After all, life is better at the beach."
The Moseley Beach Club will remain on the beach until early April.