At the seventh annual Olive Japan Show 2018 held in Tokyo last week, Greek extra virgin olive oils won 20 gold medals and 25 silvers in a tough competition with 727 entries from 22 countries. Impressed by the increased number and quality of samples from Greece, competition director Toshiya Tada noticed "many wonderful oils from Greece" and suggested more of them deserved to be popular in Japan.
The Greek award winners would surely agree. Charalampos Papadellis won a gold medal and a Best of Greece award for his Sapfo extra virgin olive oil (EVOO), but this did not come easily. He and his team spent many days and weeks on tests to determine "what conditions produce the best olive oil." Overall, he believes Spain and Italy have experimented more with their countries' olive varieties, partly because of lower production costs, but he thinks Greece is likely to catch up in a few years.
Another big winner, George Goutis, similarly suggests that "Greek olive varieties have not been fully discovered yet" but hopes this will change soon.
Goutis Estate captured two gold medals for their Bella Vista and Fresh EVOOs and three silvers for their Sea Breeze, Bitter Gray, and Premium EVOOs. Goutis said that he is confident that "Greeks can make miracles if they try hard. We had a vision and a program. The vision was to put our product on the market as unique. The program was full of discipline and scientific techniques from the cultivation and the harvesting stage up to the extraction, storage, and bottling."
In his view, olive oil must be treated "gently and with respect for tradition and people's needs."
Konstantinos Papadopoulos and his team are especially proud of sharing with the world a little-known olive variety native to the ancient Olympia area, the Olympia (or Nemoutiana) variety, in their Omphacium Organic EVOO. Papadopoulos Olive Oil Mill took home one gold medal for that and another for Mythocia Olympia PGI, continuing an impressive winning streak this year that suggests, according to Papadopoulos, that "Greek extra virgin olive oil has nothing to fear" from competitors from other countries.
He says this year's success was the result of lessons successfully learned during the previous year's very difficult harvest, as well as extensive effort, research, and careful attention to detail.
Ellie Tragakes credits another "noteworthy olive variety, the Kolovi," for "the excellence of our EVOO," thanks to "an outstanding team of highly committed, skilled individuals, plus nature's gifts" on the island of Lesbos. Demonstrating consistently high quality with awards at Olive Japan four years in a row, Hellenic Agricultural Enterprises captured two gold medals for ACAIA and ACAIA Organic and one Silver for L&KO. Tragakes says "the very high standards of Japanese consumers are a great motivation for us to maintain our performance." Thrilled with their awards from what they consider to be one of the most prestigious competitions in the world, and they expect their latest awards to help them extend their presence in the Japanese market, where their EVOO is already on sale.
With his olive oil also available in Japan, Ritsi Frances encourages everyone to try Greek extra virgin olive oil; his company's copyrighted motto is, after all, "taste at first sight." Olea Groves won two gold medals for OleaJuice (Red) and OleaJuice (Pink). Frances explains that his team takes particular care of all their trees throughout the year, irrigating, hand picking and sorting, harvesting early (in October), extracting oil at an unusually low temperature (19°C), and straining rather than filtering it, controlling the entire production and distribution process. Most notably, they use machines with special knives to remove the olive skins, eliminating any pesticides the wind may bring to their unsprayed trees.
Asked how he and his family create such excellent EVOO, Diamantis Pierrakos replied, "all I did is love it!"
Actually, he and his family are involved in every stage of the process, and he believes being able to listen to feedback from the end consumer helps them continue improving.The result: two gold medals for Laconiko and Laconiko Olio Nuovo. Pierrakos says they "are thrilled to receive these two gold awards and to honour my father's memory. This was the first year without our father, and all the memories and success we shared!" They missed "having his presence by our side working our olive farm." Still, they managed to keep going, knowing "he would want us to continue what we started together, and I believe we are doing just that!"
The Pierrakos family participated in Olive Japan because they hoped to "be recognised internationally, and not just in the US market," where most of their sales occur. Although Toshiya Tada regrets that there is now only a "small number of distributors and importers for Greek olive oil in Japan," Olive Japan includes a second main event that offers companies the opportunity to increase their visibility in the Japanese marketplace, the Olive Japan Show. This three-day trade show in June features award winning olive oil and other products.
Tada suggests that Greek olive oil exporters reach out to consumers if they wish to enter the Japanese market, since high quality extra virgin olive oil is mainly used at home in Japan.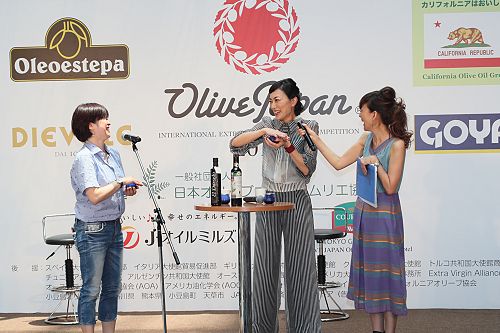 Olive Japan hosts two events each year organised by the Olive Oil Sommelier Association of Japan (OSAJ), described as Japan's sole professional organisation for training and certifying olive oil experts, independent from commercial bodies, chaired and directed by Tada.
Tada says he believes Olive Japan has more judges than any other major competition: 25, from 15 different countries.
Tada suggested that so many are necessary to limit each judge to no more than 35 oils per day, to ensure "the accuracy of the judging quality" by avoiding fatigue in sensitivity to taste and aroma. He believes accuracy is also improved by the multinational nature of the judging team, whose members are familiar with the characteristics of many different olive varieties. American judge Alexandra Kicenik Devarenne considers it "an honour to work with this remarkable group of olive oil judges. The atmosphere is fantastic: it manages to be focused and serious, yet collegial and open," with "a policy of thoughtful deliberation on the panel."
To see the full list, click here. Originally published on Greek Liquid Gold: Authentic Extra Virgin Olive Oil. See website for olive oil news, information, recipes, and photos from Greece.