What if you could get your hands on Hippocrates' prescriptions for skincare and have them made with the purest ingredients, unspoiled by pollution and pesticides, sourced from virgin locations?
Wouldn't that be ideal?
These were questions in the minds of Greek Australian couple Evan and Elena Tsioukis until they came across skincare products made by monks from Mount Athos (Agion Oros) in Northern Greece that they would sell at the monasteries back in 2015.
Evan, while going through a hard time dealing with his ailing father's health, took a trip to the holy mountain seeking spiritual guidance.
During his travels, he tried the ointments and skincare products made from local herbs and ingredients, and experiencing their benefits first-hand he approached the monks telling them they had a "marketable brand".
"The products are amazing," he tells Neos Kosmos. "I saw not only the beauty, but also the purity of those products; all I could think of was sharing that with the world."
"The recipes behind these products are steeped in history and thousands of years of knowledge."
It is that knowledge that Melburnians were able to experience during the weekend at the Lonsdale Street Greek Festival, as not only did Evan and Elena manage to take the products out of the monastery, but also brought them to Australia!
"The products are made based on the manuscripts of the 'Father of Medicine', Hippocrates, found and kept at the Vatopedi Monastery's library for centuries, boasting an ingredients list that soothes, rejuvenates and heals the skin," Elena who has a degree in business explains.
"Since approaching the monks with the idea back in 2015, it took us three years of research and marketing to finalise 'Dokimon' as a brand and launch it in accordance to local and Australian law specifications. That's how long we've been working on it in the background!"
Dokimon – a term used by Hippocrates, the father of Medicine – stands for "the first sample" tried, tested, and found true. He would name his concoctions and then label them as 'dokimon' when they were found to work; he did the same with medications that were ready to be shown.
"We have kept that 'slogan' as part of our branding and there is a label on the side of every product!," she adds.
"We've been very strategic in how we've exposed the brand. It's been not only about the purity of the products but also about telling the story behind them. How they were designed and developed."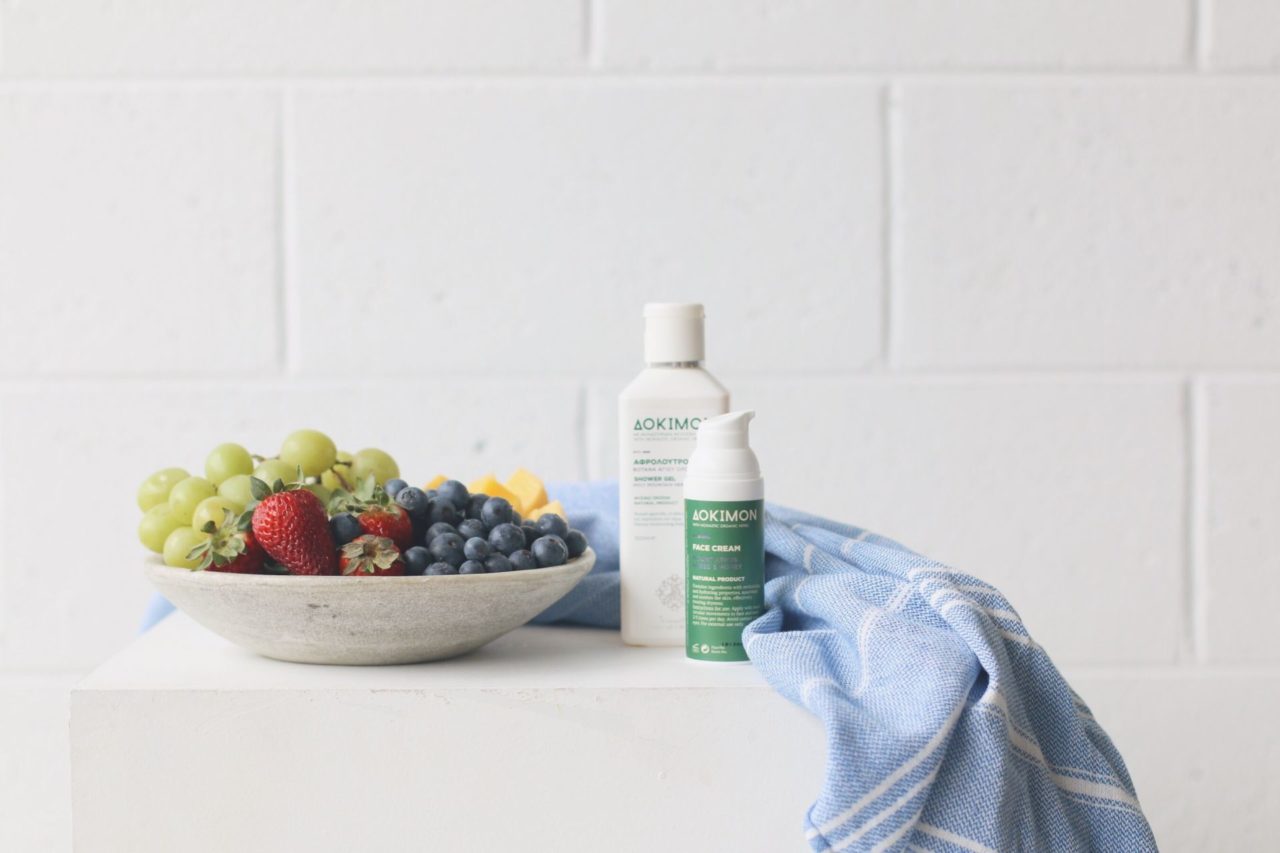 Evan, whose background is in food technology, describes the process as "from farm to face".
"Given that the area has been near untouched by man, the ingredients found within each Dokimon product are grown with minimal human interference. Industrialism does not exist to allow each plant to remain within its most pure and potent natural state. Clean pure beauty is at the heart of the Dokimon ethos."
"To step inside the sacred, pristine environment of Mount Athos is a gift. The entire process and it's blessed," he says stressing that Dokimon stands against animal testing and that they are deeply committed to providing cruelty free products.
Other than sharing the benefits of Dokimon with the rest of the world, the couple who got married in Northern Greece, wished to strengthen their connection to their homeland and looked for a reason to visit.
"Apart from getting married there, we wanted a reason to go there. So this opportunity arose and we ventured into it," Evan says, explaining that even though Elena also comes to Greece it is mainly him that makes the transactions and arrangement with the monks as women are not allowed on Mount Athos.
"There are a lot of trips. I'm going back in April, during Easter. The monks' work has to do with the herbs, from planting and taking care of them to collecting them and getting the extract that goes into the product. We then take the extract and manufacture the product. They do not deal with the business logistics – they have distanced themselves. They look after 50,000 visitors that go into Vatopedi each year; they house and feed all of them; take care of anyone that goes there for free. They are there to help people. The monastery is self-sufficient and do not rely on anyone – on any source."
Evan says that going to Mount Athos and staying there, was a life-changing experience.
"I have a strong emotional attachment to the monastery on a personal note. My father was unwell for over four years and passed away in 2016. The monks actually assisted me through the healing process, helping me understand the true importance of life," he explains.
"These people aren't there for themselves; they are there for mankind and these products that they make are for mankind. It does not matter what religion you follow, what views you have or what sex you are these people are there for you, they pray for you no matter who you are every day of the week."
In saying that, the couple has set up a charity fund that's helped set up the brand's head office and the donations and profits go to several causes that the monks stand for.
"From coming across an amazing skincare brand, our journey with Dokimon has gone to the next level," Evan goes on. "It has become our link with Greece and our way to contribute to the selfless work of the monks towards making the world a better place."
Which products caught our attention at the Lonsdale Street Greek Festival?
Evan and Elena showcased the Dokimon signature Mountain Herb and Honey range, which harnesses the protective and hydrating properties of organic calendula, chamomile and geranium, blending them with antioxidant rich olive oil and honey to craft formulas that maintain and promote a youthful, supple complexion. This series has a hand cream, a liquid hand soap, a shower gel and three different soap-bars, each boasting one of the three key ingredients of the range.
They also introduced us to Dokimon's premium Gold Series range, rich in organic ingredients, and focusing on the natural healing properties of calendula, lavender and St John's wort. This range has a lavender, St. John's wort and propolis body cream which also comes in ointment form, as well as a calendula ointment.
*To find out more about Dokimon go to www.dokimon.com.au