Australia's Archbishop Stylianos passed away at 6pm on Monday, aged 83.
Born in Rethymnon, on the island of Crete, the primate was a theologian who specialised in ecclesiology and was also an award-winning poet and a great champion of the Greek Orthodox education system in Australia that would not exist in its current form and breadth if it weren't for his efforts. The church in Australia thrived thanks to his presence as he was a force to be reckoned with, managing to expand the Greek Orthodox Church's presence in the country. The inaugural and permanent Chairman of the Standing Conference of Canonical Orthodox Churches in Australia and Dean of Saint Andrew's Greek Orthodox Theological College, a huge gap will be left by his death.
The primate's tenure was also marked by controversy with dozens of churches leaving the helm of the Archdiocese and other problems with the secular Greek community that prompted negative media reports. He was also at odds with the Ecumenical Patriarch Bartholomew over numerous issues of jurisdiction though the Patriarch issued a tribute upon his death, recognising his drive over the years.
The appointment of a locum tenens (temporary hierarch who will oversee the Archdiocese), will be followed by the selection of a new Archbishop by the Synod of the Ecumenical Patriarchate of Constantinople.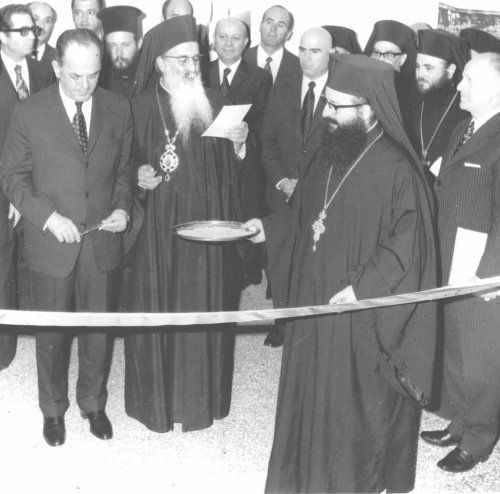 His Grace Bishop Seraphim of Apollonia told Neos Kosmos that he was beside Archbishop Stylianos when he died, and he departed this world "calm and quiet on the day of the Annunciation." He added that there had been some difficulties with the primate's health recently.
No sooner was his death announced that tributes began to flow.
Greek Foreign Minister Terens Quick was in Melbourne, and said that he had been shocked by the news of the primates death. He expressed the desire to light a candle in his honour during his visit to the Archdiocese in Sydney on Wednesday. His voice was one of many, as leaders from far and wide reflected on his passing with condolence messages from Australian Prime Minister Scott Morrison, opposition leader Bill Shorten and state premiers Daniel Andrews and Gladys Berejiklian.
An iconic figure, the primate had served as Archibshop of Australia since 1975.
Below are some random moments from the extraordinary life of a great, and sometimes controversial, religious figure.