On Saturday night, select guests were invited to enjoy a VIP dinner at Zeus Street Greek in Moonee Ponds, showcasing the eatery's new winter menu.
Evoking the feel of a tavern, albeit with a modern twist, upon arrival guests were warmly welcomed and directed to long tables, where wine was flowing – as was the food, kicking off with classic starters like horiatiki salata, and a board of dips, pita bread, olives, dolmadakia and haloumi.
Melt in your mouth saganaki topped with honey, walnuts and oregano followed, along with lightly fried calamari.
The zucchini crisps served with red pepper dip, a home favourite, were definitely a highlight, as were the gigantes, baked in a rich tomato sauce.
There's no denying that everyone's eyes were wide with anticipation when the meat platters hit the tables, with chicken thigh, pork neck and succulent lamb shoulder.
Executive chef David Tsirekas ventured down from Sydney, donning his chef's white, comfortably mingling and chatting with patrons, and demonstrating to guests both in words and praxis that Greek food is all about sharing, and aside from big flavours is also generous in spirit.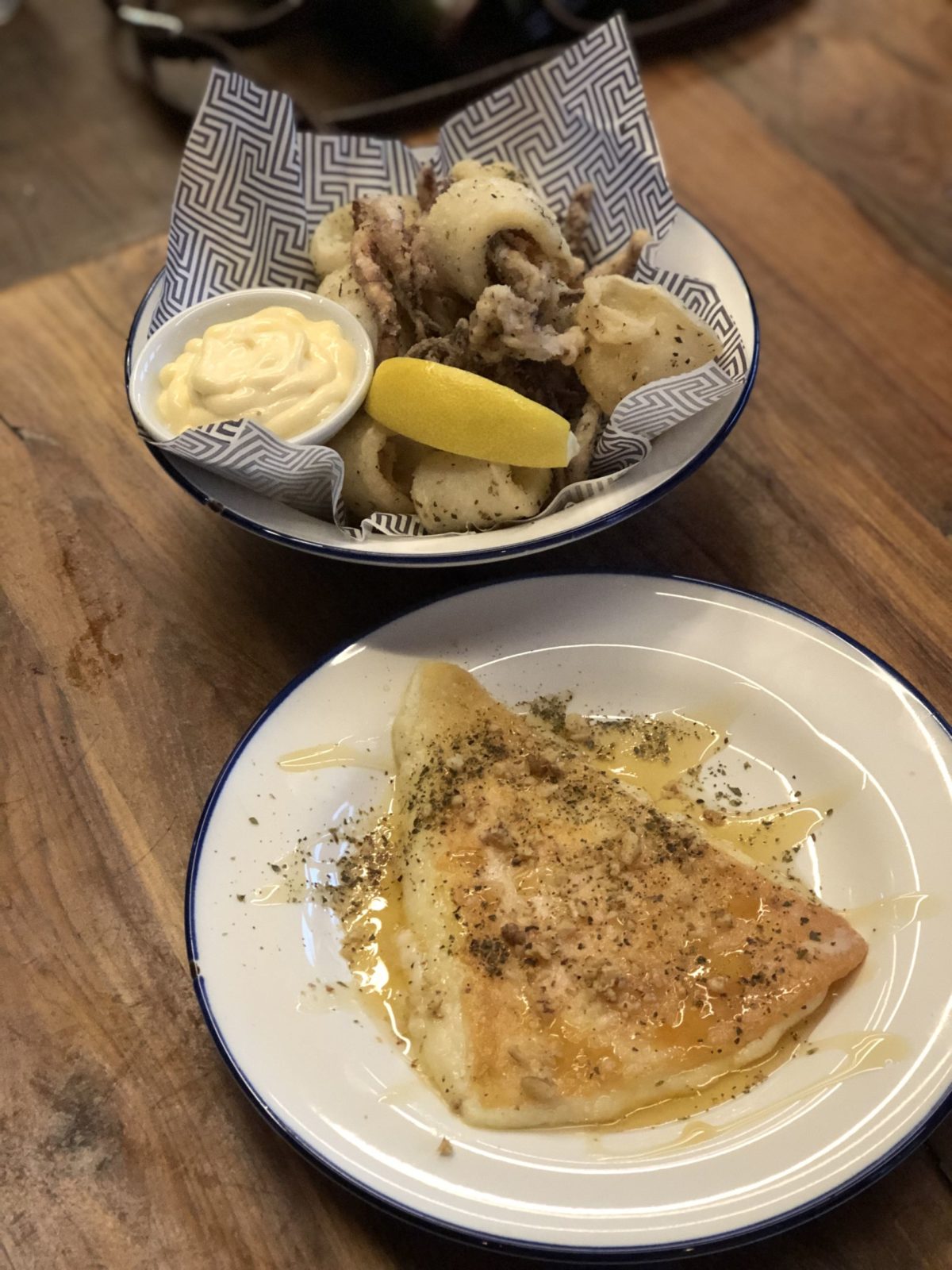 Those familiar with Tsirekas from his past ventures Perama, Xanthi bar, and 1821, know he has a reputation as an all round good guy who embodies filotimo.
This month marks exactly a year since he decided to take the leap and join the Zeus Street Greek team, to head kitchen operations across the franchise's 21 restaurants as the Executive Chef, with the goal to share his passion for Greek food far and wide.
"I've experienced everything ranging from street food to fine dining, so I'm hoping to incorporate all those levels into a sort of accessible Greek cuisine for everybody," he explains.
"Whether you're rich, poor, you've never had Greek food, you're an expert, that's what we're trying to do at Zeus. Also sharing our food culture with non-Greeks as well because we're not here just to feed the Greeks – we're here to feed the whole of Australia, and share that wonderful food culture that we have with people, the great diet, the balance."
While Greek food is widely known for its succulent meats, it is a myth that the cuisine is traditionally meat heavy, which Tsirekas is trying to reflect in the menu.
"You can go into Zeus and you can mix and match what you're feeling like to meet your dietary requirements. That's the beautiful thing about Greek food – you can do that really easily."
As well as his role with ZSG working across Australia, Tsirekas has also been working with the team at Nostimo in Brisbane and further afield in the diaspora in the US. Similar to George Calombaris and Angie Giannakodakis, Tsirekas is apart of an innovative cohort in the food industry getting creative and refining Greek flavours.
Well-versed in the history of Greek food, dating right back to ancient times, he says Hellenes had the most sophisticated cuisine – a fact that he says can be frustrating, given the dominant narrative surrounding Greek food in Australia has continued to promote dishes largely from the Ottoman period in Greek history.
"We've got so many influences! Starting off with ancient Greek, which at that time was the most advanced of the civilised world … But we've stuck to these things like baklava – again it isn't even Greek and dolmades aren't even ours. Our original dolmades back in ancient times were called thria. Made with fig leaf, inside they would put cheese and fish," he explains. "We've kind of dumbed down our cuisine ourselves."
He observes that our southern neighbours, the Italians have managed to modernise their cuisine much quicker, also capitalising on regional offerings.
"That's what my goal is, to break this mould that it's only done like that. No it's not, because if you travel through Greece and up north they use cabbage instead of vine leaves because of the accessibility of cabbage and the headier nature of eating those foods because of the winter up there. We don't talk about those things, and I think we do ourselves a disservice by not being proud of the sophistication of our food, which it can be.
"I don't know what happened to us; we just sort of became stagnant; we became stuck with the too familiar items."
And sometimes the resistance for change is strongest from Greeks themselves, which he experienced firsthand when trying to introduce white tarama in Chicago.
"They'd never had white tarama ever, ever! So when I did it, customers were saying 'What's this? I like the taste', but they wanted to go back to the pink one because that's what they were familiar and comfortable with. I said 'just give it a go, let it run its course, don't be so knee jerk. You could be the first person and set the mood, right?' Customers don't know anything better until they've had something better. So you've just got to let them move, and they'll get used to it."
Despite the push back, Tsirekas believes people, both Greeks and non-Greeks alike, are appreciating the extra effort being made.
"I get frustrated that burgers are more popular than Greek food and you'd love it for Greek food to be an at least once a week kind of thing," he explains.
"So for the last year that's what I've been doing, sort of like – I hate to use this term – sowing the seeds of Greek food and cuisine as far and wide as I can. I think that's what I'd like to do, just lift the profile of Greek food any which way I can, whether it's fast food, fine dining, fusion, collaborations with other great chefs."