I will tell you a story of enduring love. Where girl meets girl on a Greek island, the same one the Goddess of love, Aphrodite, was born, and the great Greek poetess, Sappho, referenced. Kythera. Twenty-four years together before they were legally allowed to be married. Two of the biggest and most honest smiles you will ever see. Two souls destined to be one.
Chrisa and Pary are of Greek heritage and their ancestors hail from Kythera. Kytherians have been migrating to Australia for over a century, searching for better life opportunities. The early migrants created the Kytherian Association of Australia in 1922 in an Oxford Street café. The idea was to create a safe space for fellow migrants.
Chrisa and Pary, like me, grew up within the Kytherian Association, attending Greek dancing classes, participating in charity events, creating lifelong friendships, and keeping connected to the island's culture. Being Greek Australian is our identity and the association is a large part of that. It forms as an extended family for its members.
The fact Chrisa and Pary met in Kythera is remarkable. It is the quintessential romantic story for a Kytherian love match. They met on 1 August at the celebration of Agia Elessa, and married 24 long years later on the south coast of New South Wales, in a ceremony with their closest people.
"It was about damn time," they both said to me.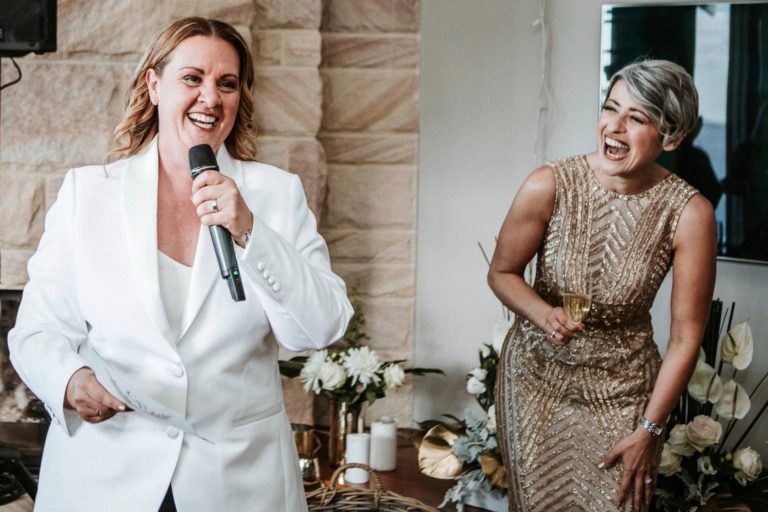 It took Australia until 2017 to pass marriage equality. We fell behind countries such as the Netherlands (2001), Spain and Canada (2005), South Africa (2006), Iceland and Argentina (2010), Brazil and France (2013), and many others. It has been a positive step for a more inclusive future, but we still have work to do.
The vote itself was a farce. People's basic human rights were politicised. Their sexuality was commandeered by the media and their future made to hinge on a postal survey to be voted on by others; many of whom cannot possibly understand what it is like to have their identity questioned and ridiculed.
Consider the perspective of a young person contemplating coming out, or who had come out and faced backlash at school or home, walking outside in Sydney on the day of the vote and seeing the ginormous 'No' sign written into their sky. To be told by a portion of the city you live in, what you are is abnormal. We must understand the damage on their mental well-being. The suicide rates for the LGBTQ+ community is the highest of any population in Australia, as stated by mental health organisation Beyond Blue. Discrimination and exclusion are the key factors affecting their mental health.
READ MORE: Growing up Greek and Gay
When the 'Yes' result came in, Chrisa and Pary remember watching it live and crying together. Their hard work in campaigning for equal rights had finally paid off. Years of attending protests, helping to educate people, and defending their love to those who wished to diminish it, had led to this point.
It was with great dismay then that when Chrisa and Pary's wedding photo was submitted to the Kytherian Newsletter by their Kytherian best woman to be published in the social news section of the paper, where celebratory photos are posted monthly, that it was rejected – the rejection felt on many levels.
The social section allows fellow Kytherians around Australia to follow and support the life milestones of one another. The committee decided that the photo and text conflicted with the values of the Greek Orthodox Church. The message it sent was that not all love is equal.
I am proud to say there was a larger community backlash, led by Chrisa and Pary, their family and friends, fighting, again, for equality. The obvious toll it took on them was considerable. However, with their perseverance, the photo was included six months later in the March 2019 newsletter.
"We knew it was about more than us," they said.
The positive impact of having their photo in the newsletter will be felt for generations. They have made our community a more welcoming one. That young Kytherians struggling with their identity have an example of hope and true love they can look to. And parents with a child who is gay, or different, can see a photo of Chrisa and Pary, happy, and being supported by loved ones, and use that as an example of how to be.
The dream, or hope, one day – Chrisa, Pary and I joke together – is that there is a Mardi Gras edition of the Kytherian newsletter. A month in the future where our Kytherian community starts to celebrate ALL of itself.
For Kythera is, and always will be, an island of love and acceptance.
READ MORE: Greek and Gay Support Network looks to develop ties with wider Greek Australian community