The governments of 90 per cent of the world work are on a four- or five-year election cycle but Australia and New Zealand are among the few that hold elections every three years. In Australia, a federation, the federal parliament is elected every three years but state parliament elections are held on a four-year cycle with a fixed date for an election at the end.
An Election Watch article states: "Australia's three-year term has more in common with Britain's 322-year old Member of Parliament Act of 1694 – which established three-year terms – than it does with the UK 's current five-year terms updated in 1911."
But all of Australia's seven states have in recent years have moved to a four-year cycle with a fixed election date.
There has been talk in Canberra of opting to four-year terms, but it is mainly just talk. To effect a change of this nature to the Constitution is a pretty steep hill to climb: You would need a referendum that reflects majority support from the Australian public, also the support of the majority of the states as well as a support from the major parties.
When the issue came up in 1988,only 33 percent of the electorate were in favour and, ironically, not one state supported the change.
But this is the 21st century and after a decade of musical chairs among our prime ministers the logic for change to a four-year cycle is stronger.
We spoke to five Australian politicians of Greek descent about their views.
Arthur Sinodinos former federal minister in the Abbott and Turnbull governments, Liberal Party of Australia:
The party in opposition is always in favour of the three-year cycle. The government in power prefers a longer term for policy to be originated, implemented and accepted by the public. But there was a case when the public of New South Wales were frustrated because they could not get an unpopular Labor government out before the end of the four-year term.
The four-year term does not guarantee reform, it can help but it is not a silver bullet.
The shorter time frame does mean polling is more influential. But there is more polling at federal level because there is more interest in what the federal government is doing.
The 1988 referendum to change to a four-year electoral cycle at federal level failed because people thought it was an attempt to centralise power to Canberra. People may want their politicians to front up more frequently.
The frequent change of leaders of the last 10 years is not due solely to the three-year cycle. It is a function of other things as well.
READ MORE: Exclusive interview with Arthur Sinodinos: Noble calling for a noble man
Steve Georganas, Australian Labor Party Federal MP for Adelaide:
The state system gives time for government to implement policy and explain it to the electorate. Under the federal system, the first year in office, you spend finding your feet, the second year goes to implementing policy and the third you are looking to the election… Rather than concentrating on governing.
In South Australia, the four-year cycle with the fixed election date is very good because everyone knows where they are, instead of being on tenterhooks waiting for the prime minister to set the date. The waiting affects policy, the economy and the markets.
While it would be good to change the system to the state cycle there should be triggers in place.
Most people see the logic of it as it provides for an extra year to implement policy and to govern with a longer term vision in place. But because it is embedded in the Constitution, it does require a plebiscite and a majority of the states to be in favour of it.
READ MORE: Steve Georganas promises ALP will help middle and working class Australians deal with their economic struggles
Steve Dimopoulos, Australian Labor Party Victoria MLA for Oakleigh and Parliamentary Secretary to the Treasurer:
I think three years is too short. Fixed four-year terms are better for the community and voters, and provide for greater certainty. They also allow for a better measure of government performance.
It also takes out the politics that surrounds the setting of the election date – something that the sitting government can use to its advantage in choosing the time for an election.
It is also easier for the Public Service to do its job in advising the government without worrying if the information will used by the government to its advantage should it then call for an election.
There are Caretaker Provisions within the Constitution to prevent this but they only come into play once an election date is set. Once the date is set, the Public Service offers advice on a limited basis for the day-to-day business of government and not for implementing new legislation.
READ MORE: The defenders of Kalamata in 1941 honoured in Greece and Australia
Maria Vamvakinou, Australian Labor Party Federal MP for Calwell:
There have been discussions over the years in Canberra but it has never really taken off as a serious issue. We can speculate if it makes a difference, but we can look to the state governments to see how the four-year cycle works.
There is a two to two-and-a-half year leeway for a state government to do things without worrying about an election. People say that it would take out the speculation that goes in an election year and create greater stability.
We are in the 21st century and politics has changed. People's attitude to politics and politicians has changed. A government needs more time consolidate. This (federal) government will have 2020 to consolidate but by 2021 there will be speculation on when the next election will take place. Already there is speculation on the date.
The flexibility around the setting of an election date has also allowed polls and their incessant presence in political issues. A fixed term would change the behaviour of political life. Government can focus more on the big decisions and not worry about courting the electorate and looking for voters. In the states three is no room for such speculation. I am not sure that the polls are as active at state level.
The three-year cycle was put in place to give more control to the electorate. If the government is bad it can be chucked out. It has served Australian democracy well. But the question is whether it is efficient and good for governance?
READ MORE: Exclusive Interview with MP Maria Vamvakinou: 'Our role in Australian society goes beyond serving souvlaki'
Dr Fiona Martin, Liberal Party Australia Federal MP for Reid, New South Wales:
There is merit to imposing fixed three or four-year terms at a Federal level as it would bring the Federal Parliament in line with the majority of State Government election cycles. Along with greater consistency between the Federal and State Government, longer terms would allow Governments to introduce policies with a long-term focus and raise the quality of our political debate.
Fixed three or four-year terms would additionally provide greater certainty for businesses and investors within Australia's economy, something that I think would be of great benefit to our economic growth and stability.
Imposing fixed terms will require a referendum. So long as the Australian people have the ability to hold their Government to account as regular elections and have open dialogue with their representatives, this is certainly a matter worthy of consideration.
READ MORE: Fiona Barbouttis-Martin proves sports and politics do mix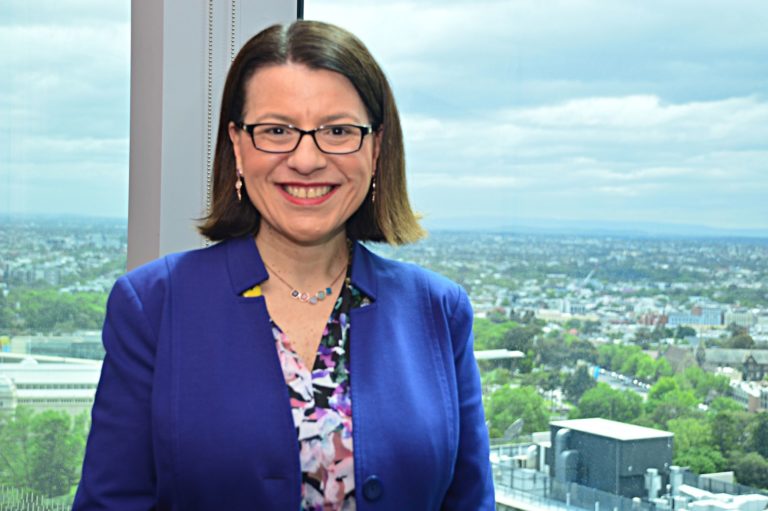 Jenny Mikakos, Victoria Minister for Health and for Ambulance Services, Australian Labor Party:
I hope the federal government moves to fixed terms as well. The three-year system means that the second half of a government's term is affected by speculation as to when the next election will be.
With the four-year fixed term, we have taken all that speculation out and we can focus on what needs to happen.. You can say to your department we need to be finished by the last Saturday in November 2022 when the next election will be. It helps with planning.
I have a countdown of when the next election will be. It's like a student sitting for an exam at the end of the Year 12 exams. I know I will be tested by the Victorian community as to how well I have done my job as health minister. I have to spend every day of the next four years doing my best in delivering as health minister.
READ MORE: Health Minister Jenny Mikakos went on a Greek vay-cay and came back with a huge scoop for Australia