This story first appeared in Neos Kosmos on 24 December, 2019. 
By the mid 1980s up to 40 per cent of all Greek Australians were marrying outside their cultural group, the number is now higher. Neos Kosmos reached out to a small group of people and asked them to reflect on how they celebrate Christmas.
In times of heated cultural politics, polemic and partisanship, Christmas is a good time to look at those things that unite us all regardless of language, faith, traditions and culture. A successful multicultural Australia is best represented by the acts of love and respect that these families all share.
Kathryn and Chris
Kathryn Robson and Chris (Raks) Rakogiannis from Melbourne "met through the 'classifieds' as Kathryn jokingly says all the time."
"We met in a share house… Kathryn responded to an ad I placed in the newspaper for a housemate to share with a bunch of fine artists and filmmakers," says Chris, whose parents arrived in Melbourne from Serres, Macedonia, in 1966.
Kathryn's family is fifth generation Anglo Australian from Perth. This year they will be celebrating Christmas with Kathryn's family in Perth where lunch will "involve fresh Western Australian seafood, and next Christmas we will be eating lamb with my family in Melbourne," says Chris.
Chris began as a sculptor and had carved out a significant career for himself. After meeting Kathryn, an established architect, and falling in love, their interests coalesced and he took on further study to graduate as an interior architect. Together they have built a family business in architecture and design that regularly features in Australia's leading home design magazines such as Belle and Vogue Living.
Chris loves diversity and says that he "wouldn't have it any other way". "It's also been great for our kids to be exposed so intimately to two different cultures." Kathryn and Chris have two children Alexander, 11, and George, 10.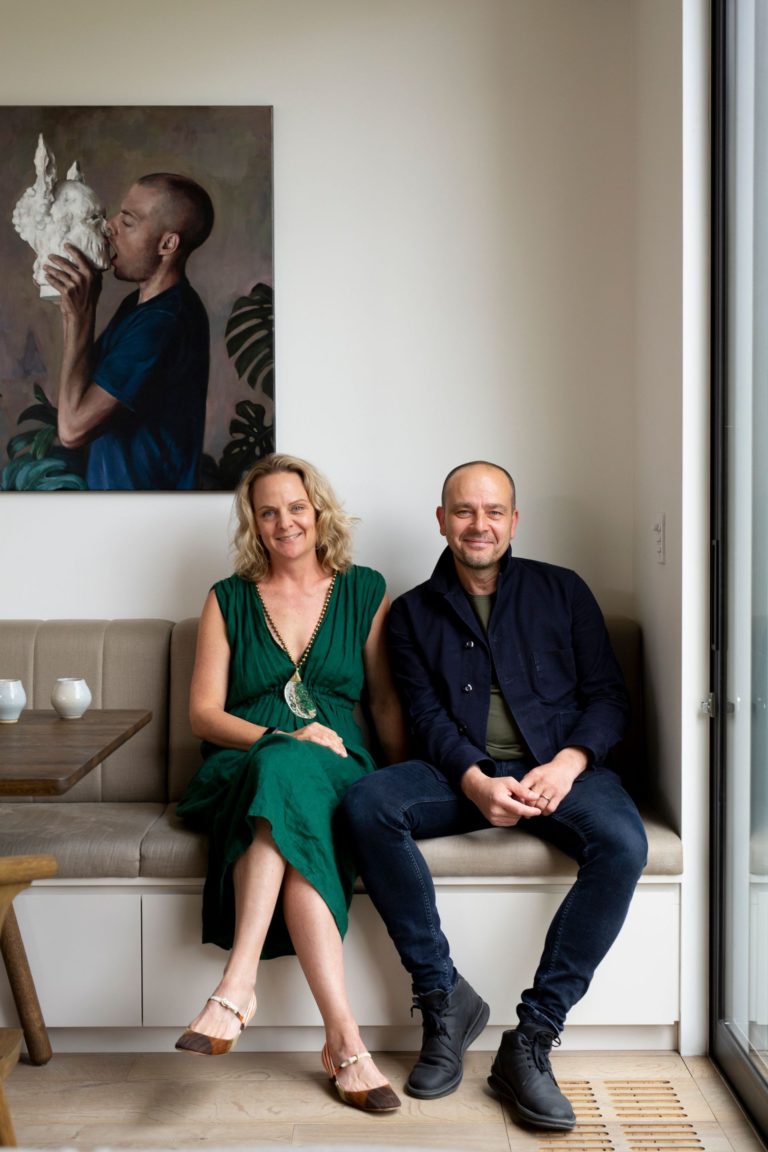 Pamela and Peter
Pamela Fisher, nee Xanthakis, is of Greek and Yankunytjatjara/Pitjantjatjara heritages. Her husband Peter Fisher is of Anglo German background and they met through friends at a bar.
It wasn't long before love struck the Adelaide couple.
For Pamela, Christmas is a way of reconnecting with "family and loved ones".
"We have Christmas lunch with Pete's family, followed by dinner at yiayia's house with my side of the family.
"The day will revolve around eating – far too much – and spending quality time with our nearest and dearest," says Pamela.
Pamela, who works with Peter in the "family business" as the Service Administrator, spent years in the travel industry as a flight steward and travel agent.
Peter is the Operations Manager in his family business, specialising in industrial and commercial gas detection.
"Diverse cultural traditions have been ingrained in our lives and traditions form our identity, they enrich our lives," says Pamela.
Passing on traditions to future generations is "incredibly important" to Pamela, an expectant mother.
"We are looking forward to sharing traditions with our growing family and starting some of our own," she says. "Our children will be the epitome of multiculturalism – Greek, Aboriginal, German and Irish heritages. "It is something that we both whole-heartedly and proudly embrace and hope our children will too."
Coni and Nelson
Coni Laranjeira, nee Pyrlis, of Greek and Greek-Cypriot heritages did not know that she would fall in love and ultimately marry one of the "little brothers playing along the creek" that ran behind her childhood home.
Nelson Laranjeira, of Portuguese heritage, met Coni when she was in her teens.
"My husband lived a few streets away, we went to the same primary school but did not cross paths until later," says Coni, a voice-over artist for commercials, training programs and announcements.
Nelson runs a successful concreting business.
Being of Portuguese heritage, Nelson's family celebrate on Christmas Eve, however this year they will all be celebrating on Christmas Day. "We will gather our parents and my brother along with our four beautiful children to share Christmas Day lunch together," Coni says.
The couple have four children, Georgia, 16, and triplets, Orlando, Sebastien and Manoel, aged 13.
Diversity for Coni is represented by the foods they share.
"Seafood on Christmas Eve is followed by seafood and a range of meats on Christmas Day…along with all the trimmings," Coni chuckles.
There is also a hint of nostalgia for Coni, "I try to relive the memories as a child of our family gatherings, of tables overflowing with food, music, laughter from our parents and the cousins. I want my children to experience what I did those days".
Lee and Neil
Lee Christofis, of Greek-Egyptian and Cypriot heritage, met Neil Gill a sixth generation Anglo-Scot "at a very noisy but happy Christmas night party in 1971". They met again at an Easter Sunday night party, after Lee attended Palm Sunday esperino service at St George's Greek Orthodox Church in South Brisbane.
Neil was an Anglican priest and Lee worked for Myer.
Lee, over the last 30 years, has carved out a career as one of Australia's leading dance critics.
"After a period of courting we decided to live together in 1972. You can imagine the scandal amongst the conservative clerics when Neil resigned his job… we ended up worshipping together at St John's Anglican Cathedral where he became an honorary and celebrated mass for ten years," says Lee, who also points to the "gossip in Greek circles when, after 16 years as a chorister, acolyte and organist I drifted into Anglicanism, a progressive and diverse community, through gay friends."
This year, a small group will gather on Christmas night, "one sister and four long-time friends."
They will begin the night with taramasalata made with roe shipped in from Brisbane; tiropites with champagne, followed by a ham glazed with Seville orange marmalade and a chicken roasted with lemon and marjoram potatoes.
"We've abandoned Neil's Christmas pudding but are sticking with his Summer Pudding, dripping in its rich berry syrup and topped by lashings of cream," says Lee mischievously. He reminisces about his mother's Christmas lunch; "avgolemono soup, pastitsio, two roasts and three desserts".
"This year, the gifts will be what we eat and drink, prepared by four cooks, one sommelier and one fromager," says Lee, who adds that their backgrounds and their sexuality "never completely defined" them.
"We are 20th Century hybrid citizens, we travel widely and often, speak other languages, and feel comfortable in most places we have visited. We have shared and different interests in faith, music and literature, ballet, theatre and movies.
Neil grew up with a huge bunch of relatives scattered around Victoria and Tasmania," he explains.
His Greek-Egyptian and Cypriot family, was made up of 'adopted relatives' until his cousins came to Melbourne after being expelled from Egypt in the 1950s. "Our families accepted our relationship from the beginning, it is indicative of their generous views of society while retaining faith in their families, with only one exception who didn't approve of our marriage on Easter Monday 2018," says Lee.
"The best thing though about our diversity, is that Mrs Chris [Lee's mother], taught Neil all he knows about Greek cuisine."
Lazaros and Kahhui
Greek Australian Lazaros Zikou met Kahhui, nee Tan, of Malaysian Chinese heritage, in 1996 at university. Lazaros was studying Law at the University of Melbourne, and Kahhui accounting at RMIT.
She needed help with a debating assignment and a mutual friend insisted that she speak to Lazaros because he was a leading debater at high school.
"We were introduced over the phone and talked about the assignment, but soon the conversation veered into politics, R&B music, history and that went on for the next two months, until finally I invited Kahhui for dinner at Café Greco on Chapel Street," says Lazaros.
Lazaros is a corporate lawyer at an energy company and Kahhui is a chartered accountant who "is taking a breather to be a stay-at-home mother."
"On the morning of Christmas Eve our kids, Giannis and Kateryna, knock on yiayia and pappou's door and sing carols, or kalanda (κάλαντα).
"We listen to pappou's stories about his childhood in the mountainous village of Eratyra, where he trudged through snow to sing carols to receive exotic oranges from the village community.
"There won't be snow, but there will be a violin, a triangle and the same Christmas Carols," laughs Lazaros.
On Christmas Eve the extended family and friends gather at their Aunt Thomay, Θεία Θωμαή.
"The fun, food and drink overflow and on midnight everyone sings the carols with gusto," beams Lazaros.
"The excitement in the morning is electric, Santa has left presents under the tree, while his reindeers chomped up the carrots and made a mess of the water," Lazaros exudes childlike excitement.
"For lunch we all gather at my brother Stavros' home and the kids spend the afternoon playing in the pool after exchanging presents with cousins". Regardless of differences in their cultures, love, respect and kindness bind them. Kahhui was raised in a Taoist household but educated in Methodist schools.
"I was baptised Orthodox Christian and embraced Greek traditions, Lazaros also has learned much about my Malaysian Chinese heritage. He respects my family's Taoist traditions and joins us to pay respect and honour the memory of my ancestors when we visit Malaysia," says Kahhui.
"We love each other's families and our cultural traditions," adds Lazaros.
Paul and Carolina
Paul and Carolina Andrianakos met at a popular 80s Melbourne nightclub, the Hippodrome.
"It was in 1988, when dance clubs were all the rage," reminisces Paul. "Carolina was a student and I was working in the family business and on my weekends I also performed at a Greek nightclub, The Cosmopolitan," says the businessman and musician.
It wasn't long before they fell in love. Carolina was born in Uruguay, South America. In Uruguay, Navidad or Christmas is also known as El día de la familia or the day of the family.
"I have to admit, at that time I did not know where Uruguay was and had to look it up in an encyclopaedia. It was before Google," laughs Paul. "On Christmas Eve, or Noche Buena, (the good night), Uruguayans celebrate with their unique Asado (barbecue) and a variety of salads."
Ensalada rusa, or Russian Salad is a traditional Christmas salad that stems from the Spaniards – a mix of potatoes, mayonnaise, carrots, and peas, and for some prawns and tuna.
"We finish with a flan, churros and Latin American biscuits Alfajores and Dulce de Leche," Paul says.
"Our girls Ava, Calista and Raquel open their presents at midnight surrounded by family and on Christmas Day we celebrate with my side of the family.
"We have lamb 'gyros' and Christmas sweets like kourabiethes and melomakarona."
Paul sees a synergy between South American and Greek culture, "they are beautiful and both value the importance of family".
"I love taking my children to Greek and Spanish-language festivals, it is great to see them embrace both cultures," he adds. Paul, Carolina and the girls regularly visit South America and Greece.
"The girls connect with both families and witness the close-knit families and how both cultures hold family to the highest value."
Nick and Deborah
Nick Tsiavos, whose parents came from Ioannina and Deborah Kayser of Australian, English and German background are renowned classical and contemporary musicians.
Nick a bass player and Deborah Kayser a soprano, are well-known in the contemporary music scene and tour regularly to Greece, Estonia, and Asia.
"We met, where else, but in a performance of a piece for a mutual friend of ours for the Melbourne Festival… a long, long time ago… and here we are," says Nick.
Deborah and Nick have recorded numerous CDs and broadcast on ABC FM. They head Jouissance, an eclectic ensemble that focuses on radical interpretations of Byzantine and Medieval music and chants.
They have a very busy Christmas "as Deb is out and about singing Messiahs and Midnight Masses".
In between all that, they make time to celebrate the holiday with their three sons, Ioanni, 21, Tom, 19 and Max, 15.
"Deb's mother and sisters, my mother and brother, and anyone else who wants, might knock on our door… there seems to be not one, but a caravanserai of celebrations, dinners, drinks that we must attend," laughs Nick.
"After the festivities," Nick says, "we collapse on our couch for an extended period of cross-cultural relaxation".
"We have never really thought of ourselves as cross-cultural, mono cultural or multi cultural … just cultural," jokes Nick.