Melbourne Comedy festival may have been cancelled but that doesn't stop these comedians from staying funny.
Neos Kosmos spoke to three Greek-Australian comedians in the circuit about their careers, on being Greek and love for making others laugh.
Yianni Agisilaou
Yianni Agisilaou has been flexing his comedy muscles for about 20 years now and seen his comedy evolve from telling conceptual jokes to honing his craft of storytelling.
But not every show has panned out exactly the way he would've have hoped…
"I was in Edinburgh doing a gig, and there was a guy in the front row just kind of looking away and never really looking at me. I just jumped in and I asked 'Are you alright mate? Is the show not interesting?' I was halfway through saying this and my brain just went 'dude, this was the wrong thing to say, he might be blind' and then the guy goes 'I'm blind!'…It was only a spot of 10 minutes but it turned out to feel like 25."
In the spirit of bringing some light during a grey time, Yianni has uploaded his full length show "Welcome to Australia: Conditions Apply" to Youtube, along with a couple of parody songs to remind us to practise social distancing.
READ MORE: Renée Marie Petropoulos: 'I want to film a dark comedy in Greece'
Charisa Bossinakis

Charisa Bossinakis always knew she wanted to work in the entertainment industry having done some acting in her younger years to eventually finding her passion in comedy.
The beauty of comedy will always be in the eyes of the beholder and Charisa is navigating the challenge that brings to a budding comedian.
"The toughest thing is you can write material that will kill one night and then bomb another. Trying to find things that are consistently funny, that is always going to work is almost like panning for gold, it's difficult. And then there's many factors why a set may work one night and not another, but I think being a newbie I'm slowly getting better at that… and finding material that is universally funny, as opposed to things that I find funny."
Looking to the future, Charisa hopes to end up writing comedy for television.
READ MORE: Aristotle may have invented Sheldon Cooper before 'The Big Bang Theory' became a hit!

George Dimarelos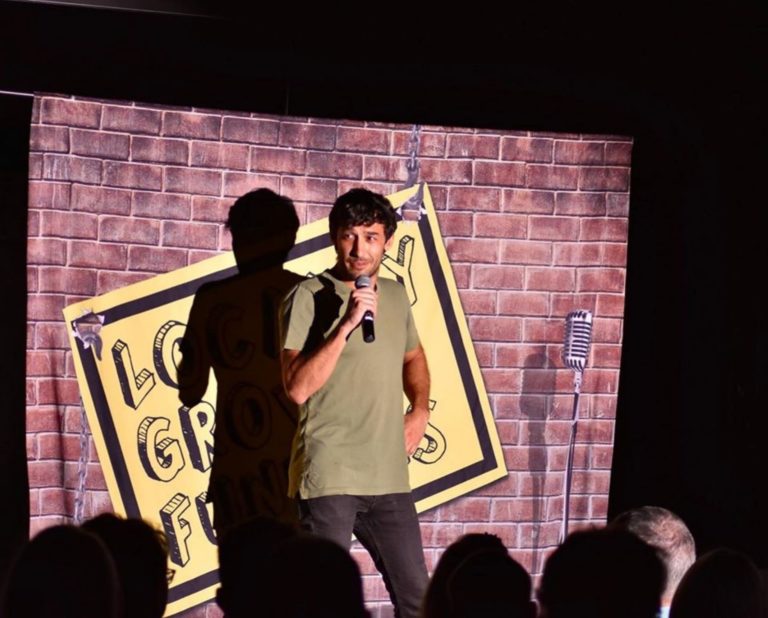 George Dimarelos is also no stranger to comedy festivals both at home and overseas, having played in America, the United Kingdom and South East Asia to name a few.
Constantly evolving and changing, George is still working to find the 'sweet spot' of working his cultural identity into his comedy.
"In terms of Greek stuff, it's something I've just recently started looking to a bit more. I think it's hard because you get nervous about being typecast into something like that, but at the same time it is totally a part of you and totally informs your entire being and who you are. So to try to go too far away from it doesn't make sense either…and I'm so Greek, there's no way I can pretend I'm not," George says laughing.
"For me it's not being too far, not being too close…just trying to find that middle ground is still something I'm still trying to find."
In recent years he has been developing his book themed show aptly named, "A Bookish Comedy Show" bringing together an ensemble of various comedians.
You can donate to comedians on the Melbourne Comedy Fest program by heading to https://www.comedyfestival.com.au/2020 and "buying a ticket" for May 19 that donates the money directly to the artist.