With fan attendance at Australian soccer games largely suspended due to the current coronavirus pandemic it's time to reflect on the long history of our game in Australia and its part in the Hellenic link to Anzac. This connection goes all the way back to Lemnos during the Gallipoli campaign, a football legacy that was commemorated only a few years ago.
Soccer – or association football to give it its proper title – has a long history in Australia, stretching back to the years before the First World War. Historians Roy Hay and Bill Murray have chronicled this history, which led to the formation of the Commonwealth Football Association in 1911, with fifteen Victorian-based teams in the competition. The Victoria competition was led by the Scot Harry Docherty, with league and cup competitions as well as inter-state games such as that between New South Wales and Victoria held in 1913.
One of the Victorian soccer team's pre-war players was William Dalton Lycett. 24-year-old William from Durham in England was a boilermakers apprentice at the Railway Workshops in Middleborough before immigrating to Australia in 1910. Living in Flemington, William was a keen soccer player and had been selected to play for the Victorian team prior to the war. It is most likely that he was part of the Victorian team that toured New South Wales for ten days in 1914, returning to Melbourne undefeated.
On 12 September 1914 – just days after the outbreak of the war – William enlisted in the AIF and began a journey that would take him to Lemnos during the Gallipoli campaign. Serving with the 4th Australian Field Ambulance, now Private William Lycett arrived at Lemnos' Mudros Bay on 16 April 1915. He would serve at Gallipoli until returning to the Anzac Rest Camp at Sarpi on Lemnos on 15 September, where he recuperated until returning to Gallipoli on 31 October. With the end of the Gallipoli campaign, William returned to Lemnos on 14th December coming ashore at the Egyptian Pier and camping in the East Mudros area. He would stay on Lemnos until 29th December when he and his unit departed for Egypt and the Western Front.
READ MORE: "Creforce the Anzacs and the Battle of Crete", a book by Stella Tzobanakis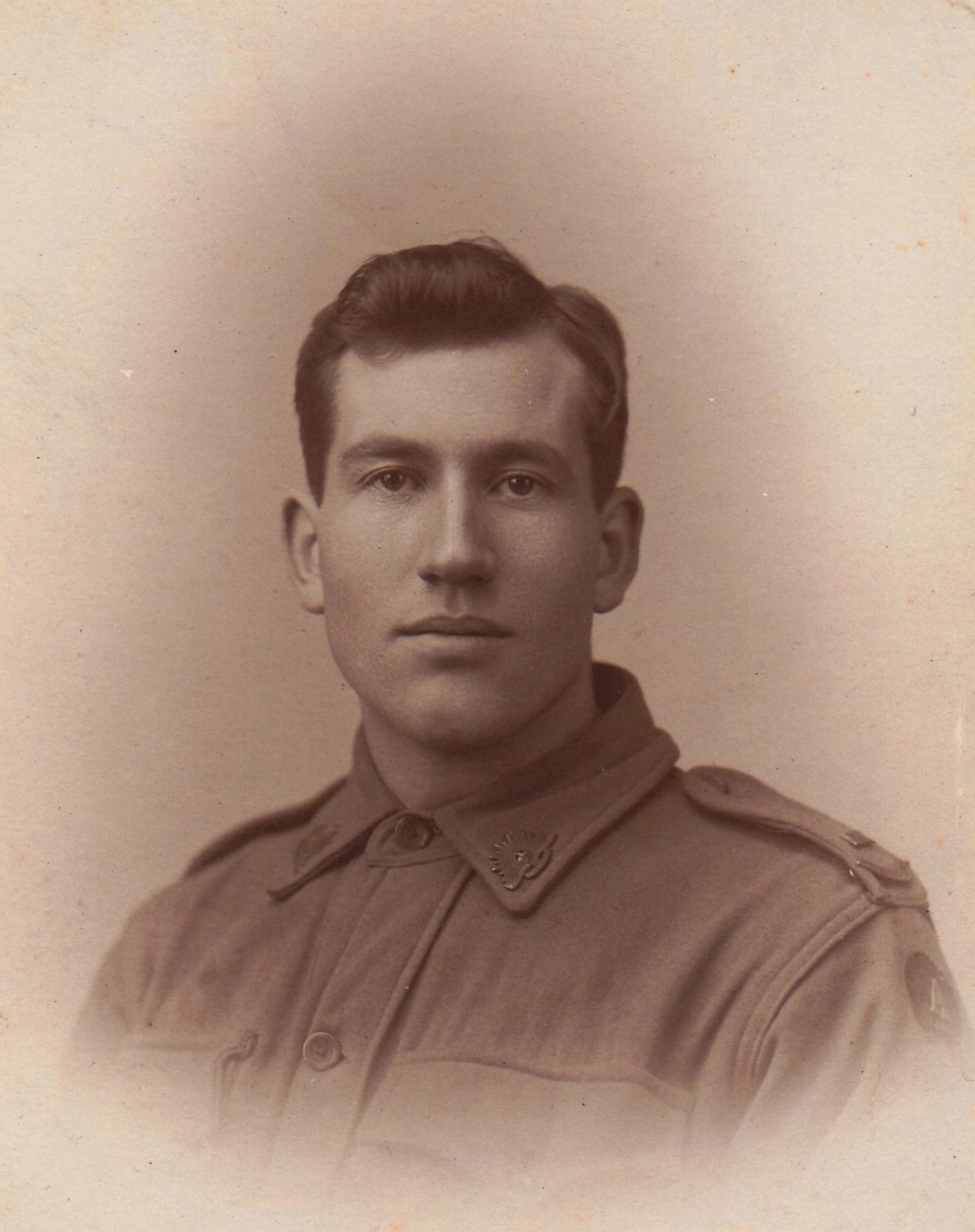 William kept a detailed diary documenting his war time experiences, including the days after the evacuation of the Gallipoli peninsula where he enjoyed watching the soccer games that were played between the various units on Lemnos in December 1915.
While based at the Anzac Rest Camp at Sarpi, William writes on 28 September of the unit's Captain Jeffries giving the men a "soccer" football he had received from Egypt, the men enjoying "a good rough and tumble time." Two days later, William writes of enjoying playing with the soccer ball after tea, playing until it got dark, and again on 1, 2 and 7 October. On 19 October William and some other Australian soldiers played a game against British sailors at the camp recreation ground, losing two goals to one. When William returned to Lemnos after the evacuation of Gallipoli, he wrote on 23 December of playing in an Australian team against a Royal Scots team, the Scots winning 6 to nil!
There are no photos of the matches that William refers to. But there are two photographs in the Australian War Memorial of another game which took place a couple of days later. This saw soldiers of the Australian "6th Battalion football team" played a team made up of British sailors from HMS Hunter anchored in Mudros Bay. Another photograph shows British sailors coming ashore at the Sarpi Pier to play football, probably those same footballer-sailors from HMS Hunter.
Another soccer-playing Australian soldier came to Lemnos before the landings just as William had done. And like William he was new to Australia having immigrated in 1912. A bricklayer by trade, James was from Northwich in Cheshire in England where he had been born. Like William he was a keen sportsman, active in running competitions and swimming – on one occasion saving another boy from drowning in a local river, for which he was awarded the Royal Humane Society's Bronze Medal.
But he also enjoyed his football, recorded as having been a "a dashing centre forward." He not only played with a local Church team (the Witton Church Lads' Football Club) but also with Northwich Victoria as well as Lostock Gralam FC. In brief years he lived in Australia; James also found work in the railways, working as a railway porter for the NSW State Railways.
READ MORE: Some historical events about Anzac Day and Australia's involvement in WWI
Enlisting into the AIF on 11 October 1914 – a few weeks after William –– and now as Private James Edge sailed overseas with the rest of the 13th Battalion fromSydney's Circular Quay aboard the HMAS Ulysses, on a journey that would take him to Lemnos and Gallipoli. He wrote home regularly, sometimes two letters a week. In one written three months into the Gallipoli campaign he wrote prophetically:
"It will be a good job when this awful war is over, but we shall have to keep on going for a little while longer. Of course, it may last some time yet, and I would not be surprised if it lasted another 12 months."
Many of Jimmy's friends and relatives are reported to have joined up, including his only brother who was serving in France as was his uncle Sandy Forster and other relatives.
By the 23 July 1915, James was suffering from enteric fever, one of the gastric diseases that ravaged the troops at Gallipoli due to the poor sanitation. Transferred for treatment to the hospitals on Lemnos, James wrote on 26 July that he was in hospital and hopefully of recovery soon. But it was not be. James died on 3 August, aged 27, at the 15th British Stationary Hospital on Lemnos. He had written to his mother before he embarked from Sydney. "Goodbye! Mother, whatever danger I am in my last thoughts will be of you. Don't upset yourself, for I shall be no disgrace to you and I am only doing my duty," he wrote.
After his death, the local newspaper Cheshire Chronicle reported his death writing that James had been well-liked by all, "never an ill word was spoken regarding him and he never made an enemy. " The local newspaper reported that though he was of "a shy and retiring disposition … modest and unassuming" he was nevertheless "a brave, plucky fellow."
Buried at East Mudros Military Cemetery, his family would later have etched on his grave stone the epitaph: "So nobly he lived as nobly he died."
I have written to Norwich FC alerting them to James' story. James is the only soccer-playing Australian soldier that I have been able to identify buried on Lemnos.
READ MORE: On this Anzac Day… Let's remember the medical staff at Lemnos and Salonika in WWI
Proposal for a re-enactment
It was these stories that drove me to propose a re-enactment during the Anzac Centenary on Lemnos of the soccer games played on there during the Gallipoli campaign and witnessed by William. I have to say that it didn't take much persuasion for the Australian sailors of the HMAS Success and the local Hellenic Army soldiers to agree on the proposal. And so it was in April 2015, an Australian soccer team comprised of military personnel took the field on Lemnos – one hundred years after the previous one. The game was took place at the soccer field in the village of Kontias, a village on Lemnos that we know was visited by the Anzacs in 1915-16.
The Aussies took the field in specially produced red shirts, the Hellenic team in blue of course. The whole game was played in a spirit of friendship – so it wouldn't be fair to report the result but I'm sure readers will have an idea! The game was witnessed by many Aussie Lemnians – some with strong connections to our local Hellenic-based teams – who cheered on the brave Aussies facing their more experienced Hellenic opponents. The local authorities on Lemnos awarded cups to both the winning and losing team, the Australians awarding one of their shirts to the then Regional Governor of the Northern Aegean Christiana Kalogirou, who donned it enthusiastically.
One hundred years after Australian service personnel had played soccer on Lemnos, they had done so again. The spirits of William and James would have been smiling down on the playing field of Kontias that day in April 2015.
So while we soccer fans sit at home, grumbling about our inability to go along and watch our favourite local teams live, spare a thought for the Australian soccer players on Lemnos all those years ago. Amidst the horrors of war they found time to enjoy what we all call the beautiful game. As my good friend, Phillip Diamataris, a proud Aussie/Lemnian and Football Federation Australia (FFA) match commissioner says, "we should not forget the strong roots of football in Australia and its part in Lemnos' link to Australia's Anzac tradition." These Anzac soccer players are also a part of Australia's multicultural and migrant story. Lest we forget the Anzac soccer players of Lemnos!
Jim Claven is a trained historian, freelance writer and has been Secretary of the Lemnos Gallipoli Commemorative Committee since its establishment in 2011. He is the author of the recently published book, Lemnos and Gallipoli Revealed: A Pictorial History of the Anzacs in the Aegean 1915-16. He acknowledges the work of football historians Roy Hay and Bill Murray in the research for this article. He can be contacted at jimclaven@yahoo.com.au.