It is 17 years since DJ Krazy Kon came upon the idea to bring together the music from in Greece's hottest young acts in a compilation that will get people off their seats and on their feet on the dance floor anywhere in the world.
His latest compilation shows the dj, producer and promoter has not lost sight of a winning formula. The Greece Mix Volume 25 Anniversary Album topped the iTunes Dance Chart Top 150 just days after its release and it broke into on the Aria charts.
The compilation of the best and brightest of Greece's stars shows Kon has not lost his touch despite all the difficulties that the pandemic has posed for the music and entertainment industry. On average, there have been two Greece Mix releases a year. Last year's June release of Volume 24 showed the compilations making inroads into the Australian charts while also making an impact on iTunes.
With the Anniversary album DJ Krazy Kon has again made the most of good material to produce a high-impact flow of dance music that slows down in only the last two tracks, Athina Mou by Konstantinos Argros and Ena Tsigaro Diadromi by Despina Vandi – and you need them to slow things down after the activity that the previous tracks will have generated.
The CD starts with tributes to Krazy Kon from various Greek djs and performers who have appreciated his efforts in bringing the latest Greek music in its variety of genres to the world.
Standout tracks for me were the songs starting with Kapse by Theforis Ferris, Horevo, (Michalis Hatzigiannis) and Paola by Flitzani.
Natasha Theodoroulas' Parathothika Se Sena flows seamlessly into Paraisoromai by Konstantinos Koufos so that it is almost a duet. Parasiromai stands out as a favourite a mix of high-energy drive with a lilting clarinet weaving through the song.
READ MORE: Landmark Greek music compilation tops iTunes chart for DJ Krazy Kon
Panis Kiamos delivers a catchy, layered song with Dyo Metra Ouranos with the accordion playing a starring role. Skase Ena Fili by Nikos Oikonomopoulos draws its inspiration from the early 1980s.
The mix is united by the high energy selections which also showcase for the world the multifaceted talents of Greece's chart toppers.
Perhaps one criticism is the absence of biographical notes for each of the featured artists on the CD or perhaps through a link to the DJ Krazy Kon website.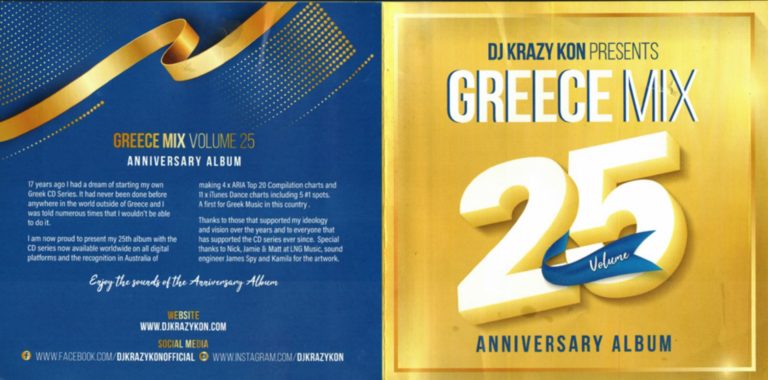 ♦ Greece Mix Volume 25 Anniversary Album can be bought via  DJ Krazy Kon's website  (https://www.djkrazykon.com/) or the iTunes World wide site (https://music.apple.com/au/album/dj-krazy-kon-pres-greece-mix-25-anniversary-album/1542151972), or you can buy the CD from selected outlets: Oakleigh Music Centre in Melbourne. In Sydney from Alevri HQ, Stretto Espresso, Creative Apron, or Big Fat Greek (Sydney). In Adelaide from the Parthenon Emporium.