Mary Kalifatidis is no stranger to the world of reality television after getting a taste of what it's like from her own daughter Martha who appeared on season six of Married at First Sight.
This time, reality television's favourite mum is entering the entertainment sphere under the watchful eye of Channel Seven's Big Brother.
Ms Kalifatidis is one of 20 new housemates entering Sydney's North Head fixture, but there was a moment where she may have not made her way into the house.
"I personally didn't want to do any TV, but my kids sort of wanted me to do something…My life is simple, I didn't want to rock it but in one way it was good because I was just getting up, doing the same old thing, always complaining that I hadn't done anything for me," Ms Kalifatidis told Neos Kosmos.
After copious Skype calls, background checks and discussions, the Greek-Australian mum of three was given the green light to be a part of the show.
"When I had my interview and they accepted me I thought 'I don't want to do it' and then my daughter said 'Mum, there's like 50 thousand people who have applied, you've just been offered to be a housemate, why wouldn't you take it? This is an opportunity for you to do something for you', and that's what made me actually do it," she said.
READ MORE: Married at First Sight's Martha goes on Mykonos 'business' honeymoon
Heading into her new once in a lifetime adventure, Ms Kalifatidis was well aware of the tricky world of reality television she was about to enter.
Despite it being three years since Martha graced Australia's television screens, the lessons Ms Kalifatidis learned from watching her own daughter navigate reality TV life has stayed with her.
"I knew from my daughter that whatever comes out of your mouth can haunt you, so if it doesn't come out of your mouth you're going to be safe," Ms Kalifatidis.
"I was me because you forget. That's the thing, you forget that there's cameras. It's like you're living every day in your own home…I don't think I've said anything, and it's not that I was conscious about 'oh I better do this, or I won't act like this'. You can't do that. You can fake it for an hour, but let me tell you, it's 24 hours a day, you cannot be fake."
Sure, life on the small screen can be a bit of a whirlwind, but in Ms Kalifatidis' case it opened her up to a whole new world of self love and self discovery that she explained she wouldn't have had, had she not been on the show.
READ MORE: Greek Australian Zoe George tells us about life in Australia' Big Brother House
In true, typical Greek-Australian mum style, the 56-year-old had dedicated much of her life to her family, often forgetting to take care and celebrate herself.
With the normal stressors of everyday life stripped away in the Big Brother house, Ms Kalifatidis' 'epiphany' beckoned.
"All I really know is to do the nurture thing, to cook. When I was in there, I was still doing that. There was one day when I stopped, because I wanted to make sure there was enough food for everyone… I was like you've got to share food and you can't eat everything on your own and when I stood back and thought 'all I do is care about others, but I need to put that energy into me'," she explained.
"That was a lightbulb moment for me, that I thought 'oh my god, all I do is that'. I never think 'I'll put Mary first'. We become invisible in who we are and what we can give. I think being on Big Brother has shown me who Mary is and who Mary can be and yeah, I can do it."
READ MORE: How two Greek-Australian sisters built a brand worn by celebrities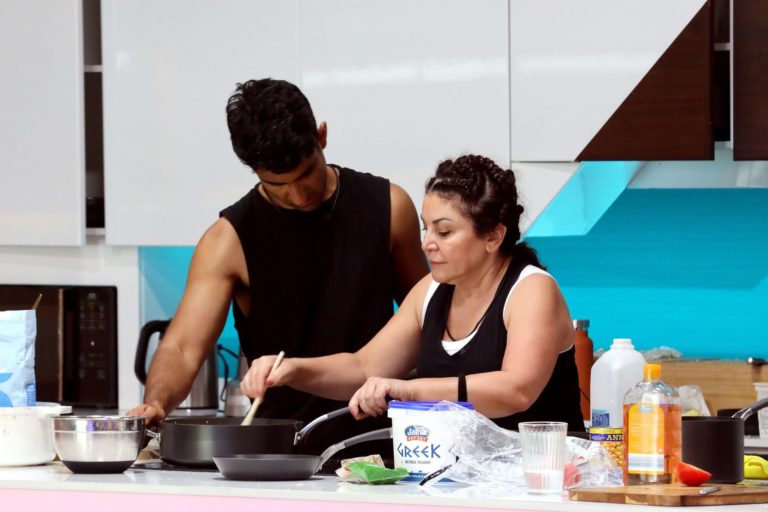 Although her moment of clarity came in the kitchen, the accomplished home cook's skills also served a strategic purpose. Thinking smarter and not harder, Ms Kalifatidis used her culinary creations as her greatest unsuspecting weapon.
"I thought if I fatten them all up, all these healthy people then they'll be just as unhealthy as me and maybe I can actually win something. Maybe that could be my power tool, feed them and fatten them up with a big Greek feast, but there are rations in there," she said laughing.
"I know I wasn't athletic, so I needed to have something. The funny thing is you go in with a plan, but when you go in, no matter what plan you have, everything changes."
When she wasn't using her time in the house trying to execute her strategy or attempt to set up her daughter Sophie on a date with Big Brother himself, Ms Kalifatidis was basking in the joy that the experience had brought her.
"It was the most amazing thing I've ever done for myself. I actually did it for me and I came away thinking anybody can do this."
Big Brother begins tonight at 7:30pm AEST on Channel Seven and you can catch Mary Kalifatidis entering the house tomorrow at the same time.