Since opening in 1997, Molyvos has been one of New York's most praised Greek restaurants, offering its devoted clientele a wide variety of mezedes and mains − accompanied by the largest all-Greek wine list in the US and possibly in the world.
Inspired by the traditions and heritage of Lesvos island, from where the Livanos family originates, Molyvos takes diners on a rustic culinary journey throughout Greece. Molyvos restaurant has won numerous awards for its food but is famous for its long and impressive wine selection which gave it the Wine Enthusiast's '100 Best Wine Restaurants' award in 2015 and 2016 and a listing among the 'Five Best Wine Bars in New York City'.
Nestled in Manhattan's Midtown West neighbourhood, just a block away from Carnegie Hall, Molyvos' main goal is to bring filoxenia – the Greek style of hospitality – to the heart of New York City.
Molyvos was a pioneer when it first opened, bringing country Greek cuisine to a new level of elegance and sophistication amid décor inspired by Greece's romantic seaside villages.
THE LIVANOS FAMILY LEGACY
The challenging journey began in 1957 when John Livanos migrated to the United States from Greece and began his career as a dishwasher, working for his uncle in Manhattan.
Within just three years he purchased his first restaurant in 1960 and after 25 years of hard work, he opened the acclaimed Livanos Restaurant in White Plains, NY.
Since 1985, John has been focused on presenting Greek food in the most fresh, mouth-watering and elegant manner.
Today, he and his children Nick, Bill and Corina own and manage the prestigious Oceana and Molyvos restaurants in New York City, as well as Moderne Barn in Armonk, NY, and City Limits locations in White Plains, NY, and Stamford, CT. The Livanos' devotion to high-quality standards and love for Hellenic flavours have brought their food to the top, helping the family business flourish.
Nick, the eldest of the Livanos siblings, grew up working in the family's restaurants during the school year and spending his summers in Greece. Coming from a family of talented cooks and a long line of commercial fishermen, it didn't take long for him to fall in love with food; the concepts of freshness and quality were the foundation of his culinary expertise.
Nick graduated from Adelphi University with a bachelor's degree in management, but his life changed when, on a whim, he decided to visit the Culinary Institute of America in Hyde Park, NY, and later enrolled. Today, Nick oversees the business of all the Livanos restaurants, sharing duties with Bill and Corina. He enjoys engaging with guests and swapping stories about food, family and life.
Like his older brother, Bill was inspired to pursue a career in hospitality by their father's passion and dedication to the family's restaurants. As a child, he remembers going to work with his father − first to a diner they owned in West Hempstead, NY, and then the Arch Diner in Brooklyn. Bill learned and worked every position in the Arch Diner and eventually followed in Nick's footsteps and studied business at the same university. Upon graduating, he worked for several national restaurant chains before returning to the family business to develop the wine program at Livanos Restaurant and eventually participating in the beverage programs for all of the family's restaurants.
Last but not least, Corina, the youngest of the Livanos siblings, grew up with her father and brothers as her role models in the hospitality industry. After graduating with a degree in management from the University of Rhode Island, she worked her way through the family's restaurants, eventually joining her brothers as a key member of the management team. One of the most notable moments of her career was opening Moderne Barn in the family's hometown of Armonk, NY, in 2010, bringing a casual-yet-sophisticated concept to the neighborhood.
"Even though each Livanos restaurant has its own character, I hope that every guest experiences a few simple things all the same," says Corina.
"Delicious food with exceptional service in a comfortable, engaging environment."
CARRYING ON THE FOOD AND WINE EXCELLENCE
Staying true to the Livanos family values, executive chef Carlos Carreto, who is Greek at heart, celebrates the lifestyle and food that "represents the delicious, healthful way that people in Greece eat", and on a daily basis executes the daily menus, even developing new recipes.
"It has held fast to that vision for nearly two decades, serving innovative but authentic Greek fare that continues to evolve today. The warm, friendly service makes guests feel as if they're in a Greek home, and the food forms a paean to the variety and seasonality inherent in Greek cuisine."
Chef Carlos learned the art of Greek cuisine in-house from founding chef Jim Botsacos, and since 1997, when he joined the Livanos clan, he's been the backbone of the Molyvos kitchen, upholding the integrity of Greek cooking techniques and flavours. Proving his love for Hellenic cuisine, Carlos rose through the ranks until he was hand-selected by the esteemed Jim Botsacos to succeed him, taking Molyvos to new heights and distinctions.
Aside from its culinary excellence, Molyvos is known for having the largest all-Greek wine list available in the United States, boasting an award-winning list comprised of more than 600 labels that represent over 50 wineries in Greece. Wine director and general manager Kamal Kouiri − yet another lover of Greece who has been a part of the Molyvos family since 2001 − emphasises his passion to provide guests with a road map to Greek wines.
With more than 60 indigenous grape varietals grown throughout Greece to keep track of, he prides himself on continuing to introduce new labels that are exclusively available to diners at Molyvos. Travelling to Greece at least once a year, Kamal tours wineries and meets winemakers on both the islands and the mainland to ensure he continues to have the pulse of Greek viticulture.
Eagerly sharing his expansive insight in approachable ways, he's always keen on giving wine-pairing recommendations at dinner and on guiding guests through their first ouzo experience.
"Not to be left out," he says, "we also feature 14 different varieties of Greece's national aperitif, ouzo, in addition to our wine list, as well as a wide selection of beers from Greece and around the Mediterranean.
"Between refreshing ouzo-based cocktails, like the Lesvos Lemonada, and wines only found in our restaurant, Molyvos' beverage program gives diners an experience that can't be duplicated anywhere else."
"Our comprehensive wine list encourages diners to experiment, including 50 wines by the glass that change regularly and focus on unknown regions in Greece – made possible by our wine director Kamal Kouiri's frequent trips to the Greek mainland and islands, as well as his strong relationships with boutique Grecian wine producers," the family says.
"Kamal has helmed Molyvos' wine program for a decade, growing our initial offering into the expansive selection that we have today, bringing back new finds with each visit abroad."
Molyvos' dedication to Greek viticulture has been recognised by Wine Enthusiast's 'Award of Unique Distinction' and Wine Spectator's 'Award of Excellence' in 2012 and 2013, as well as 'Best of Award of Excellence' from 2014-2016 for the wine program that Kamal has curated at Molyvos. Unsurprisingly, his passion has also helped Molyvos become one of Wine Enthusiast's 'Five Best Wine Bars in New York City' as well as making their '100 Best Wine Restaurants' in 2015 and 2016.
The Livanos family has managed to not only carry on Greece's culinary traditions across the Atlantic, but has proudly invited talented people from different cultural backgrounds, filled with love for what they do, into their family and at the helm of their business, allowing them to take initiative and be creative. After all, the core of Greek hospitality is filoxenia, and filoxenia starts from one's own home, one's own family.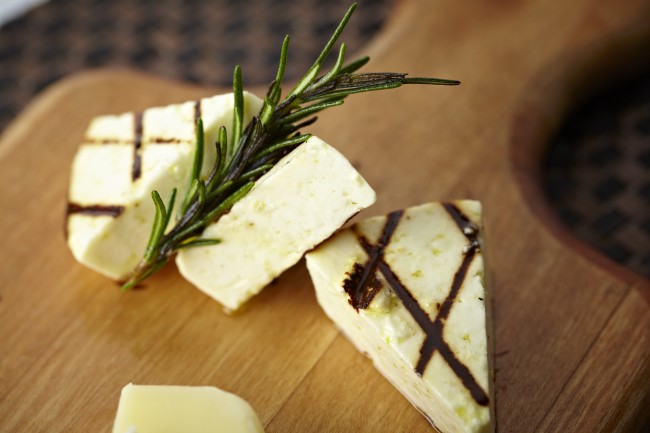 The soft shell crab
The gulf shrimps
The sardines
The hearty tomato soup
The Cypriot sandwich
The cheese and honey plate
The famous milopita
The Molyvos baklava sundae