One rainy afternoon, while finding solace in my local bookshop, I was fighting away the travel blues when I happened upon An Octopus in my Ouzo by Jennifer Barclay. Drawn by the intriguing title and optimistic tag line: 'Loving Life on a Greek Island', I already felt good about this book, knowing it would likely be the literary escape I needed. And as is often the case, my intuition turned out to be right.
The second travel memoir to follow on from Falling in Honey, on her travels UK-born Barclay fell in love with the wild beauty of Tilos, a small island surrounded by the Aegean sea, largely unchanged by tourism and inhabited by some 780 people.
A freelance writer, editor and agent, the original plan was to move to Greece with a lover, though, as is too often the case, things didn't work out, and so she set out to call the island home on her own.
"Living on a Greek island was fulfilling a dream I'd had for a long time, but I really wasn't sure if it would be possible – whether I'd be able to survive financially, for a start," Barclay tells Neos Kosmos.
"Tilos immediately spoke to me because of its wild, empty landscape and friendly people; it's a place for walking to untouched beaches, enjoying the nature and sunshine," which she says still draw her five years on.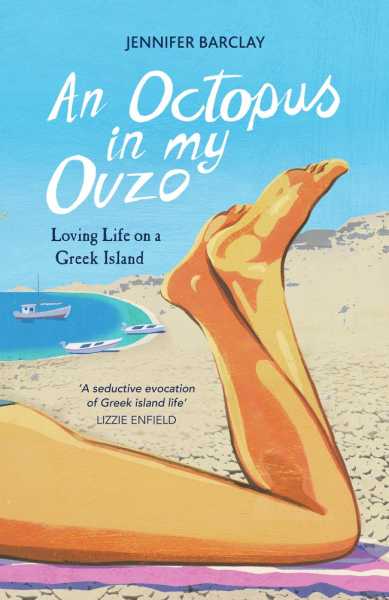 Having lived and worked elsewhere, in Canada and France, life on the small Greek island lent her a sense of freedom that she says isn't as easily attainable elsewhere.
"Space, light, colour, emptiness, quiet. Lack of big supermarkets and motorways. I can largely avoid celebrity culture and the latest fashion – what happens on the island is generally more important than what's happening to some TV star and there's no need to have a fancy new thing to wear. I can live a different kind of life, swimming in the sea and walking in the hills," she says, and while she admits she could try and recreate a similar lifestyle somewhere remote in the UK, like so many other Philhellenes before her, she says she feels "more at home in Greece".
"The sea and the sun are warmer and you can live more simply if you want to; it allows me time to do things I love – more creative work, walking in nature, cooking and spending time with friends," Barclay says.
But it's not all positive. Living on a small island where everyone knows one another and contributes their two cents can be testing.
"I've sometimes been upset by people telling me I'm doing things wrong, especially how to handle my dog, but generally I'm overly sensitive about such things. The way some farmers treat dogs upsets me – tying them up to trees in the middle of nowhere and leaving them there, supposedly to scare goats away from trees."
An environmentalist, she also notes a lack of knowledge when it comes to the impact of plastics and the little to no recycling facilities. And then there's the mismanagement of money and council workers going unpaid for months.
But Barclay is open-minded and understanding, endeavouring to look on the bright side and acknowledges that "issues are usually more complex than they appear".
An Octopus in my Ouzo is not just any travel memoir, one where life is romanticised and retold through rose-coloured memory. That's not to say you won't often find yourself being transported from your couch to the Aegean, fantasising about trading your lifestyle in and abandoning the status quo for morning swims, fresh air and living off the land. But what is most noteworthy about Barclay as a storyteller is not just her choice of words and use of adjectives, but her commitment to honesty, something her readers have come to appreciate.
Aside from writing about the highs of living in a new place, days spent cooking and eating with new friends and local boyfriend Stelios, she also writes candidly and openly about her desires as a woman, and more importantly, as a human being. She questions her life's choices − everything from jobs, lovers, and her approach to life in such a way that gives you permission to do the same with your own.
She opens up about her desire to be a mother, one which came later in life. As a woman in her early 40s, she tells of her attempts at conceiving with Stelios and the losses that followed, exposing intimate moments of tears and uncertainty, which she believes was necessary to be able to write honestly about her first few years on the island.
"For me, writing when I go through something difficult is cathartic; it helps me to process it. I decided to share it partly because I wished I had read more about miscarriage myself, when I went through it; I think reading about the normal difficulties that we all experience helps us learn how to deal with life," says the writer.
"Miscarriage seems to be a taboo subject for some reason – nobody likes to talk about it, which is horrible for you when you go through it, because you can feel very alone and even guilty for not being able to bring everyone the joy they wanted, and what you really need is support and understanding. I wanted to show life in all its darkness and light. Life wasn't a walk in the park and yet its wild beauty was redemptive."
And her decision to do so has been well received, her experiences resonating with many of her readers who in turn have felt the impulse to reach out to say thanks, while others have been so inspired as to pay a visit to Tilos themselves for some respite.
"I think many readers appreciate that I write honestly about the tricky things in life – everyone has their ups and downs to deal with. Some people write to me to thank me for writing about something they have been through too. Others are simply inspired that I have gone for it and reached out for what I wanted in life, and made it work. Many people who come to Greek islands for holidays wouldn't be comfortable living here all year round, but they like to learn more about the places they love."
After completing An Octopus in my Ouzo, the writer's adventures have taken her around the world to Australia, where she pet-sat her way around New South Wales − an experience that resulted in new stories to tell, which she hopes to make into a book one day.
She has since returned to her life in Tilos and taken up the opportunity to run a taverna in the traditional mountain village of Olympos in north Karpathos, a neighbouring island. Dividing her time between the two islands together with her loveable dog Lisa, this is the next chapter in her Greek adventure that she is planning to share with her readers.
So what's next? What will be the next destination Jennifer Barclay calls home? She's already there.
"I hope to stay in Greece – I have no desire to leave. The country has a huge amount of variety within it," which, she says, coupled with the ability to work remotely doing what she loves, means everything.
"It has transformed my life in every way. I often think how happy I am with my life, and how lucky I am that I made the leap to go for it. It wasn't always easy but as the years pass, it gets easier. I have so many new friends, and life feels complete."
* To read more about Jennifer Barclay's adventures and purchase her books, visit octopus-in-my-ouzo.blogspot.com.au