Greek-born and raised Christina Darras considers herself to be a visual artist first and foremost, although she has always flirted with fashion. Having graduated from Ecole Nationale Superiere des Beaux-Arts, Paris, followed by a degree from Central St Martins College of Art & Design in London, she has designed prints for Clements Ribeiro and T-shirt designs for Caramel baby. Darras has created a sell-out range of beaded bags, each one unique and almost like a mini painting themselves, which were sold to high-end boutiques worldwide: Moukimou, Harvey Nichols, Paul Smith and Collete, to name a few.
She has also been making jewellery for the last 15 years and claims she will continue "until she gets bored". She hopes that her one-off necklaces will make people smile.
"I make jewellery for girls who want to have a happy day," she tells Neos Kosmos.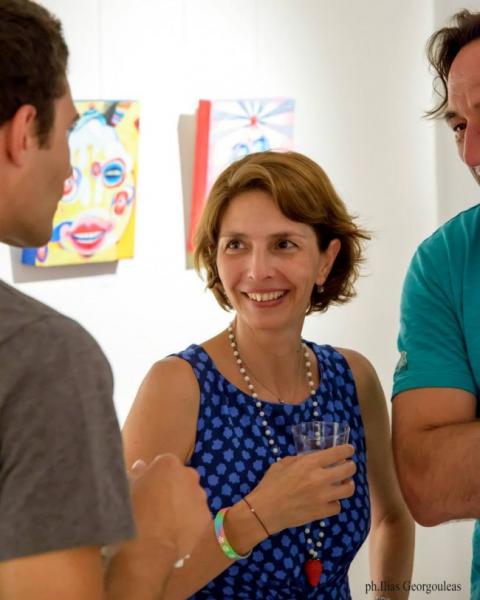 The Athenian artist went on to establish several international collaborations with established brands and stores over the past 20 years, which played a great role in her decision to move to Australia. However, her constant drive to seek new adventures and sources of inspiration tops the list of reasons that brought her to Melbourne a little over six months ago.
"Melbourne inspired me, mainly because it's an amazing place so far away from everything. To me, it seemed a very creative place with open and relaxed people.
"Having been here before, I love it, and wish to explore the full exotic Australiana even more."
Her inspiration appears to be endless, as she will post one new work on her account per day. She tries to transform everything around her into creativity.
"Everything inspires me … a breeze, a good laugh, good pasta; even the pain of missing my friends. All things, good or bad, can be sources of inspiration.
"This is my way of dealing with my emotions and also it helps me think," she says. "Being creative is therapeutic to me."
Darras is open to all kinds of techniques and mediums, claiming "each medium has its purpose". Her current exhibition, however, entitled 'All Eyes On You' at Fitzroy's coveted Brunwick Street Gallery, is dedicated exclusively to aquarelle on paper. This series of aquarelle works has been part of the artist's 'one thing a day' project on Instagram, which represents a day-to-day visual diary.
"I love the transparency of it," she explains. "The way the paper sucks the water and leaves the color on the surface. To me, aquarelle is an intimate medium … it whispers; you have to go close to discover it."
'All Eyes On You' is about the pressure we feel when watched. Darras thought that the narrow space of the corridor in gallery 10 was the perfect environment to install her series of watercolour eyes in a straight line that simulates a belt of pressure around the viewer. Also, the narrowness of the corridor brings the spectator close to the artwork, and through those aquarelles, one can explore the little washes and the sensitivity of the medium.
"'All Eyes On You' sounds great − you have all the attention of the world − but actually it is a very heavy carriage. Having an eye on your back creates tension and anxiety," she says.
"This is the ambiguity of 'All Eyes On You'; we crave the attention of others, but when acquired we have to pay the price of it."
* Darras' paintings and installations can be found at Genesis and Zoumboulakis galleries respectively in Athens. Her jewellery is available at the Benaki Museum and Mariana Petridi Gallery, also in Harvey Nichols, Paul Smith, Designers Guild, Moukimou in London, Collette in Paris and selected shops around the world, predominantly in New York and Tokyo.
In Melbourne, her artistic work is currently on display at Space 10, Brunswick Street Gallery (322 Brunswick St, Fitzroy) from Tuesday to Friday 10.00 am-8.00 pm, Saturday to Sunday 10.00 am-6.00 pm.
One can find Darras' jewellery at Kiitos, Barwon Heads and Third Wing in Toorak, as well as online at shop.christinadarras.com. For additional information head to christinadarras.com