Melbourne Hellenic Cricket Club made history on Sunday 11 March with their first XI easily winning the 2017-2018 South East Cricket Association (SECA) Quiney Shield Grand Final with a convincing win against Le Page Park Cricket Club – securing promotion into Woolnough – the 2nd tier of the SECA competition.
The match took place at Centenary Park in Bentleigh East over two days on Saturday 10 and Sunday 11 March.
The Melbourne Hellenic Cricket Club's 1st XI proved their worth on the field during the first day of play dismissing Le Page Park Cricket Club 10/189. Having lost the toss they took to the field in very hot conditions. All bowlers bowled well and tight.
Standout figures: Aaron Gregory – 20.5 overs 5/57, Kshitij Shivani – 16 overs 1/41, Ishant Chowdhary – 18 overs 0/54, Sidhant Chowdhary – 10 overs 0/28.
In trying conditions, the fielding was excellent. There were 4 run outs which were crucial: 2 x Ange Goutzioulis, 1 x Peter Magafas and 1 x Sidhant Chowdhary. And 5 catches: 2 x James Nezos, 1 x Sidhant Chowdhary, 1 x Kshitij Shivani and 1 x Ange Goutzioulis.
After Day 1 Melbourne Hellenic Cricket Club were chasing 189 runs which was easily achieved with 31 to spare.
Sidhant Chowdhary, again dominated with a massive 97 runs off 61 balls including 9 x 6's and 5 x 4's. Louie Meggos was in fine form making 49 runs including 7 x 4's. Sidhant Chowdhary and Louie Meggos had a massive 120 run partnership.
Captain Aaron Gregory made 24 runs (n/o) including 5 x 4's. Terry Theodoropoulos scored the winning run.
The Club Patron, Lee Tarlamis said 'this win was the culmination of 7 years of dedication and commitment from the team who have fought hard and come so close many times before'. He went on to say that 'for a club that has only been around for 7 seasons and is playing against far more established teams, Melbourne Hellenic Cricket Club are really making a name for themselves – this is the first XI's forth final in 7 years and our first victory'.
You would have had to have seen to believe the excitement and jubilation from all the players, supporters and sponsors when the winning run was made.
The celebrations for this historic win continued late into the night – after all it's not every day the only Hellenic cricket team in the southern hemisphere wins the SECA Quiney Shield Grand Final.
The Club Patron, Lee Tarlamis described the atmosphere as amazing site with players, sponsors and supporters coming together for a night that will always be remembered. On behalf of Melbourne Hellenic Cricket Club he thanked all those who have supported and continue to support this proud club since it began only 7 years ago.
He went on to say that 'this victory is for the Hellenic community as much as it is for our club and that together the club would continue to achieve even more – this is just the beginning – Congratulations!
Melbourne Hellenic Cricket Club – Background:
Established in 2011 this season was our seventh season.
Only Hellenic cricket club in the Southern Hemisphere.
Started with two team for the 2011/12 season and this season we have three teams:
1st – Quiney Shield (3rd division behind Longmuir Shield and Woolnough)
2nd – F Grade
3rd – K Grade
4th – 4A Grade (1 day)
Our home ground is usually Peanut Farm Reserve in St Kilda however due to ground and pavilion works this season our teams were spread ver a few different grounds with Alma Park in St Kilda as our training facility.
In the previous six season's our 2nd team won the 2012/13 I Grade Premiership and our 1st team have come runners up three times, twice in D Grade and once in E Grade.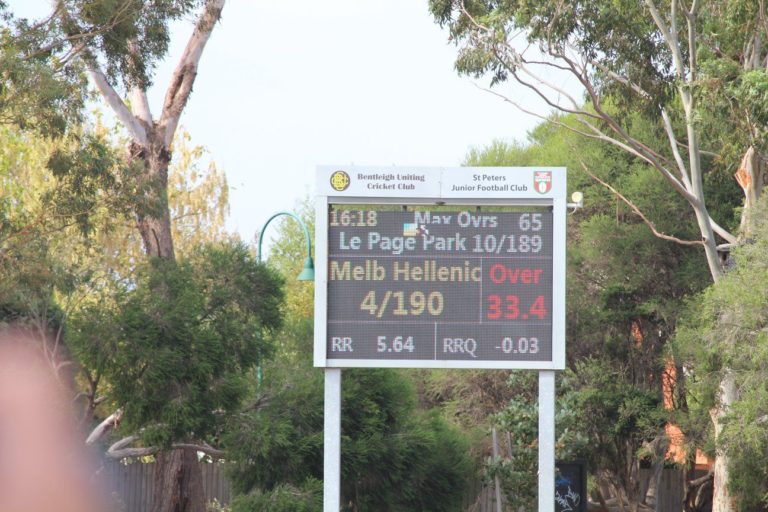 The success of our club in recent years has been assisted by the addition of well credentialed personnel:
Peter Magafas
– Played district cricket for Footscray with players like Merv Hughes
– Represented Greece in an ICC Tournament held in Pakistan
– Played Semi pro for over 20 seasons in England's Premier District Competitions
Aaron Gregory
– Played in the first Division Longmuir Shield
– Wicketkeeper for the SECA all star team
The Club holds an Annual inter-club T20 Presidents Cup during the pre-season. Last year's winner team was the Lee Tarlamis 'Warriors' and this year's winning team was Steve Liberatos 'Legends'.
We have also  established the Hellenic Australian Shield (1st) and the Hellenic Australian Cup (combined 2nd & 3rd) which is an annual competition between Melbourne Hellenic Cricket Club and Sunshine Heights Cricket Club which will take place each season with the hosting of the games rotating between clubs.