As a lifelong supporter of AEK Athens, this last weekend was without a doubt the most amazing of my life.
Champions of Greece in football on Saturday, then Champions of Europe in basketball on Sunday. Never in my wildest dreams could I have imagined such a spectacular celebration.
There was a moment late in the game on Sunday, when it was almost certain that AEK would defeat French club Monaco to win the European Basketball Champions League, that I took a moment to soak it all in.
I looked around the packed stadium, and saw what this meant on everyone's faces. Fathers embraced their sons, grandfathers were crying, young girls covered head to toe in the club's colours danced in their seats, and together they all sung in unison, calling for AEK to lift the trophy.
Euphoria swept through the Athens Olympic Indoor Arena, a reward to the loyal supporters of this club, including myself.
AEK is not just a team to me. It's in my blood, it's my family, my family's history, the history of all of Greeks whose ancestors, refugees from Asia Minor, came to this country with nothing and built themselves up.
AEK's story is the same.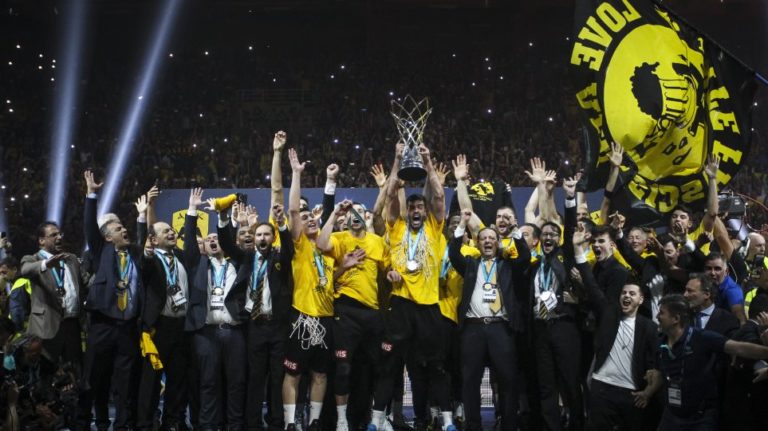 Just five years ago, AEK's football and basketball were both playing in the third division. Many of us, myself included, never missed a game. Even back then, we believed, and never gave up, we followed her to every shitty little pitch and court across this country.
This last weekend was a reward for all that, and much more. For me it was a celebration of an entire life following this club.
My first memory of AEK is of me as a five year old, being taken by my dad to watch AEK play Panathinaikos at OAKA. At the end of the game, with PAO having won 3-2, I saw people get up out their seats and start making their way to the exit. I asked my dad why everyone was leaving, he said the game was over. I instantly started crying and begged everyone, including the players to come back, the game could not be over, we were losing, we must play until we win I said. My father explained that losing was a part of the game, a lesson I would come to understand much better as I grew up.
Six years later, now living back in Melbourne, my dad and I stayed up to listen to the radio broadcast of AEK against Olympiakos, with our team needing a win to take the Greek championship away from the reds of Piraeus. Unfortunately I fell asleep before the match started. When I woke up to get ready for school, dad had already left for work, but he left a note for me on the kitchen bench. It read; Olympiakos 0 AEK 1. I knew what it meant, we were champions. I wore my AEK shirt to Doncaster Primary School that day. Most of my classmates thought it was a weird Richmond Tigers jumpers. By the end of the day they all knew it was the shirt of AEKARA!
Five years down the track, I was in Athens visiting family at the beginning of 1994 and used the opportunity to catch some games at AEK's Nikos Goumas stadium in Nea Philadelphia.

On the last weekend before we were set to return to Melbourne, my brother John and I convinced our parents to let us go watch AEK once again take on Panathinaikos.
So we left Goudi, an area where most residents are Panathinaikos, and quietly and discreetly traveled by foot, bus and train to AEK's stadium in Nea Philadelphia. We wore no AEK colours and we kept to ourselves at a time when supporters of both sides went to the games, and rivalry between us and PAO was intense, on and off the pitch.
For two kids from Melbourne, who rarely used public transport back home, the journey seemed to take forever. When we finally got off the train, with hundreds of other AEK fans, we made our way towards the stadium. We heard thousands singing, a wall of noise, and instantly we were hooked. We bought two tickets to the legendary skepasti stand, where the most vocal of AEK supporters, the famous Original crew congregated.
What followed was one of the most amazing experiences of my young life. A 2-0 win, five hours of singing, a championship all but secured on that night, and the whole time I had my little brother by my side.
Each year after that John and I would make our dad buy us every AEK shirt whenever he came to Greece on business. No one in Melbourne had as many AEK shirts as we had collected together, and still have. John, Dad and I would wake up at all hours of the night to watch AEK on ANT1 Pacific, and although we celebrated some victories over rivals and found a new hero in Demis Nikolaidis, a much sought after championship never arrived.

Fast forward to 2009 when I moved to Athina permanently. My other brother Dimitris and I start going to every game together, rain, hail or shine. Tuesday night cup games against teams I'd never heard of, we were there. Midsummer friendly games when everyone else was on holiday, we were there. We didn't miss a beat. Even the year our team got relegated, we were there at every game.
Then Dimitris moved back to Australia, and I was left in Greece alone, to fly the flag, with AEK having to play in Division 3. The disappointing and humiliating drop only made me love the club more, and through my new AEK friends Nikos, Antonis, Teo and Tsop, who I now consider brothers, I also started to follow AEK in the basketball, handball and volleyball. We traveled up and down the country to watch AEK play, and stayed loyal to the club, determined to see AEK back at the top of Greek sport.
This last weekend, we got one step closer to that dream, and as I looked around at the packed stadium to see everyone singing, I raised my voice a little louder, to sing as loud as I can, for my two brothers in Australia, for my dad that made me AEK, for my nephew Sotiri and my niece Irini who I helped make AEK, for my friend Simos in Canada who recently lost his dad, and for the boys of Original Melbourne, who wake up each and every time AEK plays to get together and watch the team we love, AEKARA!