Greece has a long history of viticulture and vinification, and wine has always been an integral part of Greek culture and gastronomy. The country's terrain plays a key role in the shaping of its unique wines, divided into four broad categories: Mountainous and semi-mountainous, Coastal, Continental and Volcanic. Vineyard practices, from planting to pruning and harvesting, are usually carried out entirely by hand, allows for greater attention to detail.
These Greek wines, once obscure to the international community, have in recent years been reappraised by experts worldwide, leading to a surge in wine production and exports.
"Wines of Greece" is a website providing an insight into the world of Greece's rich wine varieties, its long wine-making history and its status as an ideal destination for oenophiles. Launched by the National Interprofessional Organisation of Vine and Wine (EDOAO), the website helps familiarise the visitor with the many aspects of wine production in Greece.
Key production figures
Greece has about 61,500 hectares of vineyards, and the number of growers is close to 180,000, which is about a fifth of all landowners involved in agriculture. Viticulture is thus a hugely fragmented sector, with more than 1,290 wineries across the country. The average annual wine production in 2017 was 2.5 million hl, which makes it only the 17th largest wine-producing country in the world. Greek grape varieties are the majority of the wine produced. The three most important grape varieties in terms of quantity are Savatiano, Roditis and Agiorgitiko. About 13 per cent of the country's total wine production is exported, with the top two export markets being Germany and USA.
Meet the grapes
The website lists the numerous grape varieties indigenous to Greece, providing a "variety identity" for each wine, with a wide list of elements and qualities, such as its type, style, aromas, body, acidity, aging potential and suggested food pairing. An analytic description of each variety is included, as well as a picture of its grapes.
Varieties are listed alphabetically, and visitors can find out more about Greek wines, from the ever more popular Assyrtiko or Moschofilero to others, lesser-known but equally worth discovering, such as Vidiano, Roditis or Vilana. One can also choose to browse using the websites particular categories: by color (red, reddish and white) or by classification: classic, emerging, rare and international.
Regions and wineries
The website catalogues Greece's wine-growing regions, which the visitor can browse either by using an interactive map, or a list, with general information regarding grapevine cultivation in each of Greece's nine geographic regions, and specific information concerning particular prefectures and cities in each region which are renowned for their vineyards and wineries.
Visitors can also browse through Greece's 33 regions that have attained the Protected Designation of Origin (PDO) status or the Protected Geographical Indication (PGI) status, using an interactive map. There is also an inventory of wineries, which can also be browsed either using a map or a list. The list features keen winegrowers, who sometimes are viticulturists themselves and have built this impressive edifice of new Greek wines from the vineyard to the bottle.
Wine Tourism
The website offers a section dedicated to wine tourism, where visitors can learn about the most interesting wine destinations in Greece, listed by region and then by specific areas and routes within each region, detailing not only the places worth visiting as part of a wine-tasting tour, but also the many other attractions (tourist, natural, archaeological, historical, cultural, etc.) each place offers, for travellers who want to combine oenophilia with sightseeing to enjoy a complete experience.
Winepedia
In the Winepedia section, the website provides a great variety of information, from the history of viticulture and wine-making in Greece since the ancient times to gastronomy and wine research.
History
The history of Greek wine is a fascinating and rich subject, based on multiple sources, including archeological finds, historical references, research, studies and publications. The site only aspires to provide a brief overview of this history. Visitors can learn about it using two timelines, spanning from prehistoric to contemporary times: one based on entire historic periods and one listing every milestone in the evolution of wine producing in Greece – from the earliest discovered evidence of vinification dating back to 4500 BC to the 1999 Thessaloniki International Wine Competition.
The history of Greek wine spans a remarkably long period of time, encompass elements from Greece's culture, economy, religion, social as well as everyday life, and include the regions where viticulture, winemaking and wine consumption flourished.
Viticulture
The site invites us to discover more about contemporary viticulture in Greece: drawing from ancient techniques and incorporating scientific knowledge from modern research and technologies, grapevine cultivation is innovated and revolutionised. Here you can find out more about the methods used in Greek vineyards, such as biodynamic and organic viticulture.
Many of the unique ecosystems were vineyards are situated have developed through natural selection and are located in areas protected from most vine pests and vine diseases. Therefore, the vast majority of Greek vineyards are suitable for organic cultivation or other alternative methods of viticulture since the need for frequent chemical spraying has been largely eliminated.
Vinification
With regard to the process of wine-making, ancient traditional practices are also paired with the latest technology available today, allowing for ever-improving quality. You can learn about the spirit of innovation that has placed Greece among the most technologically advanced wine producing countries, and about Greece's age-old tradition in winegrowing which has led to a wealth of unique winegrowing practices.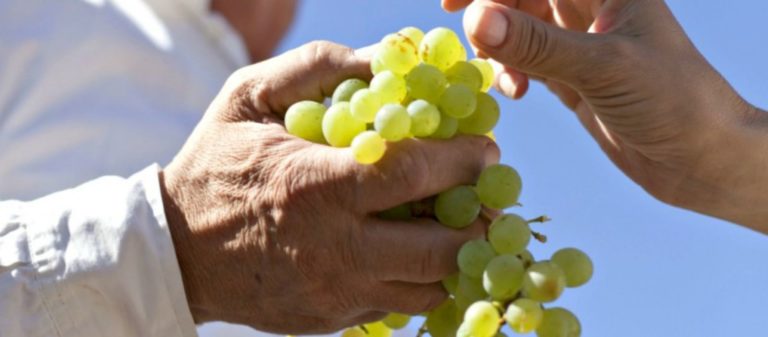 Unknown varieties & traditional wines
Apart from the up-and-coming Greek varieties and their flagships (Assyrtiko, Moschofilero, Agiorgitiko and Xinomavro) there are also practically hundreds of other Greek grape varieties. All are vinifiable, whether they go towards vinification of monovarietals or are used as part of wine blends.
The website offers an extensive list of unknown grape varieties indigenous to Greece, some of which are extensively cultivated and are safely established, while others are on the brink of extinction, while some have been rescued after concerted efforts by certain vine growers. With regard to obscure varieties, ongoing research, experimental plantings, micro-vinifications and fine tuning should show which ones show promising potential.
You can also find a catalogue of dessert, traditional and jug wines, produced regionally using old-school ways of production. These are wines like Santorini's sweet vinsanto, Crete's traditional marouvas or the world-famous yet underrated retsina – once scorned but recently reappreciated by younger generations.
Gastronomy
Wine and gastronomy are inextricably linked. Greek cuisine is based on seasonality, and simplicity, using mostly humble ingredients. Thanks to its lands, seas and climate, Greece offers a variety of foods that can perfectly accompany many different types of wine, such as fish and seafood, cheeses, charcuterie, olives and fresh fruit. In this section on gastronomy you have access to basic knowledge about Greek cuisine, products, restaurants and, of course, the internationally celebrated Mediterranean Diet – in which wine features prominently.
Through the Wines of Greece website you can also learn more about a number of subjects including the categorization of wines according to Greek law, the role of the Greek Wine Institute and the evolution of viticultural research, and the appropriate way to serve Greek wine. Also you can discover more about Greece as a wine destination as well as a cultural and holiday destination in the "Visit Greece" section.
Read more at the Wines of Greece.
Source: Greek News Agenday