As a result of suffering Type 1 Diabetes for over 30 years, 55-year-old Greek Australian Sally Stavrinakis nearly lost her life twice in the space of four years, whilst desperately waiting for a kidney and pancreas transplant to gift her and her family a normal life.
Today, four months after her life-saving transplant surgery, the Adelaide based mother is determined to share her story and raise awareness of the importance of organ donation.
"I am just incredibly grateful to have received the gift of life and the blessing to experience being a mother, a daughter, a sister and a friend again, after so many years of battling to stay alive," says Ms Stavrinakis who, following her diabetes diagnosis at the age of 24, she was prescribed insulin injections and two years ago was also put on dialysis treatment to prevent the worst.
Feeling weak, lacking energy and struggling to perform even the simplest of tasks, at age 51, Ms Stavrinakis started to realise that her health was deteriorating rapidly.
After a series of tests, she was told by her doctors that she had kidney failure and was placed on a transplant list.
READ MORE: Greek Australian IPF patient pledges to donate his lungs for research
"From that moment onward, everything turned into a waiting game during which my existence was revolving around trying to stay alive and relatively healthy, hoping that a matching donor would be found," recalls the mother of two, who was also at risk of being removed from the waiting list once she turned 55.
However, on 17 November, 2018 at 4am, she received the one phone call that would change her life.
"I remember waking up in the middle of the night and then ringing my daughter hyperventilating. I said I got 'the call'," recalls Ms Stavrinakis who was the third patient in South Australia to undergo a simultaneous kidney and pancreas transplant operation at the Royal Adelaide Hospital (RAH), the third hospital in Australia to offer dual kidney-pancreas transplants, following Monash Hospital in Melbourne and Westmead Hospital in Sydney.
"Until recently, South Australian patients, like myself, had to spend at least three months interstate to undergo and then recover from the procedure, so when I found out I could have the operation in Adelaide with my family next to me to support and help me pull through, it was a real blessing. I just couldn't imagine having it done in Melbourne," says the mother of 27-year-old Anthea and 25-year-old Stephanie.
Organ donation impacts more persons than just the donors and their recipients.
READ MORE: Ethnic Australians urged to register for organ donation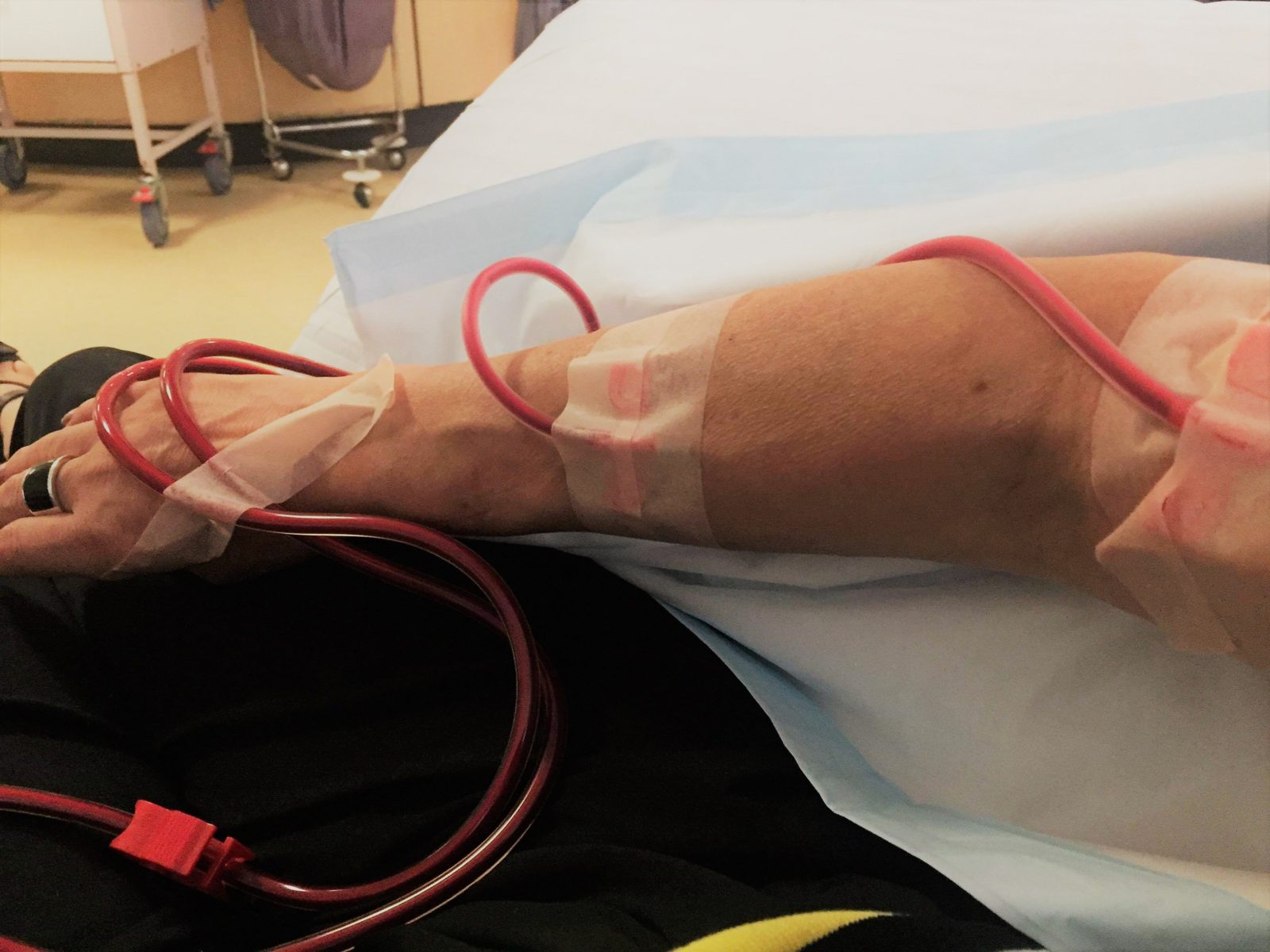 It also affects their families and friends, who love and support those in need of transplantation, and who benefit from their new lease of life and improved health following their surgery.
"All these years my daughters have been a tremendous support to me, but at the same time, being sick for so long has made me feel like I have been a huge burden to them. I just didn't want my girls to have a sick mother anymore and I feel such relief that I am now healthy for them. Our lives have changed for the better."
For those with end-stage organ failure, organ donation is truly a matter of life and death.
Combine the thousands more whose lives can be improved through tissue and cornea donation and transplants that can improve their eyesight, mobility and life quality, and one can appreciate why organ donation is of significance.
"I used to feel I was a burden to everyone," says Sally Stavrinakis
"I got through the worst part, I am alive now and determined to share my story and raise awareness about the importance of organ donation, particularly within the Greek Australian community, where I feel there is still a stigma attached to the whole process which might even have some connection to our religion and whether it welcomes such selfless acts.
"My thought on this is that our religion would never prevent us from saving another life, so I hope my story inspires those who read it to start a discussion with their loved ones because ultimately they are the ones that will need to make the decision when the times comes," says Ms Stavrinakis who still visits the RAH once a week, to meet and connect with other patients who are undergoing dialysis treatment and require an organ transplant.
"I might not have been here if my donor hadn't registered for organ donation so please let's all take a moment and rethink this selfless act," she concludes.
READ MORE: Archbishop Stylianos supports organ donation
Facts: Did you know? 
* One organ and tissue donor can transform the lives of many people.
* Australia is a world leader for successful transplants.
* Around 1,400 Australians are currently waitlisted for a transplant. A further 11,000 are on dialysis, many of whom would benefit from a kidney transplant.
* In 2018, 1,782 lives were transformed by 554 deceased and 238 living organ donors and their families.
* Majority of Australians (69 per cent) are willing to donate their organs and/or tissue when they die.
* If our national consent rate reaches 70 per cent, Australia would be in the top 10 performing countries.
* Only one in three Australians are registered donors despite the majority (69 per cent) believing that registering is important.
* While the majority of Australians (71 per cent) think it's important to talk with their family/partner, just over half (51 per cent) of Australians have discussed organ donation.
(Source: https://donatelife.gov.au)