My name is Kyriakos (Ken) Tsirigotis. I was born in Coburg and raised in Thomastown, Melbourne, to Greek immigrants from the Peloponnese and in particular Laconia.
My final decision to become a soldier was made at 13 years, when I stood at Syntagma Square looking at the Evzones. It was then that I knew in my heart that I, too, someday would be a soldier of some kind. With that in mind, it was a conscious decision when, at the age of 18, I joined the Australian Army. Truth be told, I would have been a career soldier regardless of where my parents had immigrated to.
Soon after I enlisted, I volunteered to parachute and soon specialised as an Infantry Reconnaissance Paratrooper going through the ranks from Recruit to Warrant Officer and ending up as a CSM (Company Sergeant Major).
Years on, I have enjoyed the better part of 22 years in the Australian Army. Over that time, I have had several deployments, overseas postings and exchanges including serving with the International Forces in East Timor (INTERFET) in 1999-2000 as a young private soldier at the time.
READ MORE: War veterans – A reluctant hero who served in Korea
I attribute my strong values to my parents which brought them over from the old country, I love Greek music and dance and both ancient and more recent Greek history, both military and non military. I attribute my assertive determination and resilience to my Hellenic bloodline which I am very proud of. My Greek heritage has helped me in my achievements, such as various military awards including the Soldiers Medallion for Exemplary Service as a Patrol Second in Command and Patrol Commander in Reconnaissance Platoon; Commander 1st Division Commendation (Bronze) for outstanding service and dedication as a rifle section Second-in-Command; Deputy Chief of Joint Operations Commendation (Bronze) for excellent achievement in the application of initiative, professional dedication and devotion to duty as a Platoon Sergeant and acting Platoon Commander in Timor-Leste; and an ADF Commendation (Silver) for highly impressive application of exceptional skills as a Mobile Mentoring Team Commander in the 3rd Battalion, The Royal Australian Regiment Task Group in Afghanistan.
In Afghanistan, in 2012, I was employed as a Mobile Mentoring Team Commander. In essence, that meant that a small Australian force, lead by myself and my second in command, partnered with and supported the Afghan National Army to conduct dismounted and mounted Infantry operations in a designated area of operations and support them through mentoring with tasks such as clearing the area of insurgent influence and in particular lethal aid.
READ MORE: Who were the Greek Australians who fought for their new country in WWI?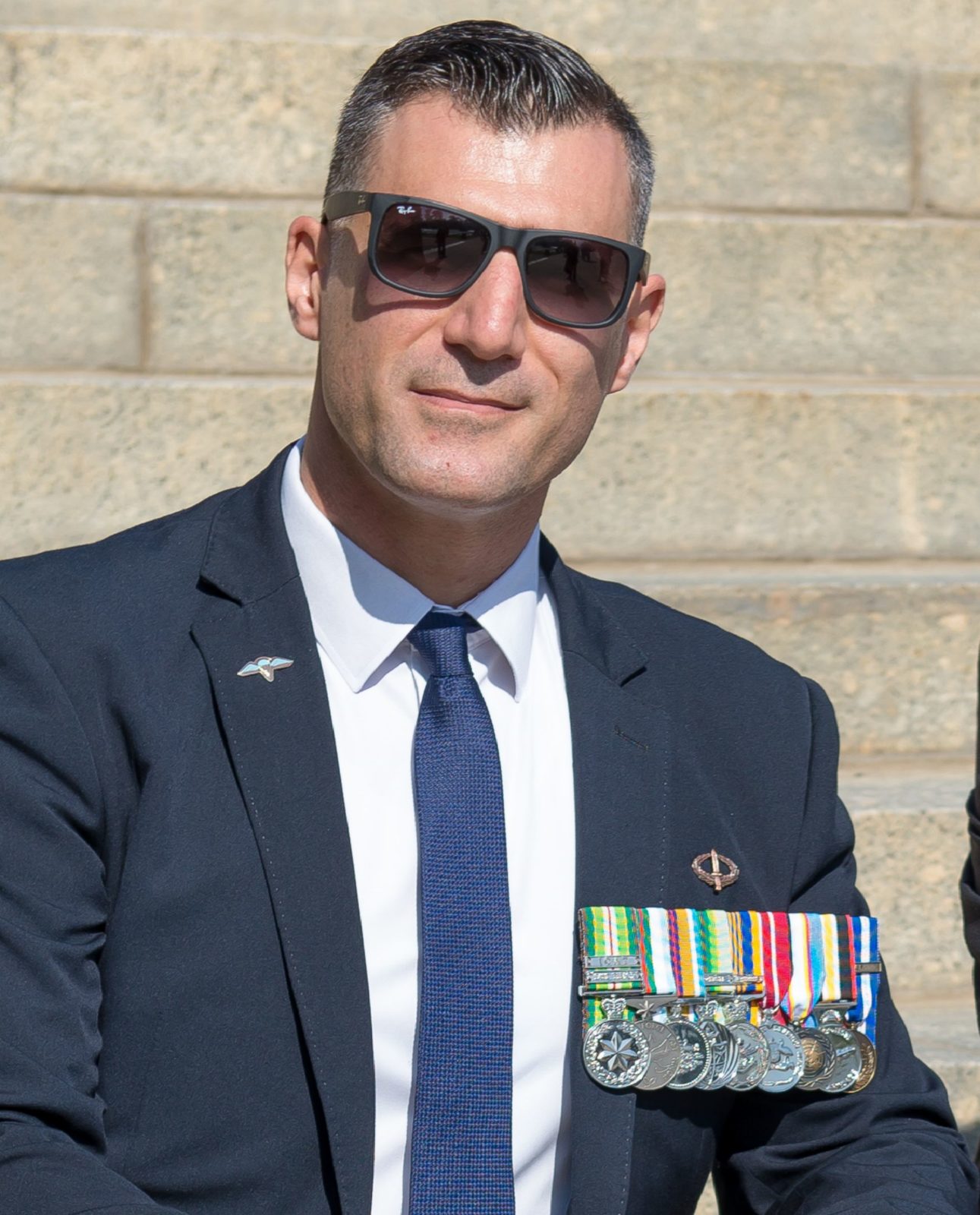 I tend to reflect on the positives of my military experiences in regards to Afghanistan patrolling on foot through highly vegetated areas or totally desolated areas utilising your skills and senses and commanding troops on the ground in a high threat environment is highly rewarding, on reflection I loved every moment of it.
My transition to civilian hasn't been without it's challenges, but I feel that I have repurposed myself quite well.
I have dedicated the last three years of my professional life post service to supporting the families of deceased and incapacitated veterans by working for a not-for-profit organisation named Melbourne Legacy. As part of this role I manage the team that provides case management, programs and events for those in need, I also am a liaison officer to emotionally wounded ex-serving ADF veterans.
Anzac Day for me is a day of reflection, commemoration and celebration and is unique to each individual, it is also an opportunity to learn about the contribution of Greek Australians to the Anzac story.
READ MORE: Hellenic RSL to commemorate Anzac Day
I shy away from using the word 'hero' but I am very grateful for the men and women of our emergency services and the quiet achievers such as nurses who do a thankless jobs day in day out with no fanfare.
I am proud of those who joined the ADF and wrote a blank check made payable to the Government of Australia for an amount up to and including their life but personally I am happy knowing I did my bit and am doing whatever I can to support those in difficult situation, don't ever look down at anyone unless you are helping them up.
READ MORE: The Yorkshireman who became a Greek evzone