Clashing viewpoints show that climate change continues to be a contested issue among experts, politicians and the general public.
But for those working across Australia whose livelihood depends on nature's cooperation, there is little doubt in their minds that the last few decades have brought about many changes in their sector as a result of extreme weather conditions. As temperatures soar – 2018 was the hottest summer on record – and rainfall scarcer than ever, there are growing challenges for those already struggling to produce our food and wine. They are faced with increasing costs brought about by the need for irrigation, as well as the adoption of new practices to protect their crops from the heat.
According to Australian viticulturist Dr Richard Smart, the world's wine industry "is the canary in the coal mine because it's the early warning system", when it comes to the state of the climate. And there's no denying that the warning has been issued for some time.
One sign of this is "vintage compression", with grapes ripening early, and all at the same time, giving producers a very small window to pick all their grapes at the correct times.
"So what you can end up with is fruit coming in that's not of the optimum quality because you're not able to pick it at its optimal ripeness," explains Alexander Copper, a PhD student from University of Adelaide, currently in Cyprus.
"Also with the cost of water, people are irrigating less so you're having reduced crops as well. South Australia had the lowest yields in a long time last vintage," he said, signalling the alarm bells for a country that boasts a $6-billion wine industry.
But Alexander is bringing producers hope for the future with his project, studying two of Cyprus' most popular, drought-tolerant, wines: Xinisteri (white) and Maratheftiko (red), which were released from quarantine just this month to undergo trials in SA, similar to those taking place in Cyprus.
Cyprus' climate akin to that of the Middle East – very hot and dry – is similar to the conditions increasingly being experienced in Australia.
"These varieties can survive without any water, or very little water, which reduces the cost to produce it, but also preserves the water resources in Australia," he tells Neos Kosmos.
Alexander has a history with wine. His family migrated from The Netherlands in the 50's, and given the Germanic background of the region were drawn to the Barossa and surrounds. It was in 2000, that he moved to the Barossa Valley, where he naturally became interested in agriculture and viticulture, leading him on to study a Bachelor of Oenology at the University of Adelaide.
It was there that he met Markos Zambartas, whose family had just started Zambartas Wineries in Cyprus.
"I got talking to him about the varieties and he actually brought some wines over one day and we tried them at the class and thought they were really interesting. From there the family invited me in 2010 to come to Cyprus and do a vintage with them. I learnt more about the varieties and was very interested in them and thought they had potential for Australia as well," he explains.
Fast-forward nine years and it is the subject of his PhD thesis.
READ MORE: Cyprus uncorked
Australia however has a long history of overwhelmingly producing and consuming French and German wines, which require a cooler climate and high rainfall. Even before the impacts of global warming, Australia's climate was never akin to that of northern Europe, but Alexander says it has a lot to do with tradition and marketing.
So if all goes well with the trials, will consumers be open to swapping their glass of Chardonnay for Xynisteri? Alexander is confident they will.
As part of his project, he led a consumer study comparing Maratheftiko with Shiraz – the number one wine in Australia, and Xynisteri with Chardonnary and Pinos Gris with over 300 consumers, and the response was overwhelmingly positive.
"Both wines came out well liked. They are high selling in Cyprus as well – probably the most popular local varieties.
"But yes, we have been drinking the French varieties for a long time and it pretty much comes down to habit."
But starting to plant out new vineyards of new varieties is not easy, and neither is it cheap.
"We gave quarantine 20 cuttings of each variety and at the end of the 18 months they give you one plant back, and it costs around $10,000."
Meanwhile the turnaround time from quarantine to producing the wine commercially is lengthy; when Jim Barry brought Assyrtiko from Greece, it took him seven years to get a bottle on the shelf.
But if all goes well, Alexander is hoping for a slightly quicker turnaround.
"It might not be a huge quantity, but I'm hoping that within five years we'll have something entering the market."
READ MORE: Australian researchers investigating drought-tolerant grape varieties from Cyprus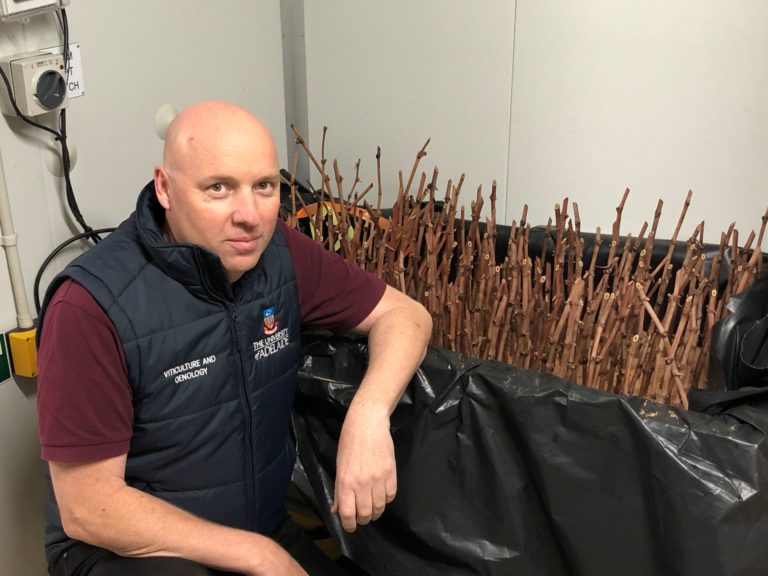 While opting for drought-tolerant varieties may arguably be the best long-term choice, not all producers are on board with the idea.
"Some of the big growers will stick to the traditional methods and maybe look at other ways of improving their traditional stock, looking at root stocks that are more drought-tolerant. But some of the smaller, younger producers are keen to try new things," which was also the case in the consumer trials.
"A lot of the younger consumers are willing to give new styles a go – particularly younger females. But like anything there's fashions with tastes in wines," says Alexander, "people get sick of them after a while and want to try something new."
It's not just Cypriot wines Alexander has his eye on. In recent years he has spent time exploring Greece, and attended a conference in July where he was once again impressed by the high standard.
"If you go on holidays to Santorini or Mykonos or somewhere, you might still get some dodgy carafe wine in a taverna that might not make a great impression. But the new bottled wines are leaps and bounds on those old Greek stereotypes of how wine is."
READ MORE: Perfect pairings: Moschofilero
The common thread in this development in Cyprus, Greece and Australia seems to be youth, with a lot of new, young producers who have studied in France, Italy and the US coming through with fresh eyes, and next level knowledge.
"With that they're producing higher quality wines which is allowing them to be more proactive; they're more confident in taking their wine to the world," he says.
"Also, one of my professors Stefanos Koundouras from Thessaloniki, he's just recently got a big grant from the EU to study Greek varieties in a bit more detail as well. Up until now there hasn't been a lot of research done into Greek varieties but it's starting to happen more and more. And I think with that, the Greek varieties will keep improving."
My first memorable experience involving wine was … as a poor university student driving to the Barossa Valley to taste wines and spending $20.00 on a nice bottle. Along with being at a dinner party with fellow students one night and raiding the host's cellar to try some great wines.
My favourite wine is … Xynisteri paired with cheese and charcuterie.
What I love most about oenology is … travelling the world and trying wine varieties I've never heard of.
The difference between wine culture in Cyprus and Australia is … in Australia we drink wine at any social occasion, including meeting friends for a chat. In Cyprus they meet friends for coffee instead and wine is mainly reserved for meals.
A world without wine would be … boring.