Beware of Darkness is probably not your typical alt rock band and a few things can testify that.
Their beginnings were not run-of-the-mill. Having started at a studio garage, they began opening up shows for industry heavyweights like Smashing Pumpkins, Social Distortion, Deftones and KORN, within a year of releasing their first single. The song made it to Rock Radio's Top 5 and they were soon nominated for UK Classic Rock Magazine's Best New Band Award. The inspiration behind their debut album, 'Orthodox', was actually Greek Orthodoxy.
More recently, the band's comeback ran simultaneously with frontman Kyle Nicolaides' comeback from a mental health roller coaster, an experience he is not afraid to talk openly about. Oh, and in case you missed this one, Nicolaides is a proud Greek American. Interesting fact? He's been unsuccessful in claiming Greek citizenship, as his yiayia was born in a bathtub and never got issued a birth certificate!
ON NICOLAIDES' GREEK BACKGROUND
"My great grandmother on my dad's side is a Greek from Istanbul, Turkey. She moved to Piraeus and met my great grandfather who worked on the port, got married, had my yiayia and moved to America when she was two years old," Nicolaides tells Neos Kosmos.
"My yiayia was born in a bathtub and has no birth certificate. My dad has spent the last couple of years doing everything he can to get our family Greek citizenship but he keeps getting denied because we don't have the proper documentation."
Nicolaides' upbringing looks typical of a third generation Greek American migrant kid, featuring regular attendance at St Barbara's Greek Orthodox Church, Greek language lessons for a good four years, memorising poems for Greek Independence Day and even some Greek dancing, albeit for two weeks.
But according to Nicolaides, growing up in a close-knit values-based environment has been the most precious offering of his heritage.
"My family is the most kind and selfless group of people I've ever met, and I hope that's rubbed off on me. I also think there was such a strong community of love within the Greek Church in Santa Barbara in the 90s that it felt like everyone was family, and there was so much care and humanity around. It really instilled in my heart the importance of giving and community," he says.
READ: Everclear's Art Alexakis talks music, politics and the importance of staying true to yourself
On a lighter note, he adds: "That being said, looking back, the most stunning part of my Greek heritage was being the only kid in 2nd grade wielding the moustache of a 45-year-old biker gang member."
Interestingly enough, Nicolaides chose to pay tribute to his roots naming Beware of Darkness' debut album 'Orthodox'. As he explains:
"Well, the title and design [of the album] comes straight from Greek Orthodox iconography and going to a Greek Orthodox Church my entire childhood. I wanted to pay tribute to my roots. I don't align myself with Greek Orthodoxy and the belief system, but every single other aspect of the church had a massive impact on me; the aesthetics, the choirs, the colours, the artwork. To this day, my tastes come from that church. I adore anything gold, or oxblood, and in my room I have a wall of icons. It makes anywhere feel like home."
A SELF-MADE ARTIST AND BAND
Nicolaides' experimentation in music started early, with guitar eventually granting him "entry" to the world of rock.
"I started a couple bands in high school, and we'd make full-length records at my house and naively would never release or promote them. It wasn't until I went to USC [University of Southern California], studied poetry, and started playing in LA that anyone started to take us seriously," he recalls.
His reflection on the 'Beware of Darkness' trajectory paints the picture of a self-made band, contrary to what Nicolaides says is the norm in the industry.
"Beware of Darkness all started in an afternoon in a friend's studio garage where we cut two songs for $200. That got us around the world.
"I don't think people outside the music industry realise that a lot of artists are 'planted', and groomed. They are given a team, a road map, and then placed with every perfect opportunity from the get go, and then made famous. There's absolutely nothing wrong with this, I just had no idea until I witnessed it first hand.
"We were the opposite. We didn't have rich parents that bought our way into the industry. We didn't have massive connections. We worked, hustled, and grinded and created an entity now that people care about and love. I take pride in that."
READ: Smoking Figs: a group of professionals redefining their identity through music
While the band is still young, they managed to make an impression in the alt rock music scene early on, touring internationally, performing at festivals, supporting well-established groups and having their songs featured in films, TV, and video games.
"Yes, it all happened very quickly, but realise there was also 2-3 years before all this happened where literally no one paid attention to anything we were doing, and I was playing empty clubs, bars, and no one cared. With success, people only see the ascent, and not the years of anonymity before that. It's important to me to respect the path and journey," says Nicolaides.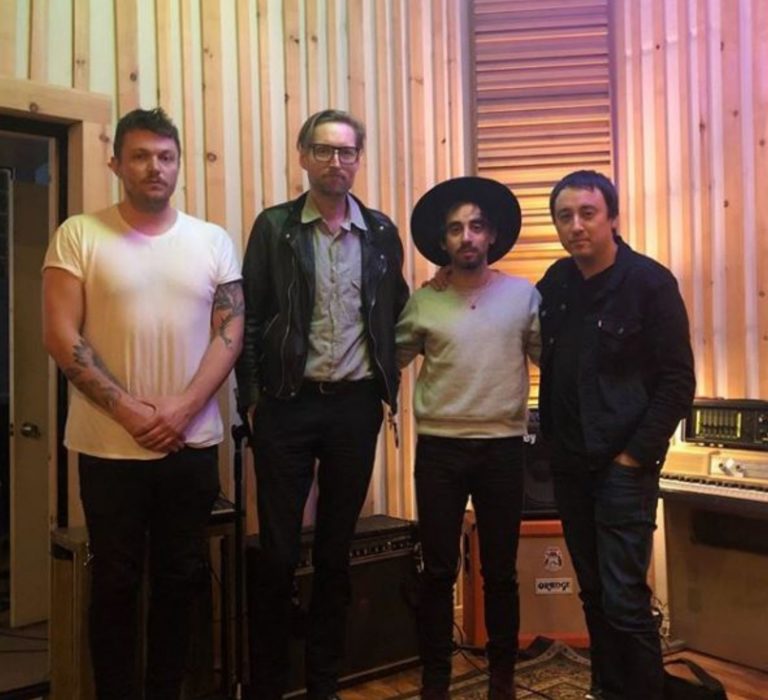 RISING FROM THE ASHES
Beware of Darkness released their second album in 2016. A three-year hiatus would follow until the recent release of 'Bloodlines', with a stellar line-up behind the single: Jeff Schroeder of The Smashing Pumpkins/Night Dreamer (guital & solo) Jon Safley of CRX (drums), Mark Stormer of The Killers (bass).
Nicolaides describes being in a dark place mental health-wise for those past two to three years.
While depression and anxiety had hit him in his younger years too, this recent blow was bigger.
"I normalised being suicidal most every single day … I was in physical pain daily, tired all the time, couldn't eat, I'd have severe blow out panic attacks nightly, and most mornings when I woke up it felt like I got hit by a bus. I couldn't think properly, so I was trying to make records and write music with a brain that thought in fragments and was foggy all the time."
Thankfully, the band's comeback marked a transition for Nicolaides too.
"The highs? Surviving it. Being able to talk about it now, and hopefully I can help people.
"I was so unbelievably lucky that depression led me to a spiritual path. The pain, sadness, fear, and anxiety I lived with so long led me to Transcendental Meditation, Yoga, Ayahuasca, and other spiritual practices that have forever changed who I am and how I see the world … A close friend said to me, 'your biggest wound is your greatest gift', and now on the other side of depression, I'm beginning to realise the power of that. It all feels very surreal, like a 10-year nightmare I woke up from, and every day, I am just so, so, incredibly thankful I am healthy and survived."
To learn more about Nicolaides and the band, visit the Beware Of Darkness Facebook page.