Holden recently foresakened us, announcing it was leaving Australia without so much as a shop front after 164 years. Ford and Toyota might be next, while Mitsubishi left us years ago. But, in the 1960s and 70s, it was Chrysler that had the hearts of many post World War II Greek migrants and their children.
Even though Holden and Ford flourished in Australia for decades, mostly off the backs of every new wave of migrants, including the Greeks, who laboured in their factories, few Greeks of my parents' generation could afford them. No matter how many hours overtime they worked in the factories, which Greek could afford a second-hand Holden or Ford, let alone a new one?
Enter the Chrsyler Valiant.
"You got a lot of car" when you bought a Valiant, my brother recalled last week.
"It had muscle, power, grunt. Hoons, like me, couldn't afford Holden."
He's right. You only have to look at an old copy of The Melbourne Trading Post. Page 60 of the 18 February, 1988 edition, has a basic Valiant Charger selling for $950. On page 54, a second-hand Holden Premier is selling for $5,200, a 1976 Kingswood sedan at $5,500 and a 1981 Ford Fairmont sedan for $8,300.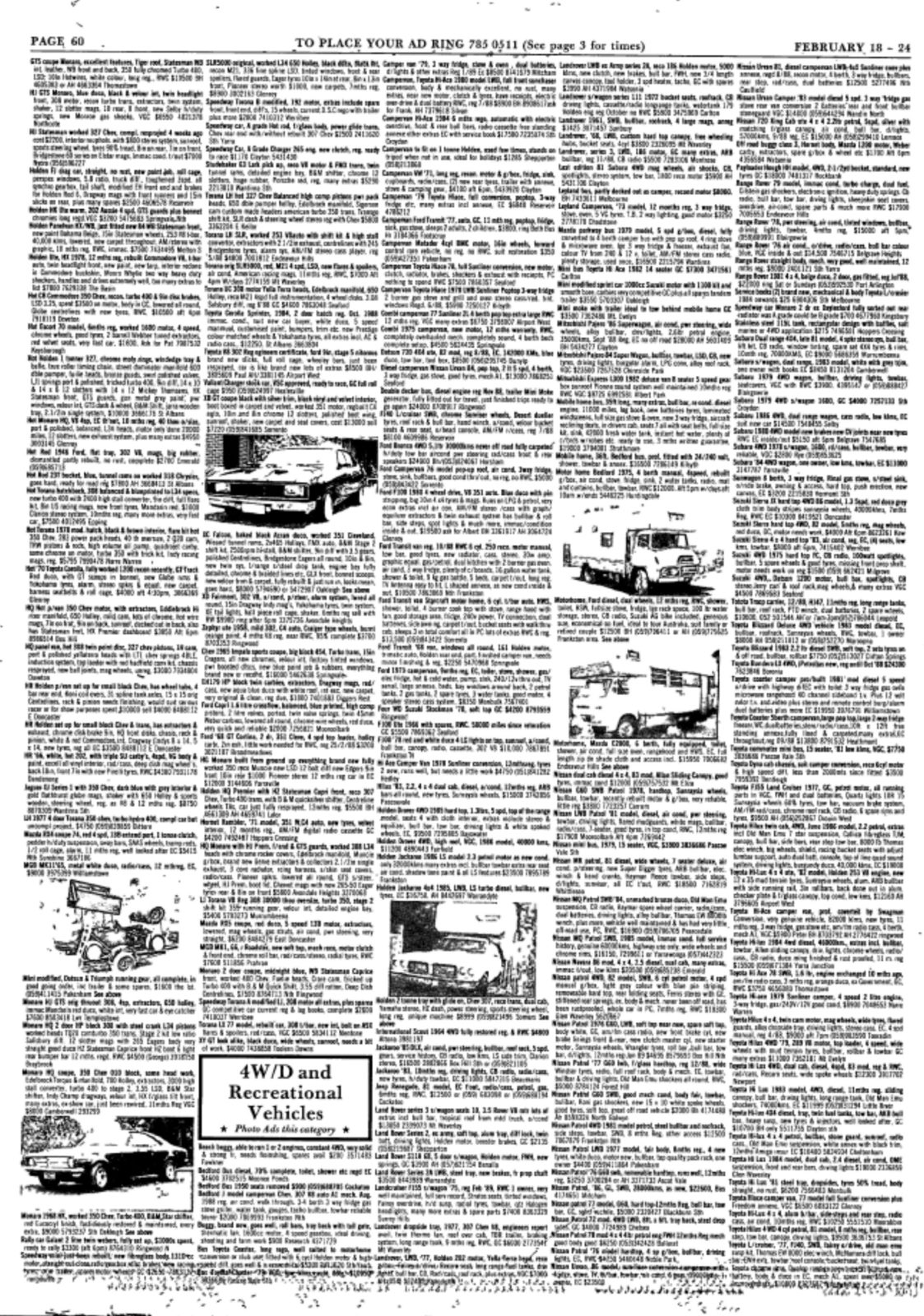 My 86-year-old father's first-ever car was bought in Australia. My parents migrated from Greece in March, 1971 with three children. In 1974, he bought a house and his first car. He was 41 years old. The car was a four-door, automatic, green 1960s Valiant Regal. He bought it for $700. His weekly wage at the locks factory he laboured in was $25.00. This particular model of Valiant car was so popular among Greeks at the time, we Greek kids christened it the " wog chariot".
My father displayed the mandatory P's on it and drove it everywhere. He drove it to work, to Australia Day picnics in Sorrento, to Phillip Island to see the penguins, and to Tullamarine Airport to farewell or pick up other Greeks.
MORE: The Holden Years – and oh, how we miss them
The car took 10 minutes in the morning to warm up, had no heater, the windows fogged up in winter and he was always scared it would stop completely at Stop signs. In the end, the wiring was so old the bonnet caught fire. The tow truck came and towed it to the tip. He then bought a used Ford Falcon.
My brother's first car was also a Valiant. In 1981, at 18 years old, he bought a 70s red and white, two-door manual coupe Valiant Charger for $1,200.
He spent thousands of dollars fixing it up and turned it into what he called "a clone" of what he really wanted, but couldn't afford. That was the RT version with a 265 HEMI motor with triple Webers.
"Everybody fixed it (the Charger) up the way they wanted," my brother said. "Nobody had money to buy BMWs."
My brother's Charger had personalised number plates, red upholstery, fat tyres and was four inches off the ground. He had to drive over speed humps sideways.
Chrysler's advertisement for the model was "Hey, Charger!" and that's what people would yell out to him as he drove past them and then raise their hands and do the "V" for victory sign with their fingers. He would acknowledge them by tooting back using his horn that played the theme song from Melina Mercouri's famous movie, Never on Sunday. In fact, his Charger was so low and so loud, police kept stopping him and slapping un-roadworthy certificates or "yellow canaries" on his windscreen.
MORE: Why Australians fell out of love with Holden
But, even that hassle didn't deter him. He would just lift the car, change the tyres, lower the engine noise, get the roadworthy, only to hot it up again until he got another yellow canary a few months later.
By the end of it, all three of my male second cousins and all my brother's mates had Chargers and they all did the same.
My father now drives a 2006 grey, or what they call silver now, Toyota Camry Altise. He bought it almost brand new. It has more features than he knows how to use, more room than he and my mother need, and pays more insurance than he has ever paid for a car.
My brother crashed the Charger in 1988 the week of my 21st birthday party. It was a write-off. Battered and crumpled, he covered it with sheets and preserved it in my parents' garage, like a body in an above-ground mausoleum. After that he went on to buy more sensible, family-friendly cars: four-wheel drives and passenger Toyotas. But, the Charger always had his heart.
Five years ago, after 27 years, he resuscitated the Charger from my parents' garage and transferred it to his garage. He's restoring it bit by bit, occasionally referencing old photos along the way, but mostly by heart.