Greek Prime Minister Kyriakos Mitsotakis appeared in a televised public address on Wednesday on the escalation of tension in the East Mediterranean.
"Greece is not a country to threaten others or to accept being blackmailed," he said, adding that Turkey's reaction to a legal agreement between Greece and Egypt on establishing an exclusive economic zone shows that Turkey "cannot come to terms with the European principles of the 21st century and remains stuck in the logic of using force and threats".
Mr Mitsotakis said that Greece remains vigilant with armed forces deployed in the region, ready to respond to any challenge but not initiating tension, preferring instead to use diplomacy to resolve issues.
Mr Mitsotakis said that Greece's signed agreements delineating its maritime zones with Italy and Egypt are "agreements that show that when there is goodwill and a sense of trust, long-standing difference can be finally resolved." These kinds of agreements guarantee progress and prosperity of peoples, "always within the framework of International Law."
He added that Greece is willing to hold discussions with Turkey "but talks under a climate of challenges and tension are obviously without purpose." The Greek leader called out Turkey's professed interest in talks as an excuse when it uses a legal agreement of one country with another, eg between Greece and Egypt, to withdraw from exploratory talks before they even begin. He, furthermore, referred to Turkey's signed agreement with Tripoli as a groundless "illegal memorandum" and referred to "repeated challenges to test the patience of Greece and Turkey".
READ MORE: Oruc Reis sails around Greek continental shelf as Greece is on high alert
"We brief friendly countries and public opinion, and we mobilize allies and partners," he said, pointing also to the immediate acceptance of a Greek request for an extraordinary meeting of the EU Foreign Affairs Council on Turkish behaviour in the East Mediterranean which "confirms that the issue is not just about Greek-Turkish relations, but about European relations with Turkey".
"We seek bridges of peace, good faith and cooperation with all," Mr Mitsotakis said, and expressed the hope that Turkey would come to the table for talks with goodwill on the one difference between the two countries, that of delineating the maritime zones in the Aegean and the East Mediterranean.
On Wednesday, Mr Mitsotakis also made contact with French President Emmanuel Macron to discuss developments in the East Mediterranean and Turkish aggression, as part of diplomatic efforts over the issue. Mr Macron was supportive of Greek positions.
READ MORE: Greek-Turkish tension as Oruc Reis starts seismic survey off Kastellorizo
Later, Mr Mitsotakis also spoke with Egyptian President Abdel Fattah al-Sisi.
High level meetings
Foreign Affairs Minister Nikos Dendias also took part in several meetings with various counterparts to discuss Turkish provocations in the East Mediterranean, and particularly the presence of Turkish research vessel Oruc Reis.
He is set to meet with US State Secretary Mike Pompeo in Vienna on Friday (14 August) and will also participate in the extraordinary EU Foreign Affairs Council meeting which he requested of the EU which will be held online.
According to EU High Representative on issues of Foreign Policy Josep Borrell, the meeting will "discuss urgent issues and address the situation in the Eastern Mediterranean, the Belarus Presidential elections, as well as developments in Lebanon."
Mr Dendias spoke separately with his Cypriot counterpart Nikos Christodoulides and with his Israeli counterpart Gabi Ashkenazi ahead of a visit to Israel on Thursday, where he will meet with both Ashkenazi and be received by Prime Minister Benjamin Netanyahu. He also met with Ambassador of Israel to Greece Yossi Amrani at the Foreign Ministry in Athens.
In an earlier statement, the Israeli government expressed its full support of and solidarity to Greece and its rights in terms of maritime zones and exclusive economic zones, and said it was closely monitoring the rise of tension in the East Mediterranean.
Greek Foreign Minister Nikos Dendias will visit Israel on Thursday, for meetings with the prime minister and the foreign minister.
Mr Dendias also spoke with his United Arab Emirates counterpart, Sheikh Abdullah bin Zayed Al Nahyan.
READ MORE: Turkish navy surrounds Cyprus causing tensions to mount in the East Mediterranean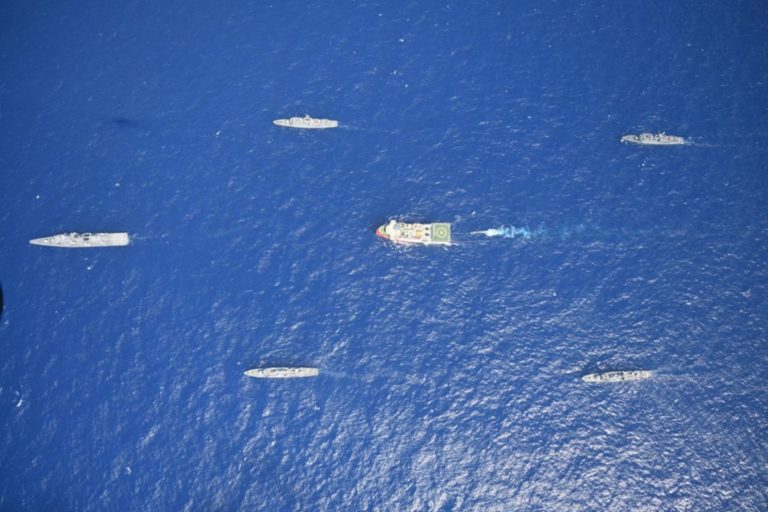 Oruc Reis heads to Cyprus
Meanwhile, the Turkish research vessel Oruc Reis, which raised tension in the East Mediterranean in recent days, has exited the Greek continental shelf area and is sailing northeast, within the Cyprus Republic's exclusive economic zone, and within the illegally issued NAVTEX, sources said on Wednesday night.