While Melbourne will have experienced a loosening to lockdown restrictions, today regional Victoria has enjoyed a more significant relaxation that has allowed restaurants and cafes to serve limited number of customers on their premises.
Neos Kosmos paid a visit to some Ballarat eateries to see how the first day has gone
Andrea Marios, the Olive Grove Delicatessen on Sturt Street, the city's main road, said it was good to have people back in the restaurant after operating for as a takeaway during the hard lockdown of the past few months.
"We saw a lot of people come in today whom we have not seen for a while. It was pretty boring without customers to serve at the tables," she said.
"It has all happened really quickly. I heard that we could serve people in the shop on Tuesday and there has been hardly time to get enough stock in time for today," she said.
Ms Marios said the restaurant would be able to cater for 20 people indoors and 10 outside.
Higher up Sturt Street is P. Frangos & Sons, a restaurant that has served Ballarat for the past 30 years with a fare that includes many Greek dishes. Pandelis Frangos said the shop had been closed during the lockdown and had reopened this week with the lifting of some of the lockdown measures.
He said the restaurant had tried to run as a take away during the first lockdown but it had not worked well because much of its clientele were workers from surrounding offices that closed during the lockdown.
READ MORE: Restaurant owners' future depends on Melbourne weather and the size of their footpaths
"It just was not worth it to open all day in the hope of getting one or two orders. It was easier to close down and take some time off.
"We can seat 10 people indoors and we have four tables outside, although I have noticed that others are putting more tables outside their premises," said Mr Frangos. "Of course, having customers sitting outside also depends on the Ballarat weather."
His brother, Lefteris, said Ballarat City Council had significantly reduced its charges for outdoor seating and that this would be a big help.
"I just hope that the offices will start opening soon because the people who have been working from home don't like to come out for take-aways when they can prepare food at home," said Lefteris Frangos.
For Andrew Grinos who runs the Arch Fish Shop, the limited lifting of restrictions would have a limited effect on his take away shop. He said that business had fallen overall because of COVID-19 and he was concerned that there would be a further reduction when the Job Keeper allowance was discontinued.
He said, however, that the reopening of schools next month would help as his shop was located close to some of the city's main schools.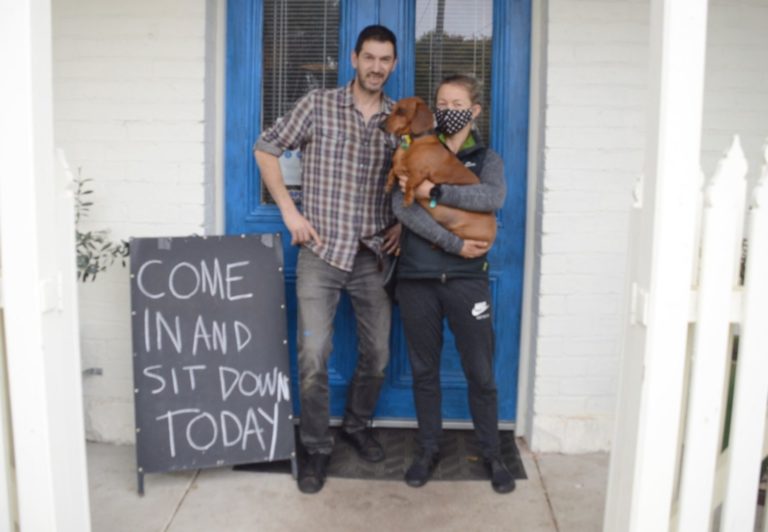 George Frossinos took a big chance when he opened his coffee shop/restaurant on Eureka Street just 10 months ago. Against all expectations the business, named after his dachshund pet, has done well despite the difficulties that the two lockdowns posed.
"I stayed open and kept going and being open, people found me," he said. "There was no coffee shop in the area and had not been one for the past 10 years."
He said social media had also helped spread the word about Mr Darby
"I also added a lot of Greek food and desserts to the menu which I get from the Olive Lane in North Balwyn and people have come from that."
With the shop now being open again, he will be seating up to 20 people inside and eight outside.