A former State Government public servant, working in the areas of public relations, protocol and events management, Christina Despoteris came to Australia at a very young age from Alexandria Egypt. She has been involved with the Greek community since her teens. Over the years she has worked tirelessly to promote Greek culture through art, music dance and history. She is an executive member of several organisations and has been instrumental in organising events both here and in Greece.
Neos Kosmos caught up with her to find out what life looks like for her during COVID-19:
What have you been reading?
I have always enjoyed reading and COVID-19 has given me the opportunity to do a little more. Having met Nelson Mandela, one of the great moral and political leaders of our time during his visit to Melbourne, I revisited his autobiography. "Long Walk to Freedom" – is his moving and exhilarating story – an epic of struggle, setback, renewed hope, and ultimate triumph. The exact words I would use to describe our current situation. Other biographies which I have read during this period include Michelle Obama – Becoming; Bob Hawke – The Complete Biography; Sarah The Duchess of York – My Story; and Fred Hollows – an autobiography with Peter Corris. Also on my list are books on Egypt – where I was born, Constantinople, Smyrna and of course Lemnos.  Currently I am reading Bob Woodward – Rage – an unprecedented and intimate tour de force of new reporting on the Trump presidency facing a global pandemic, economic disaster and racial unrest. You will recall Woodward and Bernstein were the Washington Post reporters who wrote the bestselling book All the President's Men – uncovering the details of the Watergate scandal. And for a laugh, I pick up the Penguin Book of Australian Jokes collected by Phillip Adams and Patrice Newell.
READ MORE: Rembetika Blues from Smyrna to Syria: How the music style became the soundtrack for displaced migrants
What are you watching?
Well, where do I start? A friend suggested getting Netflix, I am not sure that that was a good idea. Having said that, I have enjoyed some series, several documentaries and countless movies including Black or White, Scent of a Woman, Otherhood, Enola Holmes and The Holiday to name a few. I have also watched Trump – An American Dream, The Family: Hillary and Jacki. As one of my interests is world politics and as the American election is approaching, you can see that I have been watching some relevant documentaries. Just to balance the scales, I have really enjoyed some Greek comedies with the old favourites like Rena Vlahopoulou, Labros Konstadaras, Dinos Iliopoulos, Kostas Voutsas and of course Aliki Vougiouklaki. Not forgetting the brilliant new documentary which aired on Greek television this year – The Red River.
What music are you listening to?
Just like my viewing habits, I like most music styles. It really depends on my mood. During the past few months I have found myself listening to sound tracks from Andrew Lloyd Webber's musicals, Andrea Bocelli, Elton John – who I was lucky enough to see perform live earlier this year, Barbra Streisand, Elvis and of course Greek music ranging from New Wave/Neo Kyma movement – Asteriadi, Violaris, Chomata, Spanos and Hatzis; to Poulopoulos, Parios, Marinella and Hadjidakis and Theodorakis.
What are you cooking?
I have been very adventurous with my cooking. Very early in lockdown I realised I had too much time on my hands. Meat and veggies or fish and salad would not do it. I had to find a way to spend more time in the kitchen. Initially I did a lot of baking – cakes, muffins, scones and puddings. Of course I was eating everything. I thought this won't do, so I started experimenting with recipes that I had not tried before or dishes that I would only make for dinner guests, and that would require me to be in the kitchen for more that fifteen minutes. I started with stuffed vegetables, chicken with okras, pastitsio, fasolada, various soups I had not tried making before like broccoli and cauliflower and roasted and fried vegetables with various other ingredients. My latest creation was spicy chili crabs. I saw the crabs in a window and thought; I would love to cook those. For a split second, I hesitated and realised that I would need to clean and prepare them, but then again, what else have I got to do? I googled crab recipes and found what I thought to be an interesting combination of ingredients which I would not normally use but that I would order if at a restaurant. So after a trip to the local supermarket, I started making my dish. It took me a while to prepare the crabs. The ingredients I used were peanut oil, garlic, red chillies, ginger, tomato sauce, brown sugar, sweet chili sauce, dry white wine, spring onions and coriander. The end result was amazing. It tasted like something you would get at  the Flower Drum. I accompanied it with some jasmine rice and a glass of white wine.
READ MORE: My Life in Lockdown: Q&A with historian Jim Claven and communications consultant Vicki Kyritsis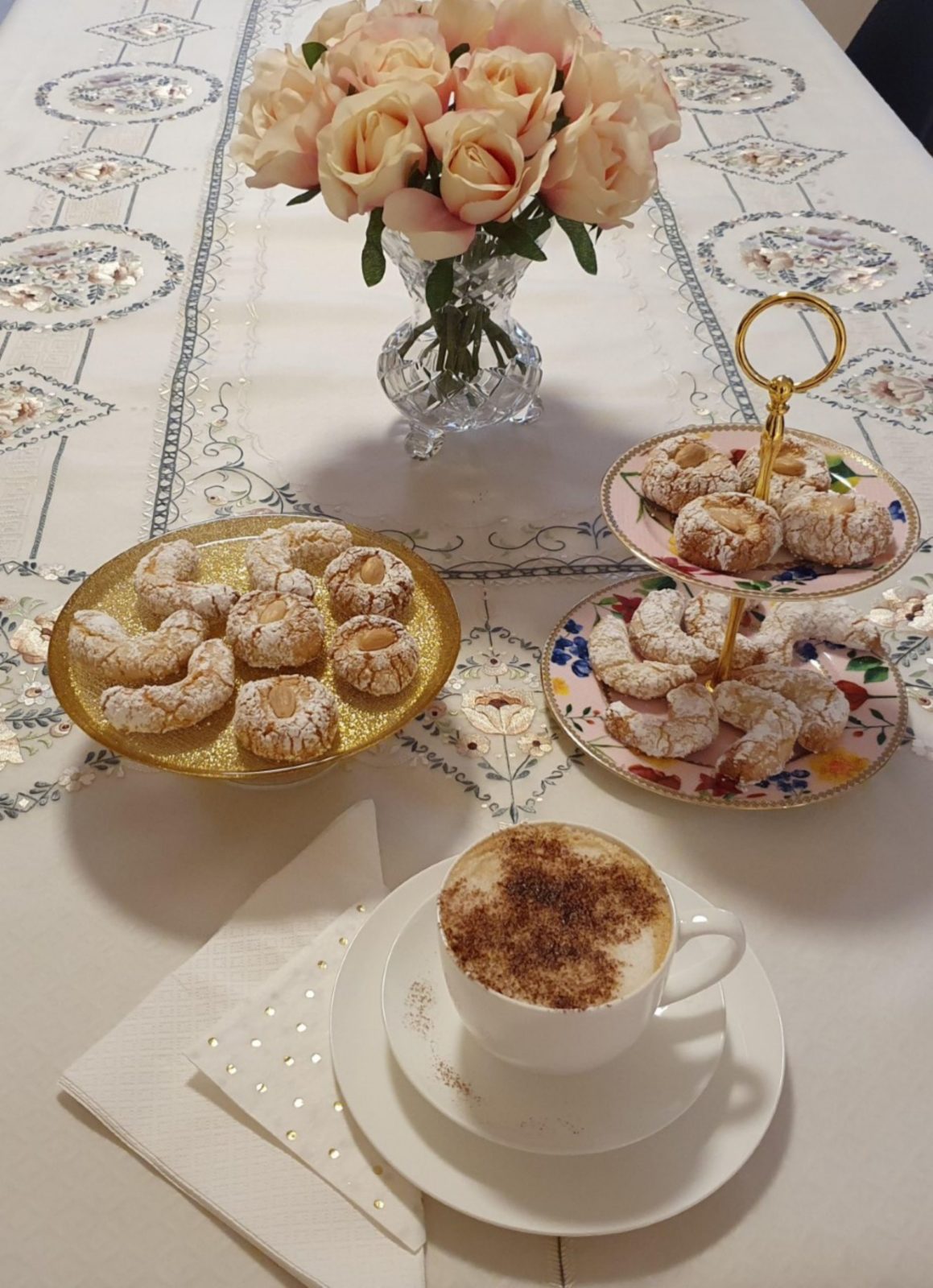 What is keeping you sane at the moment?
I realised very early in lockdown that I would miss being around people. I had to find a way to compensate. I arranged to have pretty regular contact with friends and relatives via Messenger, Viber, Zoom or the phone. That way I would have something to look forward to. Also being home all day, I needed to find ways to keep myself busy. After spring cleaning the house, relocating objects from one place to the other several times, I settled on a regular routine whereby I set time aside for reading, cooking, watching television, cleaning, speaking to friends and of course walking. I am lucky I have the Yarra Trail very close and go for walks along the river. Once five minutes away from home, you feel you are in the middle of the Victorian country side. What more could you ask for?
How have you been staying fit?
I have never been a fitness fanatic. When I was younger I would stay fit by doing a lot of Greek dancing. Now, and especially during COVID-19, I find that I need to walk every day. I confess I sometimes skip my walk, but usually I make up for it the next day. I am also trying to eat a balanced diet and not to eat too many sweets as I was doing at the beginning of the first lockdown.
What's something positive you've witnessed or experienced since COVID -19 entered our lives?
I think there have been many positive things that have come out of this situation. The main one being, how the community has come together to help and support those who are not doing it so well. Another has been that family members are spending more time together around the dinner table having constructive discussions. How people are appreciating the simple things in life. Enjoying and loving the clean air and the quiet and peaceful surroundings with fewer cars on the road. I also think people are looking after themselves more with better meals – cooking at home, more exercise and spending time doing things they did not have time for before COVID-19.
What have you learned about yourself during COVID -19?
During the last few months we have been reading all sorts of articles, pro/anti lockdown, for/against wearing of masks and lots more. Initially I was reading each and every media article from here and abroad. That was information overload. It was confronting, confusing and upsetting. I decided that I would limit my time on the net and only read the official statements issued by government and health officials. I have always considered myself as a focused, methodical and determined individual with a thirst for knowledge and experience. I have used this situation to develop even further some of those traits, as well as keeping myself busy, safe and healthy. I miss catching up with friends for coffee or a meal, but have learned a valuable lesson in "that you can be alone, but that you are not necessarily lonely".
Where's the first place you would like to visit in Greece once travel is allowed?
A group of us from several organisations were planning on visiting Greece this year. I had organised a program of events with the Greek Authorities that we would attend. The events included wreath laying ceremonies, keynote presentations, unveiling of plaques and many more, in places such as Athens, Lemnos, Corinth, Kalamata and Trachilla. For obvious reasons the trip was postponed. Hopefully we will be in a position, COVID-19 permitting, to go in April 2021. Irrespective of whether this happens or not, the first place I would like to visit is Ithaca. I have visited other Ionian Islands but have always wanted to go to the island made famous for being Ulysses homeland in Homer's literature masterpiece The Odyssey. Apparently you won't find any large beaches there, only small coves that are sometimes only accessible by boat. I have marveled at its beauty from across the sea when visiting Kefalonia.