Much has been written about the US elections, and Australia's Ambassador to the US, Arthur Sinodinos, has been busy analysing, answering media questions, advising Australia's government. He may have expected to be asked more of the same when Neos Kosmos approached him for an interview.
But we didn't want to interview Ambassador Sinodinos, we wanted to interview Arthur – accessible, diplomatic but honest – an Ambassador, a loyal Liberal, an economist, a former minister, a family man, a great Australian with a Greek heart, who knows how to paint a picture with words. And you don't want to spoil that opportunity by taking him down a prosaic path so I shaved off my predictable list of questions about vote counting and political hypotheses surrounding the Joe Biden and Donald Trump showdown, whether Paul Keating's vision on a regional pact is coming to fruition and just soaked in the personality before me.
I asked him what the weather was like in Washington, and he leaned in a little, gently peered outside his window and began to describe the Autumn foliage, gently rustling golden leaves and the early onset of darkness, crisp ahead of snow. Ah, how he misses middle upper-class Maroubra, living near the beach. "I gather it's been sweltering," he imagines.
His COVID-19 stubble, relaxed demeanour and poetic gaze are in contrast to the stiff formality of his office space, a mahogany-looking desk flanked by two enormous flags – Australian and US. In his heart, however beats a little splash of Greece, salty, like the small port of Lixouri in Kefalonia with a pathway leading to the main square surrounded by gardens filled with blossoms and a confetti of wayward bouganvillea leaves blowing in the Ionian breeze.
Asked about whether he'd take up Greek Prime Minister Kyriakos Mitsotakis' recent invitation to the diaspora to work from Kastellorizo now that flexible working conditions and digitization have entered our lives, he said, "Well that sounds like a great invitation! Imagine working from a Greek island, being able to look out the window and look at the ocean all blue, the sky all blue, it would be wonderful. I'm from Kefalonia originally, so I'd probably pick to work from there rather than Kastellorizo though I know a lot of Kastellorizians in Sydney."
Could that be the next step following his role as Ambassador? "That's a good question. I think if you want to do something like write a book, the idea of being able to be on an island like Kefalonia, be able to combine a bit of writing in the morning and the arvo with going for a swim, going to the local taverna, it sounds pretty good, I've got to say." (Hint: If you read between the lines, we may expect a book – you heard it first on Neos Kosmos.)
A year in Greece following the COVID-19 ambassadorship may even help his three children improve their "limited Greek". He himself is "proud" he learnt Greek before he could speak English and though he admits Greek school for him and his sister, closest to him in age, was a "bit of a drag" as they trudged off two to three times a week, but "looking back I don't regret it" he says. He adds that learning a second language helps "cognitive development" and reinforced in him "our language, heritage and history".
Keeping Greek studies at universities
"The question of having Greek studies at university, the importance of that is that it is also a link, obviously, to classical Greek and history, which is important I think to continue because it reminds people of the origins of western civilisation so much of which was in classical Greece," he said.
"I think, also, having a cadre of young people who learn Greek and appreciate their culture is important in having a more rounded view of their own identity.
"It is a challenge for universities because courses depend on the number of people available, what they are prepared to pay for a course, how much does it cost to put a course on. It is a challenge but the Greek community has rallied a lot and supported language courses continuing, and I think it is a great idea to do that."
He supports efforts to keep language alive and has always "felt at home in the Greek community", a "part of life" he wants to keep in the United States but has only had limited contact because of COVID-19. However, he has been to his local church, Saint Sophia, a few times, has met Archbishop Elpidophoros of America and has struck up relationships with the Greek Ambassador, Cypriot Ambassador and Greek Ambassador representing the EU. Once things settle with the pandemic, he has a list of more Hellenes he hopes to get in touch with.
The powerful Greek Washington lobby have not approached him yet, but he is "keen to pursue and speak to them because I think they're quite an extensive lobby, they've been doing it a long time, there may well be lessons that Australian Greeks can take from the way American Greeks have participated in the political process."
READ MORE: Senator Sinodinos talks about his identity with the Greeks of Melbourne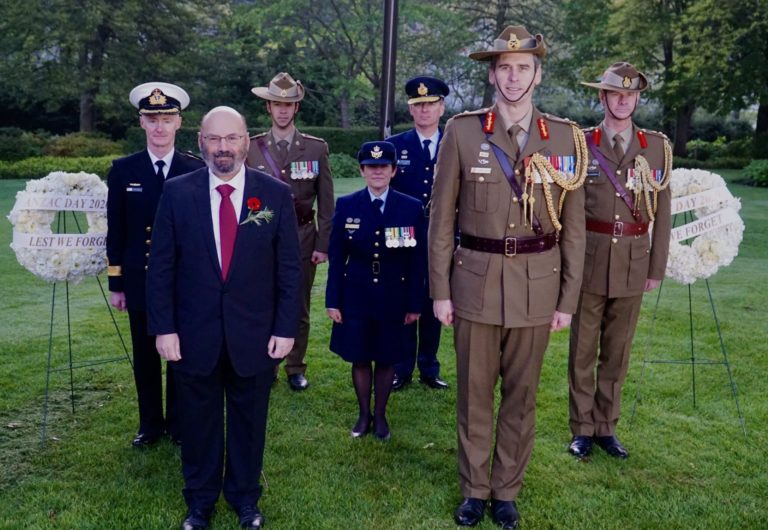 Multiculturalism and globalisation
Ambassador Sinodinos sees the benefits of the US "melting pot" of multiculturalism, but enjoys the structure of the Australian "tossed salad" of nations. "We've had more of a policy around multiculturalism, whereas in the US, it has been organic the way things have developed, they have formal immigration policies but they never had multicultural and settlement policies quite in the way that we have had in Australia," he said.
"I think we've had quite a systematic approach. While they pride themselves here on being an immigrant nation, I think we've been very good at playing up both the fact that we're both an immigrant nation and a successful multicultural community and there are things we do that I think around countering violent extremism for example, countering radicalisation of people that maybe that is something we can work with the US on and learn from each other."
A great supporter of global norms established over the last 70 years, he still stands by this philosophy despite the global pandemic. "I still have a conviction that those things are right, that having rules that help small countries and big countries to be able to live and work together are important, and the sort of order that was put together after WWII has broadly served us very well for the last 70 years and so we shouldn't necessarily be thinking about throwing it overboard."
READ MORE: Exclusive interview with Arthur Sinodinos: Noble calling for a noble man
Ambassador Sinodinos believes that "countries the size of Australia, middle power, countries the size of Greece, benefit from being able to observe the same rules as big countries and vice versa, so it's not the law of the jungle and the strongest doing whatever they want, that's what I'm about, and being in this job at this time has reinforced my conviction that this is what we need to do."
Asked about how Australia can benefit from heightened tension between the US and China, he said that much can be done to collaborate in critical technology, national security, science which underpins critical technology, artificial intelligence, machine learning, hypersonics, space and so forth. The US would work with trusted partners now that it is "not as trusting in its relationship as it was with China as China continues to grow."
As such, he will raise Trans-Pacific Partnership, as a regional trade pact, with President Elect Biden as he had planned to raise it with the Trump Administration 2.0. "At this stage our argument is partly economic benefit but also strategic benefit, that having the US as part of the Trans-Pacific Partnership with other 11 major countries in the region is a big statement about the US commitment to the region and the US recognises how vital and growing a region this is; and by them being in there it helps to promote the quality of the trade agreements, the standards the countries have to meet," Ambassador Sinodinos said.
He recognises that it would not be easy for a new Biden administration to make such an agreement like that early on as congress is more wary of trade agreements than they used to be "as there's quite a feeling that globalisation has left some parts of America behind", so they'll start off small with trade areas (eg digital trade, trade in health environment etc) without a big political downside to keep the new government engaged and build from there.
As it is, the current Trump administration is the government until 20 January, 2021, when President Trump's term is up. "We're going through a transition of one sort or another," the ambassador said. "Our Prime Minister decided to congratulate the President Elect fairly early on (12 November) when it was clear based on the projections that were being made that President Elect Biden would win the election. So now we're going through a process of potentially some court cases challenging results in various jurisdictions."
Regardless of who wins, Ambassador Sinodinos said that US-Australian relations are solid and outlast governments thanks to their common values, defence, security interests, rule of law, human rights and opportunity to build a better world, including cooperation in areas of climate change (according to Australian Prime Minister Scott Morrison's letter to the President Elect).
But is the current climate of flux and transition making his job as Ambassador just that bit harder?
"Look, can I be honest? 2020 has been such a year, that the fact that it is ending like this should be no surprise to any of us really. I mean if you'd told me in the beginning of the year when I got into this job that I'd be facing a pandemic, the biggest economic contraction since the great depression, racial protests, a very fractious and divisive election campaign and a drawn out transition, I would have said, 'hmmm that's a pretty extreme scenario' but that's 2020!"
READ MORE: Exclusive Interview: How will Arthur Sinodinos handle Donald Trump?
In a glimpse
On family time: "We'll look back and we'll treasure having had that time together but we're also a bit fatigued and keen to get up and about again…"
Ambassador Sinodinos had referred to flexibility in the workplace and remote working in his valedictory speech. "It was easy to predict in the sense that we've seen the trend over time that the world of work is changing and digitization is changing, but what COVID has done is accelerated a lot of these trends, so, before, a lot of us talked theoretically about how we could work from home if we wanted to, but there was nothing to push us to do it… Now we have a clearer idea of the upsides and downsides of working from home."
Transitioning from politician to ambassador was easy because, in both cases "part of the job is being out there presenting a point of view, arguing a point of view, being prepared to meet people, be extrovered, being a good host, being able to listen to people, draw them in, understand them, there are a lot of similarities between politics and diplomacy."
On Leadership "In the South Pacific they have a theory about leadership which is that you go round the whole group, get there points of view and the leader actually speaks last, and gives everyone the opportunity to have their say and then sums it up the leader is someone who tries to synthesize and is a decision maker."