Angela Gerekou, who heads the Greek National Tourism Office (GNTO), could have lead a charmed, hassle-free life. Had she relied on her good looks alone, she could have had an easy innings but, by her own account, she's never been one to fall into stereotypes so she chose a meandering life filled with "obstacles and challenges".
As a young architect, she was snapped up into the world of acting in the '80s before joining the socialist PASOK party as Greece's deputy culture and tourism minister at the peak of the economic crisis in the government of George Papandreou (2009-2010) and became deputy sports and culture minister with the conservative new democracy party in the government of Antonis Samaras (2014). And while her soulful blue eyes and calm demeanour may have garnered a few votes as well as the heart of singer Tolis Voskopoulos, Ms Gerekou has never been one to rest on her beauty alone thanks to sheer grit that has ensured her staying power.
Asked about the interconnectedness of her different roles as architect, actress, model, politician, and even mother and wife, Ms Gerekou told Neos Kosmos that nothing is random. "Everything I do is part of me. I love each role. I love being me. But now, more than before I feel so creative," she said.
"I want to be a Shaper, the one who shakes things up to make sure that all possibilities are considered and that, with vision, I can inspire and promote changes. It's the only way for me to transform obstacles as exciting challenges and have the courage to push on when others feel like quitting."
The global pandemic has definitely given her a "challenge" – perhaps the biggest one yet. "The world has and continues to suffer sizeable losses and setbacks due to COVID-19. Not least among those setbacks is the shock to the travel and tourism sector," she said.
Award-winning coronavirus season
Asked to look into the crystal ball of the future and share her vision as to what a post-COVID-19 world will look like for tourism, she says that there's still a way to go before coronavirus is eradicated so "maybe we need time to live with it", to absorb some of the fallout before we move on.
"We need to do some things to have clear rules between all the countries. This is a very important issue for every government," she said. "Greece, despite all the difficulties that Europe faces because of COVID-19, has managed to welcome visitors. Greece's identity and its comparative advantages represent a country that contains many other 'countries', in the sense that it offers a wide array of choices."
She points to the three initiatives taken in tourism already: (1) the imposition of health protocols on every aspect of the tourism industry in every region around Greece; (2) the strengthening of health infrastructure in hospitals and private healthcare; and (3) strict controls and measures. At the helm of the GNTO, she says that Greece's tourism marketing campaign will continue to put health safety first.
The approach has already drawn the international spotlight with the Greek Ministry of Tourism and GNTO together awarded the World's Leading Tourist Board at the World Travel Awards (WTA) 2020. "The WTA award is a great distinction which reflects the successful opening of Greece to tourism during the pandemic," she said.
"It shows that our country, with prudence, seriousness and a spirit of solidarity faced the adventure of COVID-19 – a phenomenon considered the biggest challenge facing world tourism for the last 20 years, at least in the most effective way."
READ MORE: Diaspora and Dialogue: Discussing how tourism to Greece can be promoted in Australia
Laying groundwork for Aussie tourists
Greece successfully braved a summer season, however Australia is still a long way off from allowing international travel. Despite Victoria recording more than 40 COVID-free days this week, hopes for overseas trips were quashed by Australia's Health Minister Greg Hunt who delayed them by another three months, extending the ban for international travel.
Mr Hunt said "the international world remains a challenging and dangerous environment and Australia won't be fully safe until the international community is safe".
Ms Gerekou told Neos Kosmos that "one of the biggest problems for Greece this summer was that a lot of countries didn't allow travel to Greece. This is a real, big problem we have to deal with," she said. "Actions ensuring the safety of travellers in the post-COVID-19 era also topped the agenda of talks."
Despite restrictions, Greece will be ready to welcome Australians when the floodgates of travel are opened up again and is already preparing the new campaigns of 2021. She said Australia is a "very, very important market" for Greece and not just because of the Greek diaspora but because the market itself is huge.
"We are examining the creation of a bureau in Melbourne and we are already discussing this issue with market stakeholders and diaspora leaders who proposed joint actions and collaboration towards the stronger promotion of Greece," Ms Gerekou said in reference to the Greek Community of Melbourne's offer to house a Greek GNTO office at the Greek Centre on Lonsdale Street.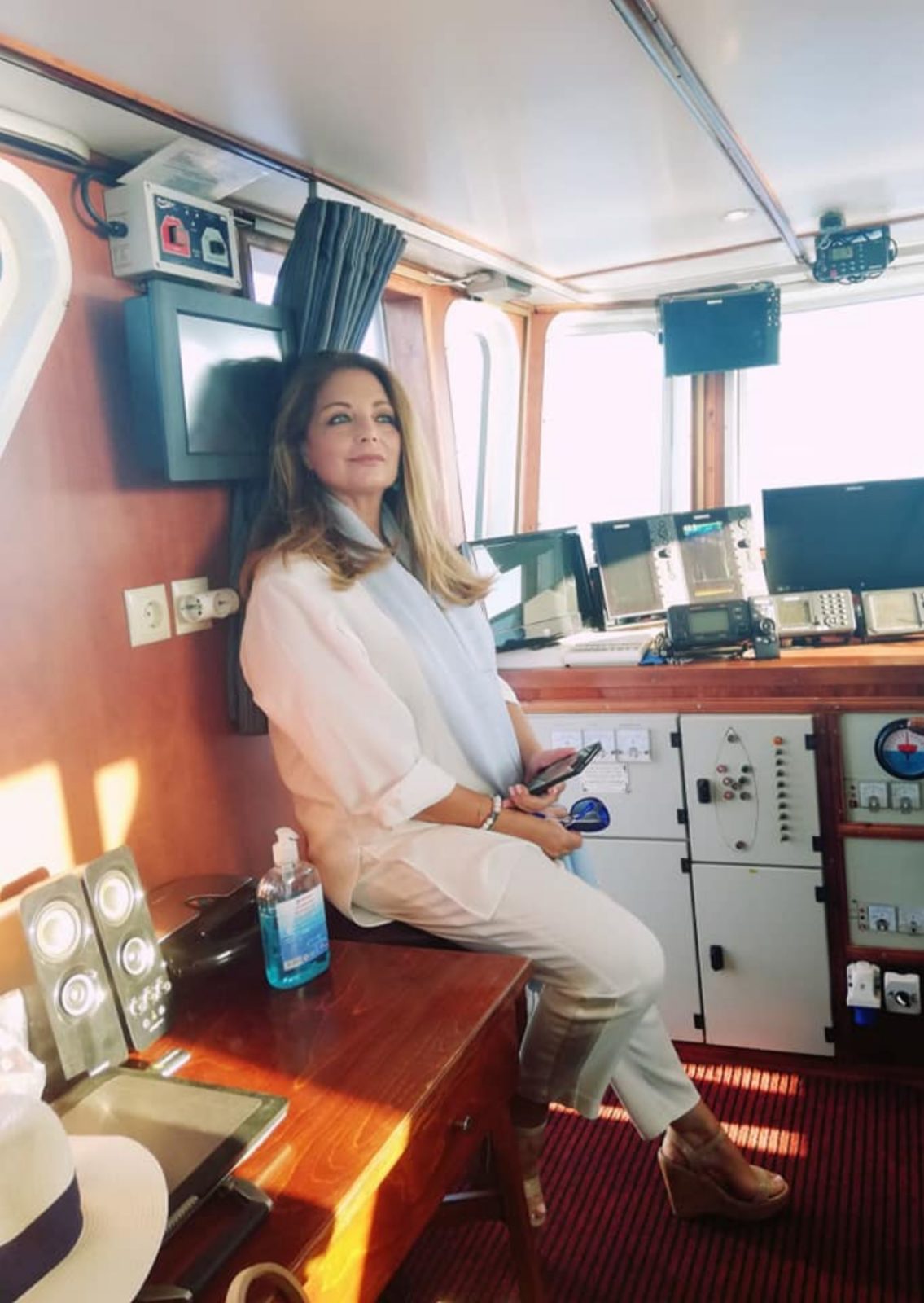 Plans for a post-COVID-19 world
The groundwork is already being laid for strong Greek tourism in a post-coronavirus world.
"Our goal and my vision from the beginning was to promote sustainable tourism growth, responding to the global trends and also giving a strong push to Greece's potential for multiple tourism products and services all year long," she said, pointing to tourism for all seasons in order to take advantage of Greece's many offerings before sun and sea, including "hospitality, safety, clear waters, gastronomy and range of activities that combine together in a remarkable destination."
She points to a variety of unique experiences. "Travelling to Greece's hidden gems, the international visitor can see the beauty of the natural environment combined with the local products, folk art, traditional and modern cultural events and also excellent hospitality services," she said, encouraging people from around the world to look beyond Mykonos, Santorini and Athens, "there are much more hidden treasures for the traveller to discover and many experiences to gain by unlocking the hidden gems of Greece".
Along with all its problems, COVID-19 has been a time to reset the counter. "I believe that now is the time to build a resilient, sustainable and competitive tourism that will face future challenges more easily and that will bring benefits to both the economies of individual countries and their people," she said, envisioning a Greek tourism product that injects quality into mass tourism while promoting "new thematic, special interest tourism products and services towards sustainability in the entire tourism sector and procedures."
She speaks of respect for the environment and bringing a "responsible consumption attitude" in various ways such as through the introduction of environmentally friendly and "sophisticated energy management solutions that reduce consumption while still meeting guest expectations for comfort". She speaks of digitisation, which she says is "an important tool in such a period of crisis", adding that the government's main targets are "agility, flexibility and innovation".
"Our common goal must always be free movement and travel, however, privacy, safety and the health of our citizens must remain our highest priority," she said.
READ MORE: "Why not work out of Kastellorizo?" Greece's PM Mitsotakis asks Greek Australian diaspora
The changing world we live in
Having served tourism time over, she says that nothing is the same in her role today as in previous years, pointing to greater insecurity these days.
"Technology, education, health, eating habits, dress – there is hardly anything in life that is not changing, some changes we like, while others create fear and anxiety," she said. "One thing, however, is clear; it is no longer possible to live in the way we have been living so far. It seems that now the entire fabric of life will have to be changed so politics must change. Life will have to be redesigned. The life of the individual, the social structure and governance – all will have to be replanned. One of the greatest changes that has taken place lies in the political sphere. Everything is changing we must change."
Ms Gerekou, despite looking like an ageless female version of Dorian Gray, tells Neos Kosmos she has changed. "I have become more flexible and mature," she said.
Thankfully, however, her marriage with Tolis Voskopoulos has been going strong since 1996.
"With love, common goals and respect, everything can blossom for many years," she said.
"Tolis is a living legend and he sends his love and gratitude to all his fans there (in Australia)."
Video from the '90s features Angela Gerekou and husband Tolis Voskopoulos