The judge's voice resonated throughout the court room: "Is Antonio Boulizos* an Italian or a Greek name?" was the opening comment by Presiding Judge Dethridge, of the General sessions court Melbourne, according to the Age court reporter's article dated 12 July, 1922.
In response, one Antonio Boulizos noted, "It's Greek, your Honour. My father was a Greek and my mother an English woman [Australian Born]"
Antonio Boulizos' first encounter with the law, in Melbourne 1922, signifies a turning point in the former police officer's life. This was the first of many court cases in which the illegal activities of the former police constable would be disclosed to the public after an accomplished career with the Victorian police force which spanned for nearly seven years (1914-1920).
From a decorated and awarded police officer, with an impressive and illustrious career in the Victorian police force, to the under-ground dens of so called "ill reputed houses" and a sly grog vendor in the cities of Melbourne and Sydney during the roaring twenties, the contrasts are illuminating
In a career that traversed for more than 30 years in both front line police work and illegal activities, Antonio Boulizos career path fits perfectly within the realms of a film script which would contain all the quintessential elements of a blockbuster film; a narrative that will fascinate many readers.
Through multiple articles we are introduced to the first Victorian Greek-Australian police officer and gradually his life story is decoded. So, who was Antonio Boulizos?
READ MORE: Early Greek Settlers: The first Greek-Orthodox wedding in Australia in 1898
ANTONIO BOULIZOS – ANCESTRAL BACKGROUND
Antonio Boulizos was born in Sydney on 6 January, 1891. The first child of Apostole and Catherine Boulizos (nee Latross). His father was born on the island of Skopelos in the Northern Aegean in 1850. He arrived in Australia, from London, in March 1879 aboard the SS Shannon working as an able seaman; most likely Apostole received his ticket of leave upon arrival to the southern continent.
Whilst a resident of Sydney in 1890, Antonio's father, Apostole Boulizos made the journey to Melbourne to marry a Greek-Australian woman named Catherine Latross. Catherine was the first child of Antone and Mary Latross. Antone was born on the island of Milos in the Aegean Sea. He too was an able seaman who arrived in Australia in 1866 aboard the ship 'Goliath'. Latross deserted his profession as a mariner and thereafter remained in Victoria for the balance of his life.
Their marriage was most likely an arranged one and as certain early marriage records indicate, such prearranged marriages, albeit a few, did take place between Greek immigrants-mainly seafarers and Australian Greek women.
Soon after their wedding the couple departed for Sydney where they resided for the remainder of their lives except for a short period of residency in both Victoria and Queensland.
Antonio's father was an Oyster Saloon operator and café owner for many years in inner Sydney and a well-known identity amongst the Greek community of Sydney, affectionately remembered as "Uncle William".
During his adolescent years Antonio worked for his father as a waiter in Alfred Street Circular Quay in Sydney however by 1911 he moved to Melbourne to reside with his maternal grandfather Antone Latross who lived at 11 Macarthur Square Carlton. Both worked as waiters at various Greek cafés throughout Melbourne.
MELBOURNE CHAPTER: ANTONIO BOULIZOS JOINS THE VICTORIAN POLICE FORCE IN 1914
In June 1913, Antonio married Ruby Pearl Ross from Charlton Victoria and soon after, according to the Victorian Police Gazette, he was appointed to the Police force on January 22, 1914 at the age of 22. From here onwards his animated and decorated career as a police constable commences.
As early as March 1914, Antonio Boulizos' name appears in multiple newspaper articles throughout the then print media. An incredible amount of sensationalism follows young Antonio, who as a police constable, deals with charlatan fortune tellers, illegal gambling, sly grog vendors and houses of "ill-repute". His acts of bravery are well documented throughout his career with the Victorian police force.
By late 1914, constable Boulizos whilst on patrol in the streets of Melbourne, in a remarkable effort as described by the local newspapers, takes part in arresting four women who were allegedly soliciting in the laneways of inner Melbourne.
"Antonio Boulizos more than earned his salary as a copper on Monday night, the result being that the following morning his name appeared on the City Court charge sheet no fewer than four times. In all, six 'lydies' had been booked on charges of soliciting," according to the Truth Melbourne edition on 28 November, 1914.
In January 1915, constable Boulizos was again the centre of attention when a charge of keeping a disorderly house was bought against a Madame Fanny Hinton of 30 Vine Street Windsor. In this case Boulizos posed as an "Italian groom" seeking female entertainment.
During his testimony constable Boulizos indicated that he posed as an "Italian groom" and noted "seeing a number of flashily dressed girls at the house and had arranged to return the following night with a friend to be entertained by the girls. He was acting under instructions from his superior officer," according to the Age newspaper on 19 January, 1915
Later that year his name appears in the newspaper columns in which his heroic efforts to avert a burglary are praised, during which Boulizos received a blow to the head with a crowbar and several gun shots were fired.
READ MORE: Early Greek Settlers: Pandemic, racism and the Greeks of Port Pirie in 1919
"As the result of an encounter with two burglars in Russell street shortly after midnight, Constable Antonio Boulizos was treated at the Melbourne Hospital for injuries caused by a jemmy, with which he was struck by one of the men."
The article continuous with the following extraordinary revelation in The Argus on 1 September, 1915: "Boulizos staggered back from the force of the blow, but quickly recovered himself and, drawing his revolver, called on the man to stop….six shots were fired."
Even the Greek gambling dens of Melbourne did not escape Boulizos' attention who, together with a dozen plain clothed police officers raided an illegal gaming haunt situated by behind Nicholas Loots' fruit shop at 213 Lonsdale Street. Under the article, titled "Twenty Greeks Arrested", the following description was included:
"The place was surrounded, and Plain Clothes Constables McCann, Berriman, O'Keefe and Boulizos entered. They passed through the shop and gained entrance to an inner room where twenty Greeks were assembled, all of whom were arrested by the constables and taken to the City Watch house." (Age, 14 February, 1916).
On 17 May, 1917, the Herald newspaper makes a particular mention of Boulizos' acts of bravery: "When a fire broke out in the grandstand on the Mentone racecourse on 5 May nobody worked harder or with greater success in preventing a serious loss of property than Constable A. Boulizos."
The Herald further highlights: "Constable Boulizos came into prominence on the night of Easter Monday, when at great risk to himself he stopped a bolting horse harnessed to a hansom cab, in Elizabeth street, and so prevented a collision with a crowded tramcar. Inspecting-Superintendent L. Gleeson has made an entry of credit in the constable's record sheet."
Apart from his acts of bravery, constable Boulizos was acknowledged as a master of disguise and on many occasions he posed as a soldier or as a "foreigner"; perhaps his Mediterranean complexion and stature made him the ideal candidate when such undercover investigations were required.
In a local newspaper column Boulizos' talent for working undercover was revealed: "It subsequently transpired that the versatile Boulizos who has played many parts during his brief connection with the force, was wearing a soldier's uniform when he visited the café."
Soon after, he was acquitted for overseeing a house of "ill repute" in 1922, Boulizos together with family, hastily returned to his hometown of Sydney. With the commencement of the roaring twenties, Australia's social and economic landscape was rapidly transforming together with an increase in illegal activities and an unprecedented growth of illegal markets. It is in this climate, that Boulizos' connection with the Sydney criminal underground and illegal activities escalated, pre-occupying the judiciary system on many occasions as attested by numerous Sydney newspaper articles.
READ MORE: The chronicles of George Manuel, the first Greek settler in Australia – 1811
SYDNEY CHAPTER
By late 1923, Boulizos was charged with selling liquor without a license and was fined £100; in default nine months' hard labour. In the same year, he was also charged with stealing jewellery and as a result of both convictions Boulizos' served a brief stint in prison.
The most infamous case that caught the attention of many Sydney newspapers and caused an uproar within the temperance movement occurred in July 1925. Here we discover that Boulizos was a major player in the operation of two underground cafés in order "to indulge in their [his] dubious pleasures". It is during this court case we discover other meritorious acts that Boulizos was the protagonist of. His defense attorney surmises Boulizos' exceptional career in the following extract from a local Sydney newspaper.
"A remarkable man is Antonio Boulizos, according to the story he told the court. For eight years he served in the Victorian police force. He has the Royal Humane Society's medal and certificate for saving life. At the time of the visit of the Prince of Wales he acted as one of the Prince's personal bodyguard. During the war he served with the secret service for the Commonwealth and the British Authorities, and his work took him to many lands. In 1917 he was obliged to come back to Australia owing to having contracted malaria." (Truth, Sydney edition – 26 July, 1925)
Antonio, by all indications had an impeccable reputation with the Victorian Police force, with numerous validations throughout his career; from being appointed as a protector to the Prince of Wales during his Australian tour in May 1920 to working for both the Australian & British intelligence service during the Great War.
After 1925, the majority of subsequent cases heard against Antonio involved illegal betting either what was termed 'street' and/or 'home' betting. According to prison records, Boulizos fronted the courts on no less than ten occasions on charges mainly relating to illegal gambling. The majority of the illegal activities carried out by Boulizos were minor in nature – misdemeanours – which resulted in multiple fines imposed against him.
His excellent rapport with the police force without doubt saved Boulizos from entering prison on many occasions. Despite his extensive criminal activities and his multiple appearance in front of the judiciary he did not serve any prolonged periods of incarceration.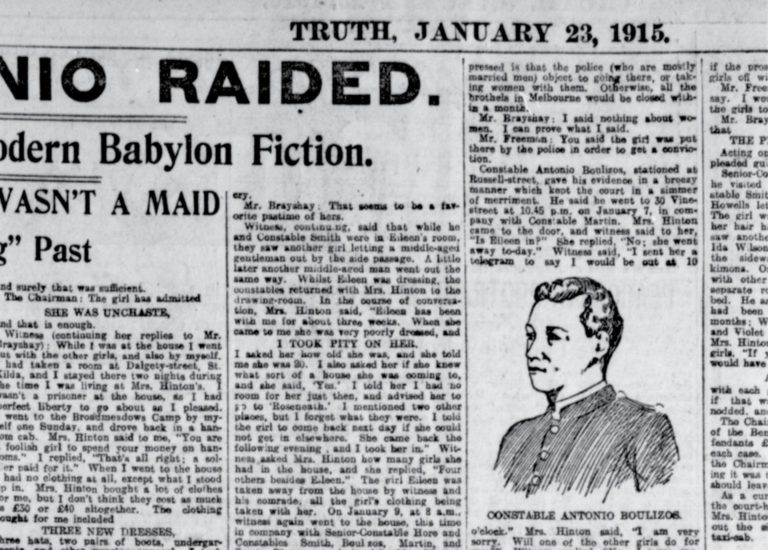 CONNECTION WITH THE GREEK COMMUNITY OF MELBOURNE
Throughout his police career Boulizos had developed close and unique affiliation with the Greek community of Melbourne. Without doubt his close relationship with his maternal grandfather, Antone Latross, shaped his 'Greekness' and his association with many Melbourne Greek residents.
Remarkably as a police officer Boulizos assisted well over of thirtyGreek residents of Melbourne to obtain their Australian citizenship from 1915 to 1920. In a period in which there were multiple hurdles for a Greek immigrant to obtain their citizenship, Boulizos assisted these Greek immigrants by either providing letters of support and character references or by signing statutory declarations and assisting in completing their citizenship application forms. Suffice to say that nearly a third of the total Greek recipients of citizenship during this period received some form of assistance from constable Boulizos, an amazing accomplishment.
READ MORE: How the Greek diaspora came and blossomed in Australia
CONCLUSION – RECORD OF CONDUCT AND SERVICE
A single sentence entry found in the Victorian police archival documents provides an explanation as to why Antonio Boulizos was dismissed from the Victorian Police force, that being "frequenting 34 Albert Road South Melbourne houses of ill fame and associating with immoral women".
The conditions however of the lower ranking police constables may have also pushed Antonio Boulizos to a seemingly contradictory lifestyle. While there is nothing new in members of the police force going to the dark side, it is important to understand that the conditions for those working in the force during the time of Antonio Boulizos hardly made it a worthwhile career.
Victorian police constables worked longer hours for less pay compared their New South Wales counterpart and they had no entitlement to a pension and were constantly scrutinised by their superiors. Most members of the force were drawn from the working class where lack of opportunity, disadvantage and economic inequality provided little choice. It is not unfathomable that many police capitalised on the chance, where presented, to augment their meagre pay.
Such were the conditions of employment for Victorian police constables which eventually led to the infamous police strike of 1923 that caused chaos in Melbourne with a breakout of widespread looting and rioting.
Despite his illegal activities, which on many occasions were sensationalised by a certain section of the press, Boulizos' life story should take its rightful status within the realms our Greek Australian history. As a police officer, his ancestral background, proved to be a valuable asset to the wider community of Victoria during that era. Finally, his intimate familiarity of the then Greek community of Melbourne and its constituents became a sanctuary for many Greeks who endeavoured to obtain their Australian citizenship during a period of intense racial discrimination; this must be commended considering the prevailing hostilities towards those residents of Greek background during World War I.
Antonio died on 31 December 1958 in Sydney, two years after the decedents of both the Boulizos and Latross families re-connected in Melbourne during the Olympic games in 1956.
*Boulizos surname in Greek is "Polyzos"
Costas Markos is a member of the Greek Community of Melbourne. References and Resources used in this article are from the Australian Newspaper Archival Collection – Trove; Police Museum Victoria – Archival records, Record of conduct and service; National Archives Australia – Naturalisation documents; NSW Gaol Description and Entrance Books, 1818-1930; Victoria: Births, Deaths & Marriages Register; Descendants of the Boulizos family. With thanks to: Kostas A., Kostas K., Nikos P., Dimitra L. and Jeanna V.