It started with an open letter to the Shanghai Chamber of Commerce. Melbourne businessman Anthony Voyage (born Andonis Voyatzis) wanted to trade with China but he could find no contacts to open up links, so he sent the letter in the hope that someone on the other end would respond. Someone did and the rest is history.
In the 1950s there were very few people in Australia, let alone the rest of the world, who would trade with mainland China, the People's Republic of China. China was largely a closed book after the victory of the communists under Mao Zedong in 1948 and the confinement of the defeated Nationalist Chinese forces to the island nation of Taiwan.
A Greek, who in 1947 migrated to Australia from Rhodes, saw the potential of trading with China and acted on it more than a decade before Gough Whitlam, or Richard Nixon took their much publicised look over the Bamboo Curtain. And he knocked on the door without knowing who would answer.
In the 1960s businessmen Anthony Voyage was mocked by the Australian media when he said that China would be making aeroplanes and cars and exporting to the world.
READ MORE: Long-time Greek amateur footy and cricket stalwart joins Australia's honours list
"The Australian media ridiculed him but they kept asking him: 'How can you be so sure that a country like this can develop high-tech industries?'" said George Voyage OAM, Anthony's son who continues to run the company his father created in the 1950s, AG Voyage Australia Ltd and began trading with China a few years later.
"He told them 'the Chinese are very industrious and very organised and I am sure they will meet the high-tech demands of the future," recalled Mr Voyage.
Anthony was born in Castellorizo in 1922, the eldest son and third child of three brothers and three sisters. His father, George, knew something of the world as he was merchant ship officer – at the turn of the century he had travelled to Australia and spent time at Port Pirie in South Australia.
The family moved to Rhodes from Castellorizo and in the years immediately after the war, Anthony worked as an interpreter for the British forces. He spoke and read fluently in Italian, French, English and Greek. Thanks to this work he was granted a British passport and was able to get his papers to migrate to Australia.
He left Rhodes with his friend Kevin Kominos and landed in Perth in 1947. For a time, he worked with an Italian shipping company before deciding to move to Melbourne where a family relative lived.
He found work for the Belgian textile company GJ Gilbert which brought in textiles and curtains from Europe.
In 1948 he met Katina Kanis. Her father, Yianis(John), who as a teenager had been sent by his family in Castellorizo to travel alone to Australia in 1913. Katina's mother, Asimina Amonis, had arrived in Australia in 1919. Asimina was born in Myra, in Asia Minor. Her family moved to Castellorizo and then to Egypt before finally migrating to Australia after the First World War.
Anthony and Katina married in 1950. George was born in 1952, followed by John and Maria.
Anthony did well at the Belgian textile company but he decided to move out on his own and set up AG Voyage Australia in the the late 1950s.
The company continued to work in the textile fields and began was importing silk and cotton from India.
"We had a nice product range for many years and we did business with a company in Mumbai. The company mentioned to my father that Chinese cotton was coming in as a raw material.
"Dad thought if China grew cotton, they must surely spin cotton to cloth and process textiles there. He was also confident that any country as populous as China and with such a long history was bound to have products to sell."
At that time not much was known about China, a country that had undergone vast upheaval. It was not well reported and there was little direct contact with the country. What little trade there was with Australia was for its wheat and wool.
READ MORE: China and Australia, post COVID-19 ties
"The country was so closed off that there were no names of persons to contact. There was no telephone directories to consult and no internet. Who do you write to?"
Anthony sent a textile sample and a letter simply addressed to the "Shanghai Chamber of Commerce" in which he asked whoever opened the letter if they were manufacturing finished textile products similar to the sample he had sent and if they wanted to trade.
A response came two months later from China National Textiles Shanghai Arts and Crafts thanking Mr Voyatzis for his letter and with a sample of their fabric.
"The product was excellent and we got an order straight away from Melbourne Textile Printing company (later to become Colourtex)," George recalled.
"At first we did business through centralised companies – there were 100 such companies in the whole of China. But as time went on, these fractured and more and more companies traded (with the outside). … It made it easy to know who you were dealing with," said George.
His father soon visited his Chinese counterparts a journey that took a number of days to complete. Fist there was the flight to Darwin, then to Manilla. From there, it was a flight to Hong Kong from where he crossed the border by rail to Canton to fly on to Shanghai or Beijing and later to other cities, such as Tian Jin. He would visit China four times a year.
Soon he was accompanied on his trips Sir Norman Coles of retail GJ Coles (now simply known as Coles).
"Sir Norman and his brothers quickly understood the potential of trade with China," said George.
His father also took representatives of Kmart Australia and Kmart USA to China. All the big department stores and import companies saw the developing trade in a positive light and the prices of the products were good.
Antony's brother, Mark, who had settled in Sydney, with encouragement from his older brother, opened a branch of AG Voyage there. Mark was able to bring Woolworths on board as well as other companies in New South Wales.
Antony's family lived in East Brighton and would host delegations from China and Japan (polyester products), another country that did business with AG Voyage.
"We were the envy of the neighbourhood because had guests from other parts of the world but we also got state of the art toys from the Japanese like car-race sets and remote-control toys," said George.
Over the years, business developed and AG Voyage brought in Chinese textiles, kitchenware, blankets, canned foods, camping goods, kitchen utensils and cutlery and other products.
After George graduated from RMIT with a degree in accounting and business he joined his father's company. He first visited China in 1973.
"They were wonderful days and the trips were made a lot easier as our father had been visiting China for 15 years already, so he gave me plenty of advice and instructions," said George.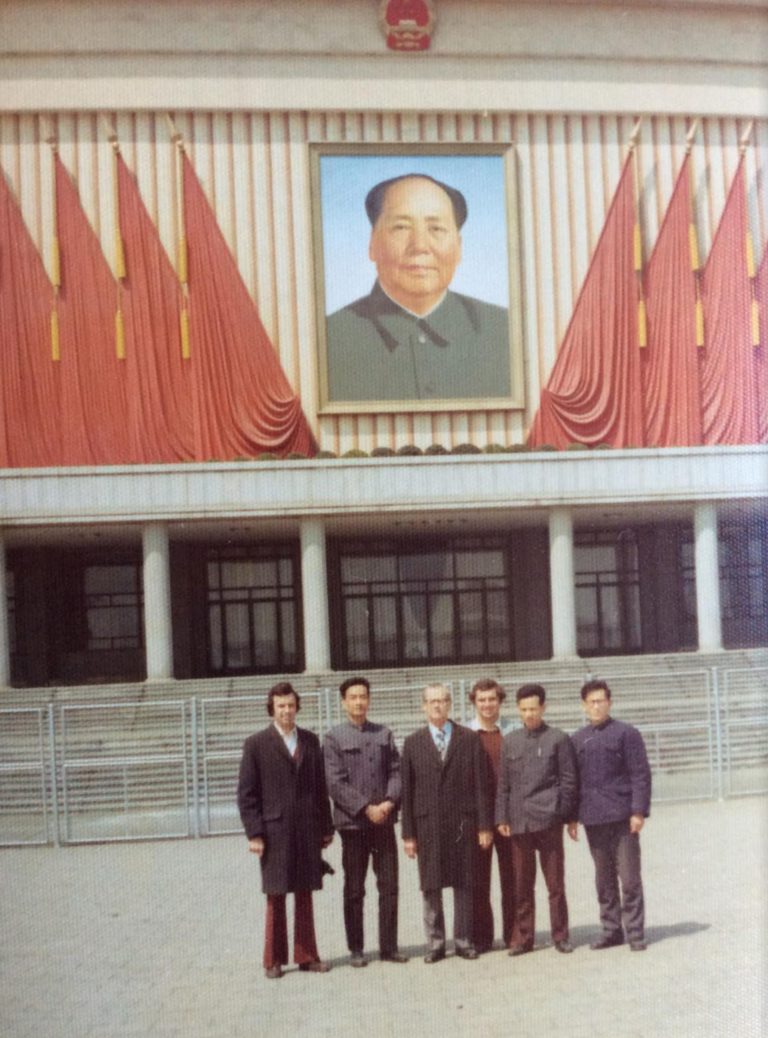 "Times were so different then. When I wanted to telephone my parents in Australia, I had to fill in a form that required a lot of information, even stating the reason why I was making the call. I would hand the form to the operator and then had to sit in my hotel room and wait for the call. There was no direct dialling. You were a guest of the country so you had to behave yourself."
"In 1974, I was at the Canton Fair, and there was a friendly (soccer) game between the English and German delegates. I was invited to join the English team. The next day, the stadium was packed with 10,000 people who had come to watch us play. The Germans had a recently retired professional from their league playing for them and they won 3-2"
George came to take on more responsibilities. His father retired because of health issues and his uncle, Mark, and cousins in Sydney continued until the death of Mark.
Today George still runs the company in Melbourne with his sister, Maria, and has maintained the company links with China and India but does business with companies in Europe and the USA.
"We also have a good connection with DAS Home in Athens as well," he said.
He attributes his father's success in China to his cosmopolitan upbringing in Rhodes as a perfect preparation.
"Understanding people is an asset. Being patient and respectful and understanding people's circumstances are important. It was a two-way process. We also helped the Chinese manufacturers to make their products suitable for Western markets," he said.