Melbourne music duo Shouse are watching their song Love Tonight smash the music charts in Greece, four years after releasing it.
Ed Service and Jack Madin gathered a group of friends in a Brunswick warehouse back in 2015 to record the song but they could not have anticipated its meteoric rise over 13,500 kilometres away.
"It's pretty surreal, pretty weird. We've slowly been seeing the song increase in tractions, support and stream, but particularly in the last months it's skyrocketed," Mr Service told Neos Kosmos. 
The track has hit number one on Greek Shazam charts, with another three remixed versions (including one by internationally renown DJ David Guetta) sitting in the top 10.
To add to that, Love Tonight is also number one on Greece's indie track chart and with more than 61 radios on board and more than 700 weekly plays, the numbers are phenomenal by Greece's standards.
While the numbers are definitely something to celebrate, the true realisation that Love Tonight had made it big was when Mr Service started seeing videos pop up on social media
"What really gave me notifications was people sending me videos. People were tagging us in videos in their Instagram stories holidaying in Greece," he said.
As parts of the world begin welcoming tourists and travellers once again, it seems Love Tonight has been pinned as Greece's, or rather Europe's, reopening hymn of the summer.
"There was a big peak during the lockdown and pandemic. People seem to find the message of connection, love and solidarity really important during the lockdown. Now that Europe is coming out of their lockdowns, and particularly in countries like Greece where people are flocking to celebrate on the beautiful beaches and islands…I think they're becoming the root of the sites of release and the celebration," Mr Service explained.
According to Mr Service, the song seemed to have gotten its 'rebirth' in Lithuania at one of the country's largest music festivals, before being picked up in Russia, South America and then of course spread more rapidly across Europe as the summer of 2021 approached.
"The song has been really popular in non-English speaking countries for some reason. I think the lyrics of the chorus are pretty simple. If English is your third or fourth language, you can still understand them," he said.
"I think it got to Greece with this European summer. I think people brought it there and I think it's perfect for that beach moment, for the night out with the friends at the club."
READ MORE: Lamenting Melbourne's lost music scene: how COVID-19 flipped a robust industry
The song itself casts its own magical spell in this way and while the catchy lyrics and euphoric beat may have a lot to do with its virality, perhaps the most special ingredient it bares is the message of friendship which is so deeply ingrained in the song.
"It's a song that we made with friends. They're all dear friends of ours who got together to sing the song in a big choir. None of them are professional singers and I think that's part of the reason why it resonates with people because they get to sing it with their friends. It's made for friends, by friends," Mr Service said.
As the duo's message of unity spreads in Europe, the music scene in Australia, and namely their hometown of Melbourne are yet to fully embrace them.
"I think the Melbourne underground and electronic scene is pretty cool and understated and restrained and self aware. Our song is pretty cheesy and very open hearted talking about love. It kind of had that Eurovision feeling with that singing about love, which Melbourne was perhaps 'too cool' for it a few years ago, but in Lithuania and Greece people love it," Mr Service said.
"Maybe people after these crazy couple of years of the pandemic are starting to drop some of their pretenses and be ready to embrace cheesy, corny anthems like ours."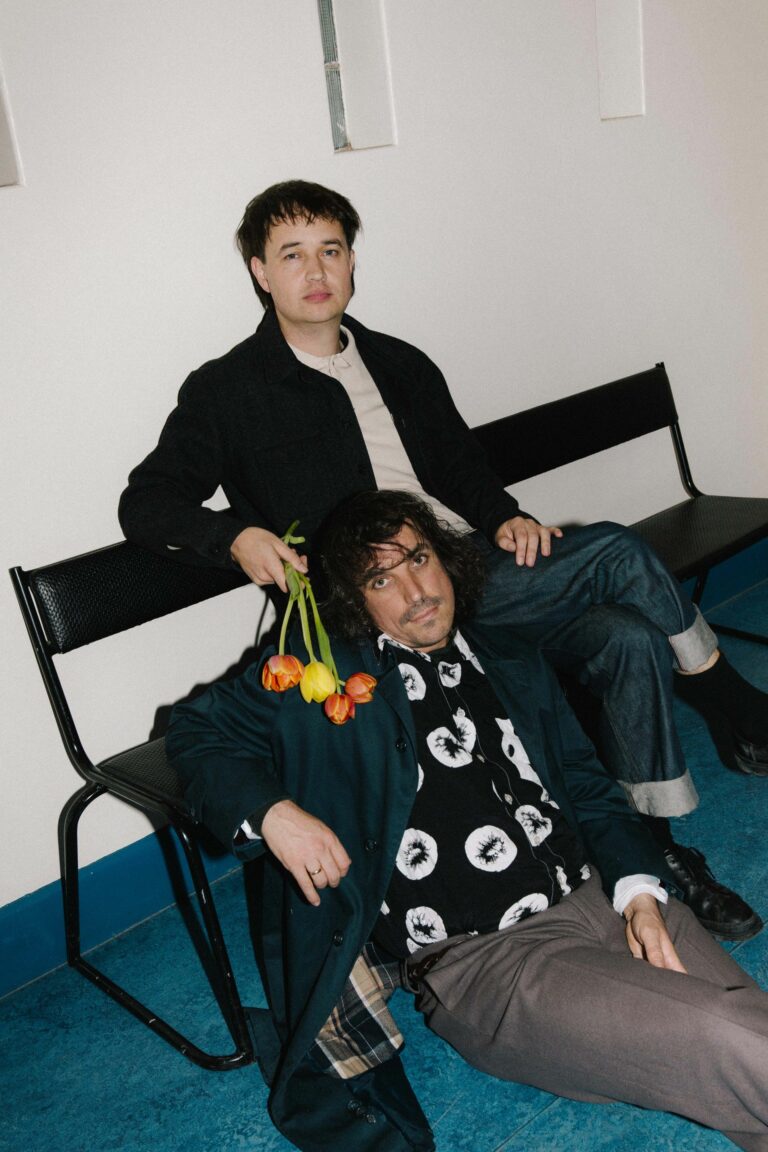 There is a good chance that the song may creep back up the charts in Australia as young Greek-Australians keep an ear out for music trending in Greece.
Mr Service acknowledges how close Shouse has been to the Greek community in Melbourne having created the song in Brunswick.
"We obviously took from European music which are big fans of. We recorded it in Brunswick which has a huge Greek community and we live across Thornbury and Northcote. We've absorbed a lot of these influences of this beautiful multicultural city and then sent them back there and it's come back in this beautiful circular exchange," he said.
A new album is now on the horizon for the musicians, with current plans to release it early next year.
The music project has come partly as a result of their new tidal wave of European popularity, giving them the motivation to create some more sounds for their eager fans.
"Now that we've got this big audience from around the world that's excited to hear what we make next, it's a very different feeling," Mr Service said.
READ MORE: Landmark Greek music compilation tops iTunes chart for DJ Krazy Kon
Of course with a new album comes the opportunity to get back out and perform for audiences. Pandemic permitting, Shouse hope to get back to their favourite part of being artists.
"Our main objective is to create big moments with everyone participating and creating the music together. We want to create songs where the crowd can sing and have a big moment of connection," Mr Service said.
"We want to break down the audience and performer dichotomy and have more of a communal celebration of connection."
Mr Service has wishes to head over to Greece with Mr Madin to play for their Greek fans and thank them for all their support in breathing new life into Love Tonight. In the meantime, he's gathering suggestions on where to visit first.
"I'm a city guy personally, I'd love to visit Athens. We like to find out where the local music culture is at…I'll take the readers' advice on where to visit and where the best food is to eat."