They say that Greece has 227 inhabited and 6,000 uninhabited islands, each of which has a story to tell.
I can truly vouch for this, as I've been lucky enough to have spent almost two years of my life travelling these islands and collecting their stories. A favourite was being on the remote island of Kato Koufonisi, eating at its one taverna, which has no electricity. The 10.30pm boat had sailed out early, a rarity in Greece. I would have nowhere to stay as there are very few dwellings on the island, so the taverna owner called the captain of the boat, led by a young man in a hurry to get to the nightclub at Ano Koufonisi, a larger island. He and the passengers took a vote as to whether to return or keeping going to their destination. They came back, mostly to give me plenty of stick!
Other times, I've been given a boat to steer as the driver had decided to sleep, and other times, people have refused to let me leave unless I stayed the night (never say no to a Cretan). One little island, Agios Efstratios, I forgot my iPhone charger from Lemnos. The whole population of 270 people were soon alerted that I needed a phone charger and people would come to the taverna to see if their phone charger would fit my phone!
There's a charm to the experience that commences with either a ferry, plane or bridge (such as is the case for the islands of Lefkada and Evia), and over the years I have learnt a tip or two. For example, if it's not too busy you can easily make friends with the ferry crew, which has led me to access everything from ouzo and cigarettes to funny anecdotes, football stories and tips on what to do once you reach your destination.
Based on the criteria above and feedback from people I have encountered along the way, these are my favourites, though it should be noted that each island is brilliant in its own right, whether it be the tiny Gavdos facing Africa, or the rocky island Saria off mesmerising Carpathos. I am sorry if I haven't mentioned a favourite of yours, it's a difficult, subjective list to compile.
1. Crete
With a population of almost 700,000, Crete is one of the most amazing and historical places I have ever encountered.
To truly appreciate Crete, you need at least a fortnight.
Phenomenal settings, incredible local wine, food that's out of this world, clear blue waters and great company, Crete has become my paradise.
Stay away from Mallia during peak season as this is for the youngsters who party hard, and visit just about every other village or town. The best thing to know about Crete is that civilisation is here; this is where you can truly understand how Greek civilisation evolved. It is the home of Minoan culture and is the heart of fierce resistance against Venetian, Ottoman and German rule.
My tip is to stay in Chania or Rethymno and try to visit Balos, which is a lagoon meets tiny island, with its tropical waters, and Elafonisos. The latter is a small island which you can wade through shallow water to reach.
Crete has two main airports and various harbours, though I suggest flying there from Athens or across Europe.
A year-round island, the people will appreciate your visit, for Cretans may be ferocious warriors and carried out vendettas in times gone by, but they are also the home of kindness and filoxenia.
READ MORE: Acropolis' concrete pathway saga: New report on UNESCO's role causes stir
2. Lesvos
The first island I ever visited, Lesvos has everything you could ever want. A hundred villages and towns, a robust capital and in close proximity to Asia Minor. Molyvos, on the other side of Lesvos, is arguably one of the most impressive towns in the world, with 5,000 residents, a harbour, beach, clubs, colourful stone houses, cobblestone streets, all rising on a hill that meets a castle.
The home of ouzo, I have lived there for a year and have visited it more than 20 times. And who could blame me? They have the best sardines in Greece, tasty olives and food that only your yiayia can cook.
The perfect destination for anyone who has a week or two to spare and wants to step away from the mainstream islands.
In the place of Mykonos-style parties, you will find sophisticated Greek bars and clubs, tavernas, and nature. Visit an ouzo refinery, go mountain trekking, take in one of many monasteries or natural springs.
A number of boats pull into Mytilene harbour daily, though my tip is to fly in; there is nothing better than landing with the mountain on one side and the ocean on the other.
READ MORE: Two petrified trunks found at Lesvos petrified forest area
3. Santorini
When people ask what modern Greece has achieved, I suggest they start with architecture, and it essentially commences here. An earthquake in the 1950s and a lack of wood resulted in the flat roof, cement-sculpted structures that exist on every second Greek postcard. The white keeps the ants away, and the blue ushers in the sky and the water of summer. Aside from all the picture-perfect moments you'll have on the island, make sure you visit Thirassia island and the volcano/caldera. My tip is to visit Akrotiri, for this is perhaps Atlantis, well-preserved archaeological site betraying people of sophistication.
I had booked in a trip for 2020 to see the island yet again. Lets hope 2022 allows for my return, fully vaccinated and in need of the stunning beaches and sunsets of an island which is also know by its traditional Greek name of Thira.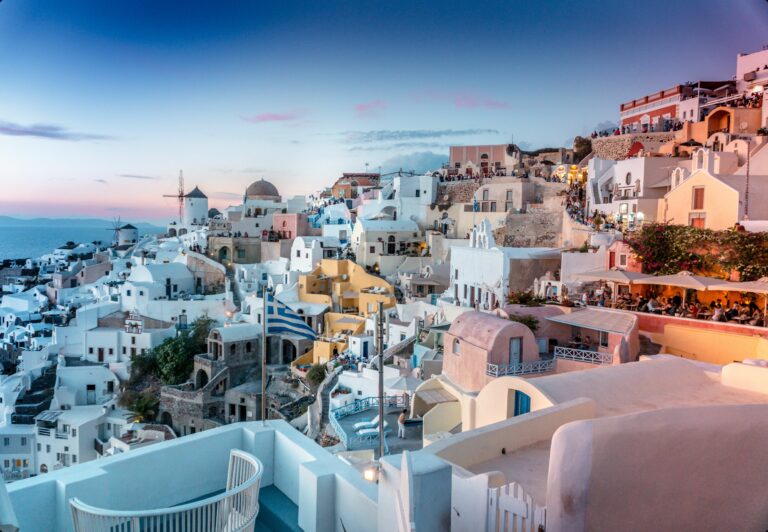 READ MORE: Iconic Santorini Experience sports tourism event is postponed to 2021
4. Symi
With a population of about 2,500, Symi is less than an hour from Rhodes and I am amazed by the number of people who overlook a visit to the island.
Sailing into the harbour, you will be greeted with the most incredible sight; multi-coloured mansions hugging the mountain that surrounds the shore. If your breath is not already taken away, then clearly you are not kissing your partner, for this is a paradise for honeymooners and the romantic at heart.
Once a commercial powerhouse of the 19th century, the population stood at 20,000, and ship-building and sponge-diving were prominent. However, over the last century, like most of the Dodecanese islands, Symi was occupied before it was returned to Greece in 1948, with many Symiotes in the meantime finding their way to Australia.
While sitting in the harbour is amazing enough, my tip is that you climb to the top of the mountain overlooking the harbour. Twenty minutes of huffing and puffing will be worth it, especially if you arrive around sunset or sunrise and take your partner.
If you wish to get away from the main hub, catch the caique to explore, as it is the only way to actually get around. Ten minutes from the harbour there was a beautiful beach where we all swam out to the little island in the bay with a small church, about a hundred metres into the ocean.
READ MORE: 'Greece, how we miss you!' say Greek Australians, remembering their last summer trip to the homeland
5. Kefalonia
You can visit this island by ship from almost anywhere in the Ionian Sea and from the Peloponnese, which will take you to Argostoli or the second port of Sami, where the movie Captain Corelli's Mandolin was filmed.
Kefalonia has plenty of beautiful landscapes and Venetian architecture. My friend Stella Matt is quick to tell me this is the best island and points out that Antisamos beach is 'pure', while a visit to the Cave of Melissani is a true delight with its beautiful lake and forest, and you can even row across the lake. Visit at midday when sunlight filters into the cave.
Also be sure to visit Petani, a picturesque white pebble beach with aqua blue waters.
Catch the ferry from Lixouri and you will see a taverna with a view of the De Bosset Bridge, which is the largest stone bridge on a body of sea water.
And don't forget to bring your partner!
6. Mykonos
This is the place to be for incredible all-hours partying, and believe it or not, archaeology. Make sure you visit nearby Delos, the former capital of the Delian League and treasury. My 19th island, and six visits later, means I am all partied out. Through a late friend, Tekno Manos, one of the famous summer dancers on the island, I had a taste of the ins and outs of the island.
We filmed a documentary called Mykonos: the Other Side which allowed to learn about the smaller villages of the island, the churches, the people and the hidden gems from Cine Manto, one the top ten outdoor cinemas in the world to the welcoming Vegera for a bite and drink. The local fashion labels and designer boutiques are outstanding, an economy that generates wealth for Greece.
7. Milos
While this is an island for love birds, I found myself visiting three times on boys-only expeditions. The 42nd island I have been to, on Milos you will find beach after beach, which is surprising given the island's small size.
Take a boat tour and you will be captivated by the caves, rock shelters and aqua blue waters, though try to avoid the boat with Pedro the teenage skipper (thank me later).
Created from lava and various rock formations, Milos has an 'outer space' feel to it. For example the beach of Sarakinko has a narrow inlet with a small beach surrounded by moon-like craters.
Be sure to visit Tsigrado and climb the rope down to one heck of a secluded beach, then climb back up, walk across the road and follow the rocks around for 200 metres and you will find a beach bar and surprise, surprise, a hidden beach. Also make sure you visit the capital of Plaka with its white-washed buildings.
For those into clubbing, there are very few in operation. Cruise boats tend to pull up at Adamas around midnight and depart a few hours later, which sees the clubs rammed for a short period.
READ MORE: Kastellorizo is first of remote Greek islands to have completed vaccinations ahead of tourism season
8. Kalymnos
If it's old Greece you are looking for, then Kalymnos is the place to be. Nestled in the heart of the Dodecanese, I visited in 2007 and enjoyed every minute, including the taxi driver who refused to let us miss the sunset at pretty Vathi and drove 100km an hour along a narrow cliff.
Kalymnos has a winter population of about 17,000, many of whom are expert divers who have found their way across the Mediterranean all the way to Darwin. My tip is to stay on the north side, where the beaches are spectacular, yet quieter. Stay a night on nearby Telendos Island, but do stay away from the nudist beach – it was full of elderly Germans.
9. Corfu
My only visit to Korkyra/Corfu came in 2005 on my way to Albania to visit the Greek towns, and what I discovered was an architect's dream – especially if Venetian architecture tickles your fancy. The capital was one of the most fortified in Europe, making it difficult for French, Russian and other invaders to capture.
Despite food being expensive and portions smaller compared to other islands, each beach is the epitome of paradise. Swim all day and enjoy the abundance of beach barakia. Did you know that Corfu and the beautiful Ionian islands were once an independent republic? There is a good book by Peter Prineas that provides the history.
10. Poros
Technically two islands connected by a bridge, known as Spheria and Kalavri in classical times. I first went there in 2004, and almost every second year since. A favourite is Love Bay, as the island is where I met my fiancée in 2005. Poros is perfect to capture the sunset and has an array of hidden shops in the port's back streets.
Be sure to visit Monday to Thursday as it is a lot quieter, despite the island's 5,000 residents. On the weekend, Athenians tend to visit and the nightlife comes into play.
However, you can give the temple of Poseidon a miss. I remember a German who made his girlfriend walk 40 minutes up the hill, and boy did he hear about it when they reached the site to find there was little to see.
Also, for two euros, you can catch the caique (boat) to the Peloponnese just 200 metres away for a delicious feed and laugh with the locals. My last romantic getaway was 2019, expecting to return in 2020. Thanks to COVID, the borders from Australia are closed to good times and trips abroad!
Honourable mentions: stunning, Kythera, Serifos, Sifnos, Byzantine Monemvasia, Tzia, Spetses, Carpathos, and Skiathos. Lemnos is a real treat and of course Naxos which gives you access to Lesser Cycades. Rhodes is also one that just missed out on my Top Ten, an island that is spectacular, with a strong local economy and proud history.
Billy Cotsis is the author of "1453: Constantinople & the Immortal Rulers", out now
Send us your summer memories
Our plans to visit Greece this year will still have to wait, however nothing can stop us from remembering the colours and aromas of the Greek summer as we experienced them in previous years.
Neos Kosmos invites you on a mental journey to the motherland, without restrictions, through your memories of past summers.
Send us your photos and stories of some of your favourite, unforgettable summer moments in Greece or Cyprus to share with our loyal readers.
Whether you were sipping a frappe by the sea, up in the mountainous villages getting chased by goats or dancing up a storm in a bar, we want to share what the Greek summer means to you.
You can send your photos and memories to editor@neoskosmos.com.au to be published in our print edition as well as on our website at neoskosmos.com.au