Eleftheria Lambrinos, 80, and her husband Isidoros Parthenis, 91, are living proof that some people are truly meant for each other and that some love stories last forever.
"We feel truly blessed that we are still here, alive and in love and we can celebrate 58 years together with our children, our grandchildren and our great grandchildren" Ms Parthenis (nee Lambrinos) told Neos Kosmos.
Ms Lambrinos was born in Kalloni, Mytilini in Lesvos in 1941, as the third of four children to farmers, Evangelos and Maria. Unfortunately, Evangelos could not afford to marry off his daughters as a dowry was required so he sent Eleftheria and her older sister Fotini away to Australia in 1962.
Fotini was already engaged to be married to Anastasios Tsesmelis and was going to travel to Port Lincoln where her fiancé was. The young couple had become engaged via a photograph.
Ms Lambrinos had been sponsored by her fathers' cousin, so she was going to travel to Melbourne and live with them.
The two sisters boarded the ship Patris, full of hope, excitement, but also fear of the unknown.
Eleftheria stayed in Melbourne only for a few months. She was living in the suburb of Richmond with her father's relatives, but she found it difficult to get along with them as they weren't very kind towards her. She felt depressed and asked for help.
READ MORE: How a Greek Australian's cultural protocol saved the wedding day for the grandson
Her sister's husband paid the debt to the cousins and the 21-year-old girl travelled to Port Lincoln, a small country town in South Australia where a lot of Greek migrants had settled at the time.
It was there that she was to meet her husband, Isidoros Parthenis, who was born in Piryi, Chios in 1930, and was the third of four brothers.
His mother, Kalliopi had died when he was two years old and his father, Ioannis was a nurse who had left the island to work in Athens after his wife's passing. Mr Parthenis parents thought it best that he live and work there, and his children were therefore raised by their paternal grandparents, Michael and Kyriaki.
READ MORE: A marriage and a pandemic – A lesson of inspiration in the face of adversity
At the age of 6, young Isidoros' father, Ioannis, passed away. The grandparents outlived their son and raised their four grandchildren together, and theylived in the paternal home above the stables, holding the farm animals, downstairs.
Isidoros attended schooling up to Year 2 as he was not fond of school and preferred to mix with people, socialise and joke around. The family was very poor though often having no food or shoes to wear and Isidoros' grandfather got him working on the farms.
The boys were very well-behaved, and everyone loved having them around, but it wasn't until Isidoros was a part of the traditional and compulsory army service in Greece that he learnt about life and becoming independent.
Shortly after he completed his military service, the young man decided to start travelling on the ships with his older brother Michael who was a mechanical engineer.
The two brothers left Chios and Athens and travelled to the US, Japan, Canada, and Australia meeting lots of people and mixing with different cultures.
It wasn't long before their ship docked in Port Lincoln in 1959.
READ MORE: Dr Nazou to hold online talk on Greek brides; journeys to Australia on Monday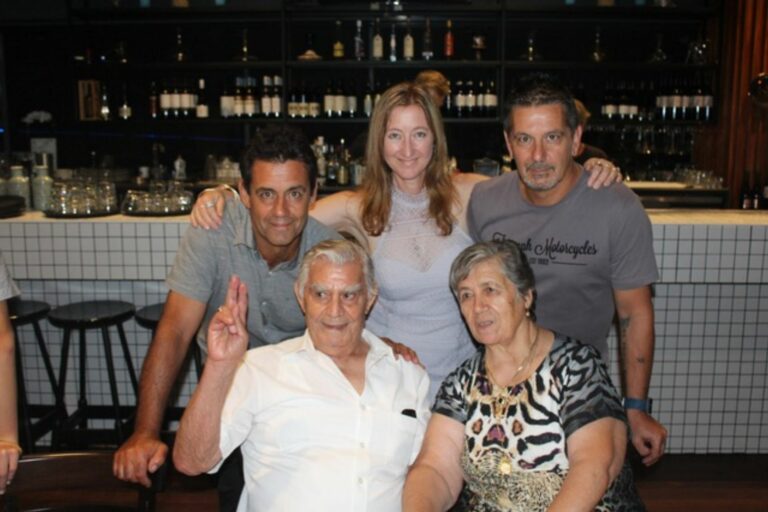 Isidoros fell in love with Port Lincoln because it reminded him of Greece and with the help of his brother and the captain of the ship, who turned a blind eye, he jumped ship.
"His initial plan was to work in Australia for a few years and then go back home to Greece, but life took an unexpected turn after he met my mother," Popi Parthenis Papadakis, the couple's daughter told Neos Kosmos.
Young Mr Parthenis remained hidden on a farm outside Port Lincoln until the ship left and some time had passed. However, staying hidden on the farm with little food and sharing his sleeping quarters with the pigs, felt like a lifetime.
When he awoke one night, after a pig tried to eat his hand, he decided that he had enough and moved to the main town with the help of his fellow migrants.
The initial months were very difficult. Isidoros feared he would be caught for jumping ship, hence he kept low, quiet, did not go out much and if he did, tried not to draw too much attention to himself. He started to work, digging up roads, in factories and railways, to the point where his hands would turn red raw and bleeding, there were blisters and breaks in his skin. He would work one week and then take a week off for his hands to heal.
Mr Parthenis then sent a telegraph to his brother asking him to return to the ship but with the assistance and encouragement of other members within the Port Lincoln Greek community, the young man ended up staying in Australia.
Falling in love
In the meantime, although young Ms Lambrinos was a qualified dressmaker, she started working on a chicken farm owned by the Tsesmelis family and that's where she met the man that was destined to become the love of her life.
Mr Parthenis was brought to the farm by his friend Nick Kalimnios, who was hoping to set him up with Eleftheria.
The first time Mr Parthenis saw the young girl, she was knee deep in chicken manure, with gum boots on, yet that didn't stop him from falling in love with her.
The young couple married in 1963 and spent 33 years in Port Lincoln raising their three children, Johnis, who still resides in Port Lincoln, Evangelos and Kalliopi.
"Our parents are truly unique and share a special bond. Since we were little, I remember them at home, always loving and respectful towards each other, working as a team, helping with work and house chores, and communicating with immense love and patience," Ms Parthenis Papadakis, their daughter said, remembering her father always smiling telling everyone how his wife was the rock of his family and his whole world.
During his time in Port Lincoln, Mr Parthenis was heavily involved in the Greek Club on Cardiff Road which was bought in 1974, and funded by the Greek community of Port Lincoln. The community was very proud of its clubs, and the purchase was important for all those involved and celebrated with dinner dances every Saturday night.
Mr Parthenis volunteered a lot of his time, being the treasurer, secretary, committee member and President of the Greek Club. Whenever something was required, he wouldn't hesitate, not only because he happened to live a street away but also because he felt the need to contribute and pay back those who helped him when he first arrived in Australia.
In 1993, the couple moved to Adelaide.
Eleftheria says she is very proud of her life in Australia adding that she considers herself not only Greek but also Australian, as the majority of her life has been spent Down Under.
Isidoros continues to smile proudly and together the couple enjoys the company of their three children, their eleven grandchildren and five great grandchildren.
"Our family has certainly grown but we consider ourselves blessed to have parents that still inspire us with their life story and the love they share for one another.
"We are very proud," Ms Parthenis Papadakis said.