It has only been a few months since Taylah Tsitsikronis returned from her time representing Australia at the 2020 Tokyo Olympics in softball, and yet she already has her sights set on the next challenge.
The 27-year-old has been a firecracker on the pitch from the moment she picked up the bat just over two decades ago.
"I like batting. There's something about the feeling of when you connect with the ball. It's just addictive and such a great experience," Tsitsikronis told Neos Kosmos.
Softball has a big spot in the athlete's heart for it's unpredictability and the opportunities it has offered her. Of course, at times the things we love most can be cause for growing pains.
"It's a longer game than most sports but I feel as if one thing can change the whole game be it in a negative or positive way. You could throw the wrong pitch and it could absolutely get cleaned, or vice versa you could hit the pitch and break the whole game open. You're always in it because anything could happen," Tsitsikronis said.
"Sometimes when I don't do too well I don't like to look at the footage because I don't want to overthink it. Sometimes it's just the luck of the draw. There's times where you'll move one inch and it changes the result so sometimes it's just not worth looking into. Other times it's a play and you want to see how to better yourself in that situation, you'll go back and look at it. In those split seconds you have out there to make a decision it's crazy to think about what could go right and what could go wrong."
The Sydneysider's whole life seems to revolve around her beloved sport, so much so that the universe paired her up with one of New Zealand's professional softball players Zane van Lieshout.
While van Lieshout has been one of her biggest cheerleaders alongside her parents, Tsitsikronis credits some of her best performances to Hall of Famer Barry Blanchard.
"There's one coach that shaped me as a player, Barry Blanchard. He's honestly one of the best coaches in the world and he's taught me so much about hitting which in turn has made me the hitter I am today."
Tsitsikronis talks the next big tournament, personal plans for the future and appreciating the journey.
READ MORE: Setting sights on Greece: Q&A with basketballer Nic Pozoglou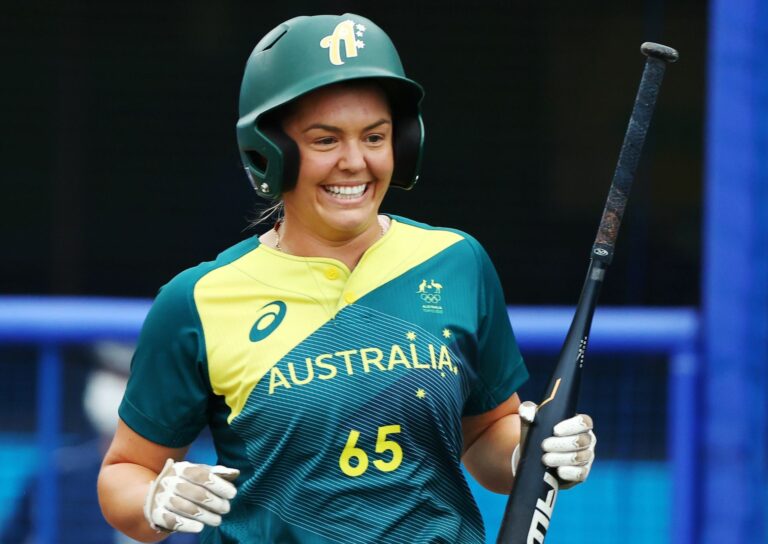 What drew you to softball?
To be honest I just had a lot of energy as a kid and I really enjoyed being outdoors. Mum put me in sports to, I guess to help me exert that energy and tire me down. I just started playing softball and I was good at it and that was when I was five years old.
It's game day, what do you do to get in the zone before the match?
I usually try to wake up as late as I can, if it's a night game I'll just wake up at a normal time. I have a shower before I play all the time, for some reason I feel like it just wakes me up. Even if it's a night game, I'll have a shower before and then I just get ready, there's no real superstition I have. Sometimes I'll do my hair, sometimes I won't, I'll chuck it in a bun or braid it.
Top three training songs?
Just anything really! Anything but rock, I'm not a fan of rock. I'm pretty easy going when it comes to music.
What do you find most challenging about the game?
I guess the mental side of it because it's a sport where you fail at it more than you succeed at it. A good batting average is 300, so three out of 10 times you get safe really, so being okay with failing. It's also taught me in life as well about how you're not always going to succeed. That's the hardest thing especially when you want to perform and everyone wants to be great.
What has been a highlight in your sporting career thus far?
Obviously becoming an Olympian probably tops it all off but another highlight would be qualifying for the Olympics. I feel like that tour was a completely different feel than what we've had in a long time team wise. It was one of the best team performances that we've put out as a whole and like I said, it was all about that feeling. It was all smooth and carefree even though we probably had the most pressure in the world. Representing Australia at the Olympics and just getting there is almost more important than actually being there.
How has softball impacted your life?
There are pros and cons to any sport. You miss out on a lot of things but you also get to travel the world, I got to travel the world luckily. I've been to many countries that I probably wouldn't have gone to if I didn't play. I've been to South Africa, Canada, Japan, New Zealand, The Netherlands, Italy. There's so many places I've been to just because I play sports and I guess it's impacted my life because I've seen a lot of different cultures and I've seen how lucky we are to have softball in Australia compared to some other countries.
Each country has its own quirks that you're drawn to. I think Canada is beautiful and the whole Europe trip we went on we saw a whole different way of life.
What is something you learned about yourself through playing the game?
That if you fail, you can always get up and try again. There's no harm in trying again if you fail because you always learn something new after doing it for the first time.
What do you hope to achieve in the next year?
My partner and I are building a house, so that'll be good and I'm excited to start a new chapter with him. Softball wise I just want to continue playing at the top level. I would like to play overseas in Japan, but I'm okay if I don't because I also have a pretty good life here.
What's something someone might be surprised to learn about you?
My background is Greek but I don't know much about the language. Everyone thinks I would be outgoing, especially when they see me with my friends but it takes a while for me to get there because I'm pretty shy.
Favourite way to unwind after a game?
Sometimes I'll just scroll on my phone, honestly there's not one main thing I do. Sometimes it takes me a while to get to sleep, especially if it's after a big game just because of the adrenaline pumping through. It changes all the time.
What are you most looking forward to in 2022?
finishing my house. We've got the World Cup coming up which will be in Alabama so I'll be chasing that and I'm really hoping to get back to playing on a consistent basis. The pandemic has put a big dampener on playing, I haven't played a game since the Olympics because we've been in lockdown in New South Wales.
What is something you want to be remembered by?
someone that played the game with passion and grit. Sometimes it can be taken in the wrong way because I play with such passion and grit, but I also want to be remembered as a great team player.
What do you think it the greatest misconception surrounding women in sport?
That we play it softer than the men. Many people think 'oh, that's a girl, they can't throw as hard or hit as hard or hit as far', but I've seen some girls hit it further than blokes. It's just the fact that we're wanting something that is 'unreachable' in their opinion. There's that notion that we shouldn't be paid as much because we're women which is incorrect because we still play the game at the highest level regardless of our gender.