The festive season has well and truly arrived and while giving and receiving gifts does not encompass the true meaning of Christmas, there's nothing wrong with brightening someone's day with some thoughtful presents.
If you're a little stuck for idea and need a hand figuring out what to buy your loved ones this Christmas, Neos Kosmos has got you covered with a list of Greek inspired gifts that will bring a smile to anyone's face.
Don't fret, we also have the New Year covered too!
READ MORE: Enjoy a wonderful Christmas Family Day with the Lemnian Community
FOR THE FOODIE
Greek Christmas Gift Pack by Olympian Foods 
If you're stuck for time to get all the Christmas baking done, just leave it up to the experts at Olympian Foods. Their great Greek Christmas Gift Pack has you covered from Christmas to the happy new year with a Vasilopita with a lucky coin in a baking tin, along with a box of almond crescents and melomakarona biscuits.
Where to find it: www.olympianfoods.com.au/product/greek-christmas-gift-pack/
Grecian Purveyors limited edition Ladi Biosas extra virgin olive oil and hampers
Nothing beats olive oil straight from the groves of Greece, so why not gift the foodie in your life the award wining Ladi Biosas, packed festively in a special edition Christmas Doric style bottle. If you're looking to amp things up, Grecian Purveyor also has an incredible range of hampers.
Where to find them: www.grecianpurveyor.com
A Vasilopita from Theo's Greek Cakes
It wouldn't be a true Greek new year without the famous vasilopita that sits patiently in homes waiting to be cut and shared a few days after Christmas. If you're in Victoria, you're in luck because Theo of Theo's Greek Cakes has them coming out hot and fresh this festive season. Will you be the lucky one this new year?
Where to find it: 11A Fosters Rd, Keilor Park, VIC, 3042
FOR THE COMPETITIVE
Limited edition Oasis backgammon boards
This Christmas the OASIS coffee team wanted to create something special as family and friends reunite and relax over the holidays. Inspired by long afternoons enjoying playing backgammon with his father and powered by pulverised coffee, director Chris Togias was excited to create custom backgammon boards, with both traditional and travel sized options. Handcrafted by Manopoulos in Greece, the wooden playing boards come with 30 marbleized plastic checkers in Cyclades White and OASIS Blue, four dice, a black doubling cube and a set of plastic dice cups all packaged in Manopoulos' signature black gift box.
Where to find them: www.griffithsbros.com.au/collections/pulverised-coffee
FOR THE HOMEBODY
Crosses and candles from Anesti Home
Whether you're hoping up to dress up your own home for the new year or give the gift of brightening up your loved ones living space, Anesti Home has candles and crosses made with love. This particular protective cross welcomes blessings in your home, with the symbolism of the pomegranate which is smashed on the ground during a new year tradition in Greece.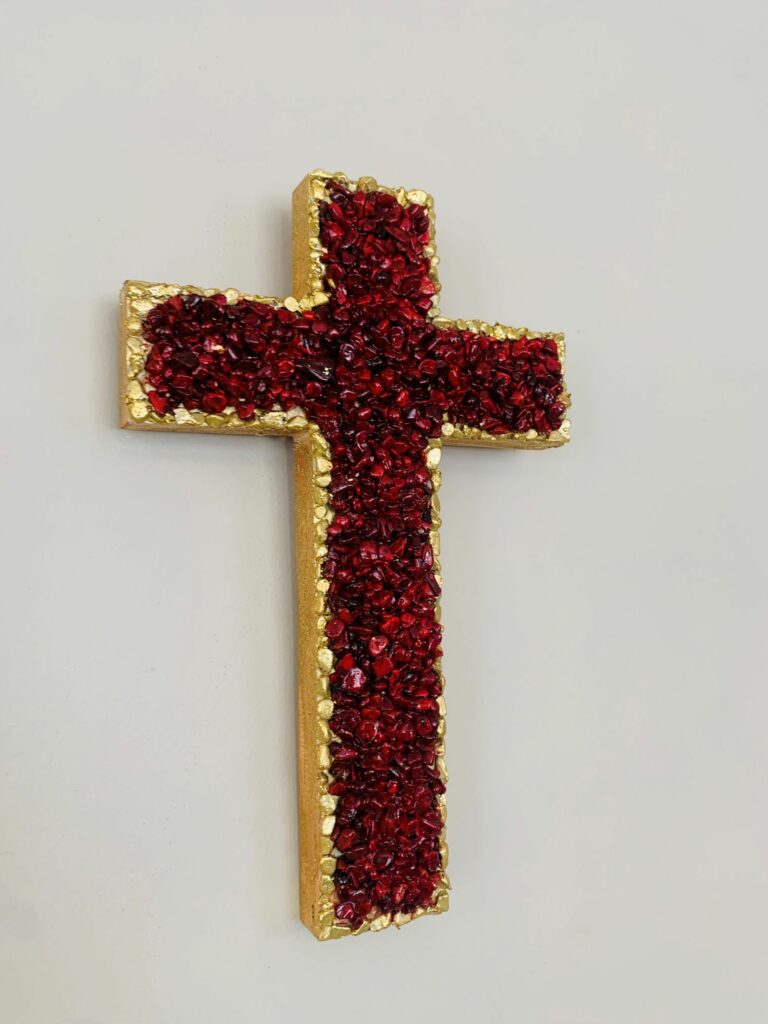 Where to find them: www.anestihome.com.au
FOR THE ONE WHO MISSES THE GREEK SUMMER
The Carroten gift pack by Olympian Foods 
Thankfully for us living in Australia, Christmas comes during the summer time. In Greece, the air is filled with the smell of Carroten and the sound of people slurping up their frappe during the warmer months. Olympian Foods has the ultimate pack to replicate that great summer feeling with a Carroten hamper filled with the essentials, along with a small reusable beach bag, a mati and tree of life keyring and your very own portable frother for milk and coffee.
Where to find it: www.olympianfoods.com.au/product/carroten-olympian-summer-frappe-gift-pack
FOR THE BOOKWORMS
Greek authors and curators have taken the industry by storm this year and whether your loved ones like to be transported back in time, or into far off lands, these books will make a perfect gift under the Christmas tree.
Take a step back in time with Old Vintage Melbourne by Chris Macheras
An Instagram page turned coffee table book, Old Vintage Melbourne is named after its original social media page. The book features images of iconic Melbourne buildings, to tableaus of life in decades past.
Where to find it: www.scribepublications.com.au
Learn about the first presence of Greeks in Pontus with Soumela and the Magic Kemenche by Konstantinos Kalymnios
Soumela and the Magic Kemenche is written in English and Greek, and illustrated so it can be read and understood, by children of Greek and non-Greek origin. The story itself begins with a little girl named Soumela, whose family lived on the slopes of Mount Mela in Trabzon, where the Monastery of Panagia Soumela was founded in 386 AD.
Where to find it: www.greekorthodoxbookshop.com.au
Award winning novel Lucky's by Greek-Australian author by Andrew Pippos
Lucky by Andrew Pippos won the 2021 Readings Prize for New Australian Fiction, with last year's winner Elizabeth Tan calling it an "exceptional debut work". Mr Pippos' saga, follows the lives of his extraordinary characters who journey through life, riding the waves of fortune, of tragedy, of love, as they search to find answers, healing to past events, closure and even atonement.
Where to find it: www.panmacmillan.com.au
FOR THOSE WHO LIKE TO KEEP UP TO DATE
Neos Kosmos Subscription
What better gift than one that people can open every day? A digital edition subscription will allow loved ones to access an exact replica of all Neos Kosmos printed newspaper editions on any device. Different pricing is available to suit readers' needs, starting from $4.25 per week for the digital subscription all the way to newspaper delivery for our three issues at $6.35 per week. Cheaper than a price of coffee, it's the gift that just keeps giving.