The moment of truth finally arrived for 50,723 VCE students in the state of Victoria on Thursday, 16 December.
Peter Leon Frangos, dux of Melbourne Grammar School, waited for his phone to ping through his results.
"I was amazed to see that I had an aggregated score of 221, higher than I expected," said the student who felt both "excited and nervous" as he came to the realisation that he achieved an ATAR of 99.95 – the highest ranking possible. Peter is one of 39 students, 28 boys and 11 girls, who received this result and, bearing this in mind, he may even be state dux which is calculated according to courses of study and school rankings. "I have a high chance," he told Neos Kosmos, adding that he felt "relieved" to finally have his results.
"I was always self-motivated and enjoyed learning in my own way. I knew what was best for me as a learner, and I knew how to accelerate my learning," he said, while adding that despite this, "the classroom is special and you can't replicate that". His only sacrifice, he said, was missing out on the opportunity for classroom learning. He adds, however, that "uni is self-directed as well" and "people can learn from skills acquired" during six school lockdowns.
No sooner did his results come out that offers started pouring in. "I got one from Melbourne University for the Chancellor's Scholarship and also St John's Monash Scholarship. I also got an offer from ANU for a double degree in Engineering and Philosophy, Politics and Economics but I want to stay in Melbourne," he said, adding that the goal post was always set on doing Medicine at Melbourne University and doing the Chancellor's Scholars Programme, however he is still considering different undergraduate pathways.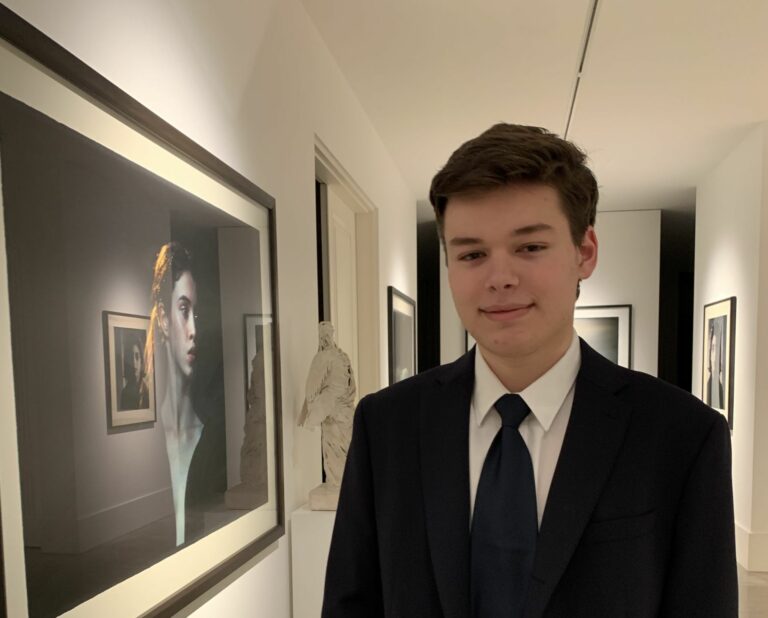 No sooner did Peter Leon Frangos receive an ATAR of 99.95, that university offers started flowing in. Photo: Supplied
Zara Boubouras from the Presbyterian Ladies College of Melbourne was also grateful to be offered the Melbourne Chancellor's Scholarship at the University of Melbourne due to her ATAR of 99.9, which resulted in her being Dux of PLC for 2021.
READ MORE: An anxious wait ends for 45,000 VCE students who got their results today
Not far behind was Jake Agelopoulos from Xavier College in Kew whose dreams of studying Commerce at Melbourne University, with the possibility of following that with a Juris Doctor, are well within his reach after he achieved an ATAR of 99.4.
"I attribute my great result to my teachers who worked with me when I asked for anything, a good study-life balance where I made time to talk to my friends (even when online), and lastly my parents and family who supported me through the year," he told Neos Kosmos.
Anjelica Dimitriou from Strathcona Girls Grammar scored 99.35. "I thank my school for all they support they offered to my and my classmates over the last two difficult years. My agony was huge, especially as I waited for the results but I feel very happy and proud in myself that all my hard work bore rewards," she told Neos Kosmos, adding that she is looking forward to enjoying her holidays before beginning university studies and is considering commerce but still exploring her options.
Her grandfather, President of the Greek Orthodox Community of Hobsons Bay, posted the news on Facebook, stating his congratulations and hopes for a bright future for Anjelica.
Alexandra Chrysoula McNeill from Taylors Lakes Secondary College wanted to be alone as she switched on her computer. "I was scared I wouldn't get 90s, and thought I'd be lucky to get low 90s," she told Neos Kosmos, stating that she was stressed until she saw an ATAR of 98.35. "The main thing I wanted to be was a Paramedic, but now I'm also considering radiology because originally I didn't think I'd get over 96," she said, adding that many sacrifices were made as she essentially put her life on hold to achieve this result.
It was a big morning at Oakleigh Grammar as School Dux Steven Kostopoulos, School/Captain and Second Dux Alexander Logan and Arthur Millaras met with their Principal Mark Robertson. The boys, who got 96.1, 91.4 and 91.17 respectively were chuffed with their results.
Steven Kostopoulos said he would like to pursue a career in Law at Monash or Deakin, and first began to consider this area of study in Year 11 when he enjoyed studies Economics, Business Management and Commerce. "I was expecting a score of more than 90 based on my sac results but nowhere near expecting over 95," he said. "I wasn't expecting such a result. I was very happy. I was excited and completely silent as I didn't know what to say. I told my parents and they were ecstatic."
Oakleigh Grammar school captain Alexander Logan went to the midnight session of Spiderman the night before to take his mind off the nerve-wracking wait for results. After just three hours of sleep, he checked his phone and found out from the group chat that a friend, whom he considered smart, did not do as well as they had expected. "I thought there was no hope for me," he said, but was surprised to see a result of 91.4. "I refreshed my screen a few times. My parents were running around the room screaming," he said, excited that he will study a Bachelor of Science and some day realise his dream of getting a Doctorate in Veterinary Medicine.
READ MORE: Making the most of parenting through lockdown
As the son of an Irish father and Romanian mother he enjoyed studying at a school with such a large Greek population. "I realised that I have a love for languages and culture," he said of his experience as he looks forward to the next adventure in his life.
Their friend, Arthur Millaras, is hoping for a double degree in commerce and engineering and said that his preference has already been changed four times. "I'm happy that I'll most likely get into my course of preference," he said.
Mr Robertson is proud of all the students, and said that "the key thing is for students to obtain a result to get into the schools of their choice".  He warned that sometimes students may readjust the scores to match the highest tertiary course they can get into but the main thing is for them to do what they really want in life.
Vivianne Nikou, Principal of Alphington Grammar, was proud of dux Lena Papadimitriou (93.6) and Elsie Mitromara (93.45), who only recently arrived from Greece.
"I think after two years of interrupted studies for these students, they should all be very proud of their achievements whatever the number happens to be," she told Neos Kosmos. "A lot of people cannot imagine the social and emotional difficulties they've had. In years gone by, these students would have had each other to give them courage, to give them hope to spur each other on, but with six lockdowns this has been impossible as they have been working in isolation.