Andrew Lambrou has dreamed of the day he would stand on the Eurovision stage.
On 26 February, Australia will make the decision on whether or not his dreams will become a reality.
"The fact that I'm in this position right now doesn't feel real. The family is freaking out. I have a huge family and everyone is so excited. I'm so excited, there's nerves, there's excitement, there's every type of emotion going through my brain in my body at the moment," Lambrou told Neos Kosmos.
The 23-year-old Sydneysider, like many people in Australia with European heritage, would watch in awe at the likes of Marija Šerifović who won the Eurovision Song Contest in 2007 with Molitva, and rock band Lordi who won the year prior with a more unconventional look than the contest has previously seen. But the 2004 winner Helena Paparizou holds a special place in his heart.
"Eurovision has been something that I've watched my whole life, very closely with my family, with yiayia and pappou. We'd all sit together, and we would watch Eurovision," Mr Lambrou said.
"We can't look past Helena Paparizou when she won with My Number One. I was so proud and proud for Greece. It was just an amazing song that gets played in my household and within my family every single year about a million times."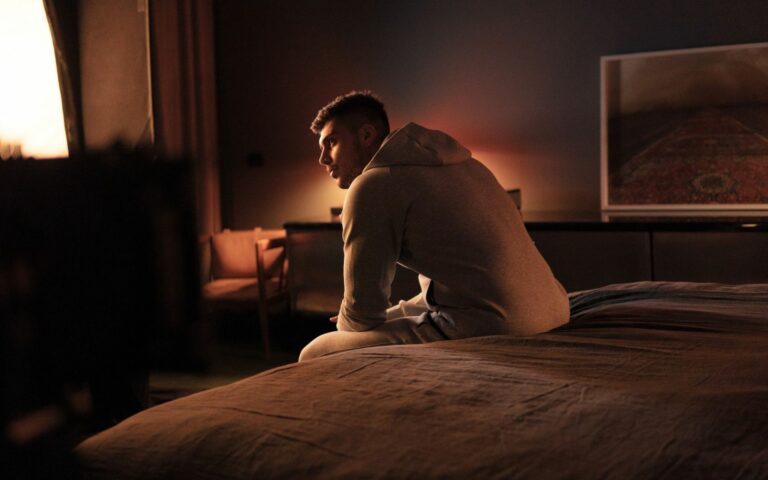 The opportunity to be the Australian representative arose during a conversation with his father, which turned into a conversation with his label.
"My dad had mentioned it to me and I've always spoken about it. I spoke to my label and we were going through certain songs that I've written and what would be the best choice for Eurovision and then we passed it onto the [SBS] team and they really loved it and they wanted to get to know who I was and have chat with me and just like that it happened…Ever since then I've been full steam ahead," he said.
Lambrou and his team set on his newly released bi-lingual song Electrify to use as the contender for the Australian spot. The house-pop banger is reminiscent of the tracks you hear on a night out at a Mediterranean beach bar, and delves into the feeling of having a "superpower" when you have the right person by your side.
"I just love singing in different languages, so I've learned to sing in Greek, Arabic, Serbian and Spanish. I find it amazing listening to the different sounds and stuff that comes out of different countries," he said.
"Electrify was written on a broader aspect. People fall in love, people get married, people just find someone in their life that uplifts them so much and I wanted to write a song that represents that."
There is no doubt that growing up in a Greek Cypriot household influenced the sound for the new track, but music itself was part of Labrou's life from a very young age.
"It's completely shaped who I am. I'm very close to my culture. Especially with music as well. Music is my whole life and I wouldn't be the artist that I am today if it weren't for my culture and my heritage. I've got cousins that sing, I've got uncles that sing. We all jam together. We all learn songs together and it's just this big musical celebration every time the family is together," he said.
"My parents mean everything to me too. I love them so much and I certainly wouldn't be anywhere I am now or will be in the future if it wasn't for mum and dad. They gifted me the opportunity to do what I love. They put me into music school when I was five because they noticed that I loved it. They paid for singing lessons and helped me develop something that I love and a talent they saw when I was young."
Over time Lambrou found himself paving his own way, finding his own sound in the studio at 16, appearing on X-Factor at 17-years-old and finding himself racking up thousands of views for his singing videos online.
"I remember the first time I was ever in the studio and the first time that I was ever writing. You start writing and you think at that time, 'oh, this is great, I really like this song' and now when I listen back to those songs I wrote when I was a kid, I realise I have definitely grown since, especially lyrically," he said.
"Social media is definitely something that I am grateful for. I jumped onto Instagram, which was one of the bigger ones that took off for me back in the day. I was just uploading videos of myself and I remember sharing a 15 second snippet of Stay With Me by Sam Smith. I would have been about 16. My dad would set up the camera for me and we would just film these videos and I woke up one morning, getting ready for school and I saw that all these comments in Spanish."
Lambrou's video had been shared across a Spanish music page, sending hoards of new admirers his way on a regular school morning.
With this he realised an online presence can get your foot in the door in the music industry more than a mixtape falling into the right hands.
"Social media has definitely changed the game for artists. It's the music industry. Just look at Eurovision and the recent winners. Look at Italy last year, look at the Netherlands in 2019. These are songs that went ballistic on online. This is the power that social media has, it spreads things," Mr Lambrou said.
"I wrote my second verse of Electrify in Spanish because Spanish is something that started everything, like when I was getting those comments on my Instagram."
Today Lambrou has a 1.5 million-strong fan base across Tik Tok, Instagram and YouTube collectively.
Beyond the rehearsals, interviews and lead up to the decider, the singer-songwriter hopes that 2022 will open the door to more opportunities that were put on the backburner during the last two years.
"I want to be releasing many songs, I want to do shows, I want to perform and I just want to get my music out there to as many people as I can. That's my biggest goal, I don't know what's ahead.  If I were to win Australia Decides that would change everything…but I'm just going to take each day as it comes," Lambrou concluded.
In the meantime, the singer has his sights set on giving an electrifying performance to win over the Australian public.
You can catch Andrew Lambrou's performance of his new song Electrify during the Eurovision – Australia Decides live TV final, broadcast exclusively on SBS and SBS On Demand on Saturday 26 February, 8:30pm AEDT.