A Greek pantry never runs out of olive oil. But the Melbourne home of Katianna and Yianna Velos has always placed an extra prerequisite for the staple's supply: that it only comes from the family's horafia (χωράφια).
Even though those olive groves are over 9,000 miles away, at a coastal village in Mani, Peloponnese.
"Prior to living overseas, we had never bought olive oil in our lives," Yianna tells Neos Kosmos as Katianna points out the same applies to the extended family.
"Everyone from our cousins in Queensland, to my theia, my yiayia, we all use only oil from our horafia."
The sisters have set out on a new venture since last year to share what they describe as "more than oil" and part of their identity with Australian households.
"We hold this olive oil close to our hearts because our family has been bringing it in for our own use all the way from Mani.
"But now to be able to share this with other people, it's like sharing our family history, our pride of being Greek, our ties with the place we used to holiday when little.
"The olive tree is really the identity of Greece and on a land as distinctly barren as Mani it becomes a symbol of prosperity."
View this post on Instagram
Just before the pandemic hit, Katianna and Yianna had returned home from their overseas studies in law and commerce respectively.
Melbourne's lockdown weeks, which turned into months, would become the ideal setting for launching their brand, a brainchild born out of isolation time spent cooking and baking.
"I started a cooking series on Instagram during the pandemic and it got a bit of a following," Katianna says.
View this post on Instagram
"People started recreating my recipes online and I would stress the importance of good olive oil. So they started asking me 'what kind of olive oil do you use'. 'Actually', I'd go, 'it's the one from my family's groves in Greece'."
Demand for the family's cherished produce started expanding beyond their close network.
"I think the reason why people don't realise how important olive oil is, is when they have only tasted what's sold at the supermarket," says Katianna.
We asked the sisters about key characteristics of high quality olive oil. Here's what they said makes a solid baseline:
Extra virgin
Olives are only pressed once.
"Blends feature inferior quality oils that can create inflammation in the body. Extra virgin olive oil has the opposite effect, it is super healthy, reduces inflammation, has antioxidants and polyphenols which contribute to anti-ageing and longevity."
Cold pressed
Olives are pressed to produce oil without heat or chemicals.
"It [the method] preserves the quality from all antioxidants."
Early harvest
"It's the highest quality olive oil. When you collect the olives before they ripe, you maximise nutrients captured. When not as ripe, you're pressing them and getting a lot less juice from the olive, but that's actually how you maintain all the polyphenols."
"Sometimes you'll look at an olive oil and it's got that golden green color. That's because it's an early harvest."
And their personal preference: Koroneiki variety
"It's those types of olives you'd use for oil not for the olives you eat. They give a really robust, full-bodied flavour to the oil."
A Greek love affair
Asked about distinct memories of their upbringing, the sisters focus on something typically observed at "Greek households: showing someone your love through food".
"Mum was an exceptional cook, and always cared about all the produce we had on our table. Her dad was a fisherman at their village [in Mani] and also imported and sold groceries to the locals," says Yianna.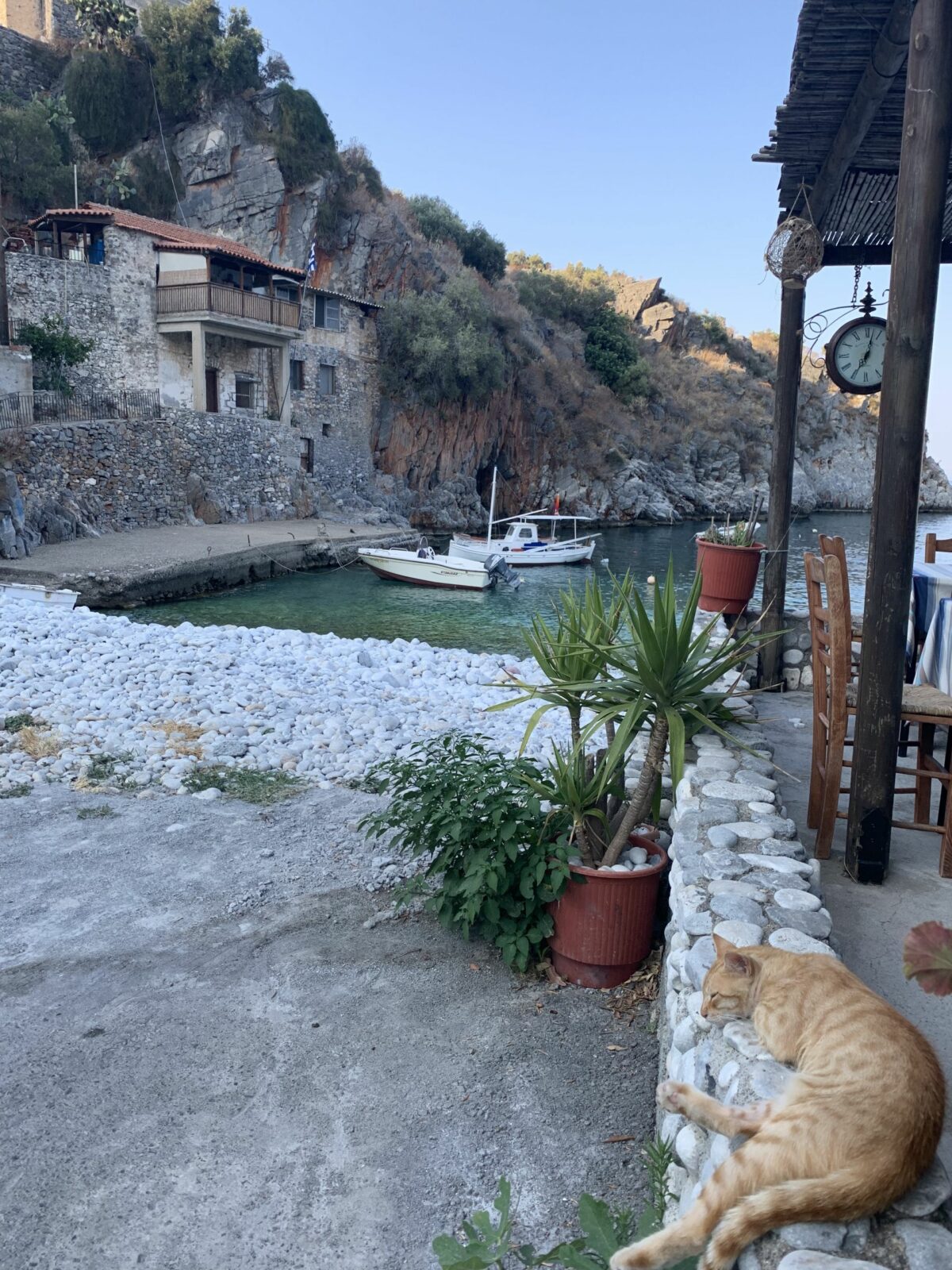 "So in our family, it was second nature that you go to the market to buy local produce. I remember as children during school holidays we'd go to our dad's office to the city and he would take us to Queen Victoria Market.
"Without knowing it, our experience of food was very different to that of our peers. Because our parents would always go that extra mile to get something fresh, organic, wild caught."
Katianna jumps in to describe their favourite meal while growing up with her sister and two brothers: olive oil and bread.
"We would go to our yiayia's house on Friday night and she would say: 'θέλετε λάδι και ψωμί; (do you want olive oil and bread?)'"
With both parents hailing from Mani, the girls describe themselves as "proud Maniatisses"
"Importing the family's olive oil", they acknowledge, "is not really inventing the wheel".
But for them the business venture bears some connection with this bit of identity instilled in them.
"Our theio Yianni is the one who collects the olives at the village and he's just so happy to see us girls carrying this family tradition on" says Katianna.
"The fact that the oil comes all the way from Mani" is on its own important to them, she says, and Yianna explains how this fits in with their business mission.
"When we speak to Greeks in Australia who have no idea where Mani is, we think this is crazy. We want to put Mani on the map for Australian Greeks and the world to know about this place and how magical it is."