In order to understand the challenges people with a disability or dementia face every day and would like to assist them, the first thing you need to do, is step in their shoes.
And that is exactly how Greek Australian interior designer, Ilianna Ginnis, and lecturer in Industrial Design at Monash College, Dr Kanvar Nayer started off the free workshop at the Mpavillion, in order to provide a greater understanding of cognition, and how this has potential for inclusion within our public spaces.
Parents of children with disabilities, people living with disability, people whose grandparents have or had dementia, clinicians, designers, researchers, academics and even non-verbal communicators attended this innovative workshop.
They entered the world of the people living with a disability, by putting on glasses with fogged versions trying to read, and head-sets so their hearing was different, and gloves to test their fine motor skills.
"It was an empathy workshop designed to allow people to grow an understanding of the needs of people with diverse cognition and respect them," Ilianna Ginnis told Neos Kosmos.
The young interior designer, who is also a PhD candidate within the Design Health Collab at Monash University, has dedicated her life to understanding the needs and desires of the disabled, being her sister's primary carer, and having realised early on that public spaces do not consider the needs of the disabled and particularly the non-verbal.
"Within my practice, I have been able to identify that these diverse forms of communication are not considered within our communities. However, within Victoria alone, 1 in 500 people have a communication disability," Ms Ginnis stated during the workshop.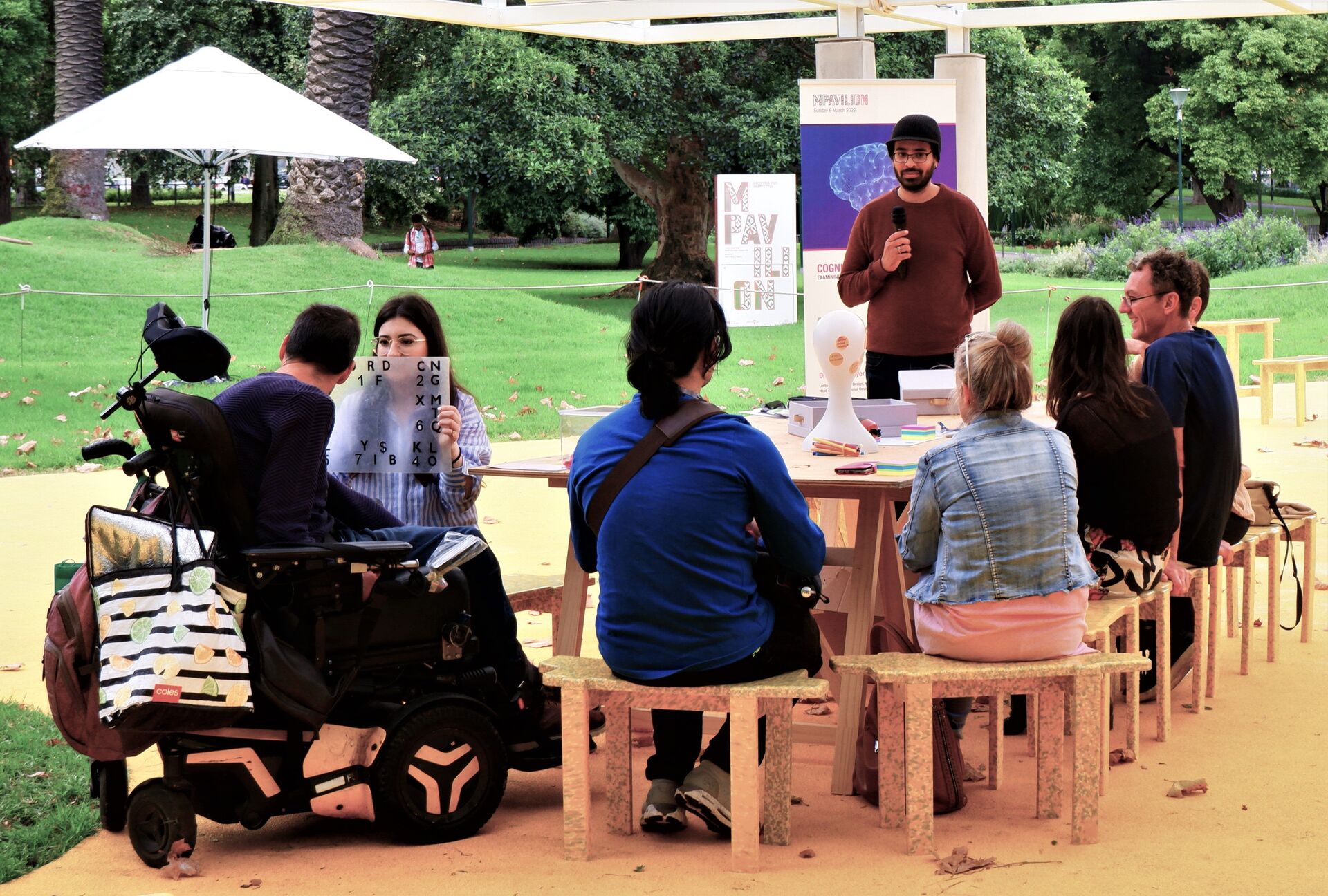 "If the space does not provide access and accommodate for individual needs, the space is held accountable for not allowing inclusion. The same applies to communication, if a space, system, or process has been designed without the consideration of communication access, it limits participation and inclusion. This silences some of the most important voices within our community. My research and advocacy work aims to change this, hold design accountable and give autonomy to the non-verbal communicator."
She stressed how important it is to understand that "just because someone can't speak, doesn't mean they have nothing to say. These individuals have a unique perspective of the world and this needs to be recognised and represented within our community."
Through her work she has found that design has the potential to create rich encounters between neurological diversity, communication access and the environment.
FamilyShare: a system designed for individuals living with dementia
Dr Kanvar Nayer presented to the attendees, a personalised multimedia system, FamilyShare, designed for individuals living with dementia that he created by researching over 200 publications and spending time with psychologists, residents at aged-care facilities, caregivers and family members.
He has spent years developing this tool during his PhD research, to cater for the the specific needs, exploring every aspect in order to build the ideal prototype. From the size and type of touchscreens, the font, the tactile buttons, icons and colours.
Early trials at aged care facilities have proved it to be effective in reducing depression and anxiety among residents, and increasing connectedness and quality of life.
As head of the intergenerational design & research at CollabCare, Dr Nayer research interests lie in improving the quality of life of the geriatric population, their families and caregivers, whilst at the same time he supervises PhD candidates looking into developing guidelines for designers to better communicate with non-verbal individuals with profound intellectual disabilities.
For more information, you may contact, Illianna Ginnis at ginnisilianna@gmail.com and Dr Kanvar Nayer at designbythehill@gmail.com