When Byron Theofanis set up OASIS in the backyard of his brother's Fish and Chips shop on Victoria Street, Brunswick in 1960s' Melbourne, little did he imagine that his Greek pulverised coffee would be such a success more than half a century later.
As his venture took off quickly among the newly arrived Greeks who craved a taste from home, two decades later brothers Dennis and Peter Patisteas, with Paul Theodore would take it a step further anticipating the amazing coffee culture we enjoy today.
The Australian family-owned business, headed now by the next generation Peter Patisteas (son of Dennis and nephew of Peter) and his brother-in-law Chris Togias, is now roasting nearly 50 tons of coffee a month, in its state-of-the art factory in Mulgrave, still keeping the values and consistency of their forerunners.
Much like many children of migrants, Peter Patisteas learned the ropes, working with his father and uncle growing up.
"It was compulsory and tiring", he tells Neos Kosmos "but it created a strong work ethic and also many fond memories of working with them and making great coffee."
"The days were long and physically exhausting."
He remembers sneaking for a nap in the afternoon, on top of a few pallets of green beans, only to be rudely awoken sometime later by his dad shouting his name.
"My father and uncle rarely waxed lyrical, as they were very focused and worked damn hard. I think even today the same values they tried to instill in me, still hold. To be laser focused in your goals and work hard in achieving them, and understanding that there are too many distractions and quick rich schemes to take your mandate away," he adds.
"It is all about the kamaiki"
"Very few things have changed apart from the packaging in the past 50 years", Chris Togias explains.
"We're still importing green beans from the same regions. And from a recipe perspective nothing really has changed."
"What we tend to find is that for our customers, especially those who drink Greek coffee, it is all about the kamaiki."
They both turn to their Greek parents, for feedback, as they won't hold back when the coffee isn't quite up to their high standard.
Patisteas explains that their coffee was put to the test, when, a couple of years ago, they decided to upgrade the grinding systems to automate the process. As soon as production started, they quickly realised that the old, tried and tested method, was still the best. And so they kept the old machines, diverting the new grinding systems to other processes.
"The finer the coffee, the better the kamaki, and that is what separates OASIS from the competitors in the market."
Amazingly, they have customers who will bulk-buy OASIS Greek coffee, when they travel to Greece, as they cannot find, even there, as finely pulverised a coffee.
"For our customers who drink Greek coffee, it is all about the kamaiki," the thick bubbles that give the Greek coffee a lasting rich taste.
"A coffee shared, is a problem halved"
"Covid was tough. I believe during that time, many Australians had a reality call of how important hospitality is and what it contributes to our culture and community, and our general welfare, " Peter says as he stresses how much he enjoys working in the industry.
"It is a great field. It's great and rewarding to see people enjoying our product, and how much pleasure is derived from coffee, regardless of how you take it."
"During the pandemic people drank more coffee than ever, because it brings people together" and it is this aspect that inspired them to create during this time, the Oasis tavli (backgammon) sets.
As online purchases took off during the pandemic, they also noticed that different ethnicities, Anglos, Asians among others, started buying their Greek coffee.
"In some regards, it's a really inexpensive way of making coffee at home as well. You don't need an espresso machine," Chris says. "All you need is a briki and to cultivate the art of making the coffee, which is also quite rewarding." Not to mention the health benefits that are attributed to the Greek coffee, as worldwide studies have gone as far as saying that drinking a cup a day can even increase your lifespan.
With this trend in mind, the directors were motivated to go back to the basics, changing the design on the famous blue package to feature a briki and a classic Greek coffee cup, and taking the opportunity to make the package even more user friendly.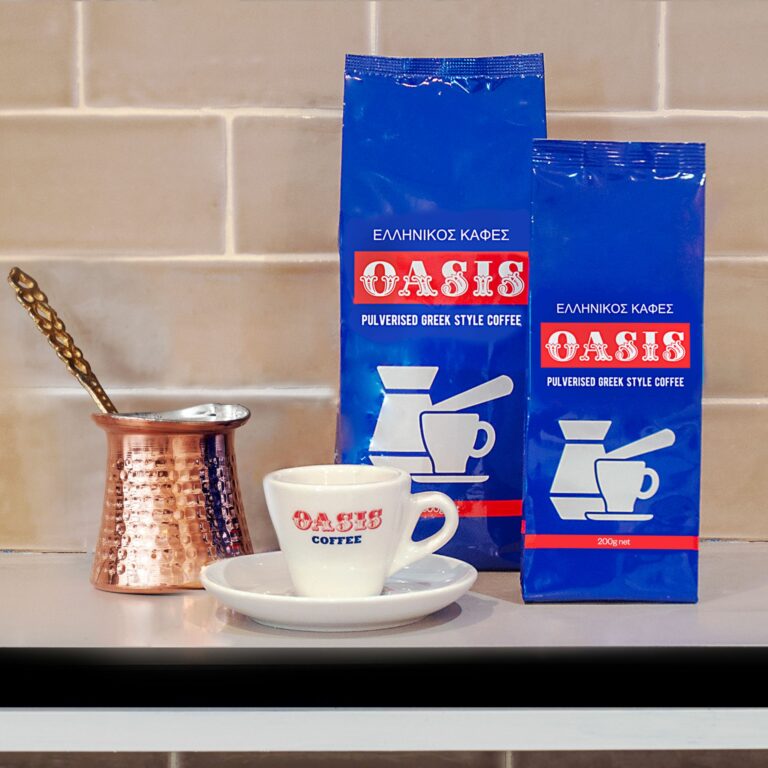 "The refreshed look celebrates OASIS' distinct brand blue and stays true to its time-honoured roots by featuring the iconic briki and coffee cup on the front," Chris Togias says.
"Whilst OASIS coffee was created allowing Australians to enjoy an authentic tasting fresh Greek style coffee at home, we love seeing our pulverised coffee being discovered by "foodies" who are delighting in the experience of brewing a coffee with a briki, and a wave of second and third generations who continue to enjoy the Greek coffee culture."
The blue package of pulverised Greek coffee has the highest loyalty of any coffee on the supermarket shelf. And that is something the owners are extremely proud of.
"We make sure that we push it out as much as we can, and we try to support the local community as well. We can't wait to get back to the Antipodes festival in October," they say as they plan to make their OASIS stand bigger and better than ever, and can't wait for you to stop by to say hello.
The company, from the very beginning held a close connection to the Greek community, regularly sponsoring and supporting events, concerts, fundraisers, which of course they never failed to attend.
Peter Patisteas remembers from his childhood that there were "too many dances and events to count."
"Reflecting on this I am seriously still in awe of their commitment to both work and play, and a deep energy to resource both," he says of his father and uncle.
"They were always impeccably dressed. White shirt, tie and dress shoes. Whether behind the coffee machine, pouring a Greek coffee or on the BBQ, they were impeccably dressed. Both Dennis and Peter are still community focused with active roles in their respective community groups (AHEPA, RSL, Regional Community Groups), and continue to support active change in our communities."