It all started in June 2013, when Jason Sotiris' one-year-old daughter, Angela was diagnosed with a rare disease, multi-system Langerhans Cell Histiocytosis (LCH).
The family was celebrating her first birthday when her health took a downward turn; she kept getting progressively unwell to the point she had to be rushed to hospital two weeks later, fighting for her life.
"It was affecting her entire body. I asked the doctors what were her chances of beating it and I was told 20 per cent. That was a dark day for us," Jason Sotiris tells Neos Kosmos.
"But you know the lengths that a parent can go to for their children. It's a big fight."
It is true what they say, how a parent's love can transform a regular person into a super-human. Jason's story is no different. In those moments of despair, he made his daughter two promises.
"The first one was that the moment we would be able to walk out of the hospital I would take my daughter straight to Disneyland. I didn't care how I would make it happen as I couldn't afford it but I didn't care.
"The second was that I'm going to find a way to keep this invisible monster away," he says.
In three years of treatment, everything one can imagine a patient goes through happened to his little girl. Infections, reinfections, chemotherapy, relapses. It was really hard. The hospital became their first home and their actual home became a holiday destination.
"Cancer affects everyone around it. It was like the entire family had it because we were fighting it together as a family. My wife had to stop working, we were down one income so aside from every other way it hit us, it also affected us financially," he explains. "As a construction worker, I too, was working less, yet, still having to pay for the mortgage and the bills and keep everything together, but for some reason, I found a way."
Throughout the time that Angela was going through treatments, fighting for her life and plugged into so many machines, Jason and his partner could not sleep. He remembers the countless times during the day and night his daughter would reach out for them in despair every time a doctor or nurse came into her room wanting to do test on her, undress her, to change something or attach something.
"I felt bad seeing her trapped in all those wires and tubes and not being able to move her around to change her clothes when I needed to. I wanted to help her without fearing I would accidentally cause her harm or that I would disconnect something vital," he says, before sharing a memory that haunted him, even after her recovery.
"Angela would often throw up after chemo either in her sleep or awake. Often the nurse would be busy and Angela was just sitting there with mess all over her. I had to wait for the nurse to finish and come change her. I could not help my child myself… It affected my mental health. I felt like a useless dad."
Diving back into those memories he explains that his daughter was not the only hero of those stories. He had seen a lot of kids at a young age experience that level of pain and discomfort. He started wondering why no one had come up with a solution so that parents could safely change their children without the help of a nurse.
"A lot of kids either wear hospital gowns or old T-shirts that their parents cut through and throw away but the kids also feel exposed when they are naked underneath and this makes them uncomfortable. Their automatic response for children is to cry during those procedures, as they don't know what's going on. And how do you explain to them the real reason behind their suffering? I wanted to do something about this," he says getting emotional. "And that's when the idea went off. I have to make it myself."
Jason started jotting down ideas about a hospital robe for hospitalised children that would be easy to take on and off without disturbing machines, allowing for gadgets and medical instruments to be used without taking it off. Not having sewn a single button in his entire life, Jason started asking nurses, doctors, children and parents, keeping records of different conditions, potential procedures, necessary tests, how different ages cope. There was a lot of research, a lot of trial, and a lot of error. It took two years.
While Angela was in hospital, Jason and his partner became parents again, welcoming a little boy. His name is Teo and, he spent a lot of time away from his sister. He knew the drill. Whenever he would spot packed luggage by the door he knew his sister was going away.
"One night when I was watching TV –mind you, he's a superhero fan- he comes out of his bedroom dressed as a superhero, looking dead serious," Jason tells Neos Kosmos.
"As a joke I asked him: 'What are we doing today? Who are we saving?' He said, 'Angela'. Even at that age, he felt it. Because he had the costume on he believed he could save her."And I never forgot that. From that moment I started thinking… maybe it shouldn't be a gown. Maybe it should be a costume!"
Jason went as far as to look into studies where people and children put in costumes, especially superhero costumes experienced significant changes in mood, behaviour and overall psychology.
"What we wear affects how we feel. People don't want to look sick even if they are healthy. Psychology affects how we feel about ourselves. When we feel good about how we present our mood lifts and our energy changes.
"I saw that it creates a psychological dissonance between their situation and what they have to do, a certain task or procedure. The ones in superhero or hero character costumes performed better and without fear," Jason explains. "I said to myself, this is it."
After nearly three years Angela had her final scans and the parents were told that there was no evidence of disease. Upon receiving the news they booked their tickets for Disneyland, Paris to celebrate. In June 2018, after many trials, Jason walked back into the hospital on his daughter's birthday, holding her hand in one hand and a SuperTee in the other.
"When we launched, we gave the first hundred out to the hospital that saved my little girl," Jason reminisces. "And now we are nationwide! We supply to hospitals everywhere in Australia. From very sick kids, to victims of physical or sexual abuse. Kids that are going through things and have to spend hours in a hospital bed. Now we have nearly 640 parents looking after very sick kids and they all want to keep supporting SuperTee."
From launching SuperTee in 2018 together with his friend Yusuf Muklis, it took another two years to establish the brand's charity status in 2020. Once the product was finalised, SuperTee won the Australian Good Design Award for Social Impact. As the initiative gained publicity Marvel and Disney came on board, allowing Jason to use some of their heroes and designs and more than 13,000 SuperTees have made their way to hospitals around Australia turning brave kids into superheroes.
Last week, another success brought the brand to the forefront. Famous actor Chris Hemsworth published a video with his Avengers co-star Brie Larson, throwing their support behind the project (watch video below).
"I could not believe it! We are so excited to have stars like Chris Hemsworth and Brie Larson promote the tee and we can only imagine how excited all those kids in hospital will be once they get to become Avengers themselves. We have added the video in the packaging of the SuperTee, so when the kids get their present they get to watch Chris and Brie's video. It means the world to us to have them show their support like this," he says.
As much as publicity helps SuperTee gain momentum, Jason says that donations is what helps the project move forward, reach more hospitals, more children, and make the lives of those mini-heros and their carer's easier.
"Everybody wants to get presents – we want to create a superhero experience for the kids and make them believe – help them believe that they can accomplish do anything," he enthuses.
"I want to always have them available for any kid that needs them because someone out there has helped get it to them for free," Jason stresses. "Someone believes in you and here's your costume."
"I want parents and children to have access to the SuperTee for free but this dream doesn't come without its challenges. I'm a construction worker and this project is expensive. SuperTees don't make themselves, so we rely on donations."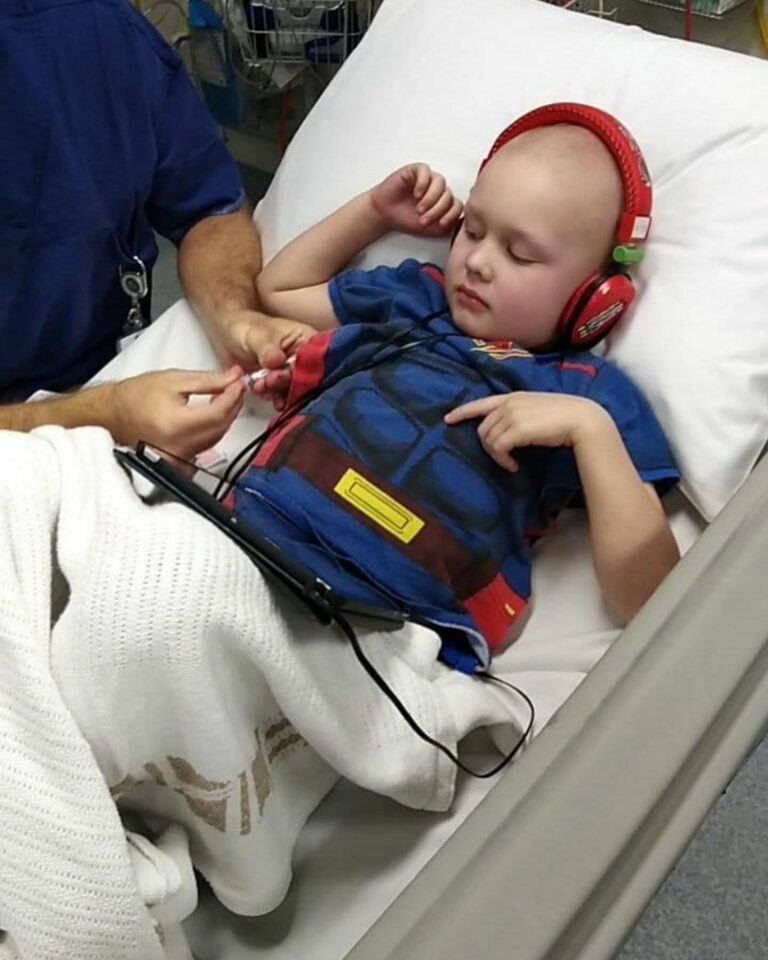 As more parents and hospital staff find out about SuperTee, demand grows, to the point the team cannot keep up. However, Jason is still setting goals to reach as many children as possible.
"I'm very proud of how far we've come. My dream would be to introduce it to Greece one day," he says. "Down the track we hope to be able to make this an international project, a gift available for every child in need around the world. And, who knows? Why not adults, too? Strength through imagination. That's what we want to offer."
Watch the video with Chris Hemsworth and Brie Larson below:
For more information visit www.supertee.org.au