Nick Kyrgios  defeated Stefanos Tsitsipas in a dramatic third-round encounter, 6-7(2), 6-4, 6-3, 7-6(7) advancing to the last 16.
This is the fourth time Tsitsipas has been defeated by Kyrgios in as many tour outings.
The Greek Australian is known for his antics, however, in his match with Tsitsipas the stormy moments ramped up. This came right after Kyrgios was fined $10,000 for spitting towards a fan in a previous match.
It all started with the "King" falling awkwardly in the opening game of the fourth set and staying down clutching his right hip.
Contrary to how the BBC tennis commentators reported on the game, and what  expected of Kyrgios behaviour, the World No.5 Tsitsipas has his own volatile behaviour.
Kyrgios nearly pulled-off a sit-down protest after Tsitsipas only received a code violation for back-handing a ball in frustration into the stands hitting a member of the audience in the head, after losing the second set on Court One.
"You can't hit a ball into a crowd and hit someone and not be defaulted," Kyrgios yelled at chair umpire Damien Dumusois over and over, while pointing out to the Frenchman that Novak Djokovic was booted out of the 2020 US Open for striking a lineswoman with a ball.
"I would like to speak to a supervisor. I'm not playing until I speak to a supervisor. Bring out more supervisors. I'm not done. Bring them all out," he said only to be shut down by Grand slam supervisor Andreas Egli.
Tsitsipas, who had Australia's former finalist Mark Philippoussis in his courtside box, complained to Dumusois that "this isn't tennis" and copped a point penalty for smacking a return off a Kyrgios under-arm serve deliberately into the scoreboard. He apologised for losing control but he didn't show the same behaviour during the post match handshake.
The handshake itself, was the most popular moment of the blockbuster tennis match, mainly because it didn't make it on the screen.
Watching how players interact at the net after a fiery match is one of the highlights of tennis tournaments, something that BBC received some serious backlash for.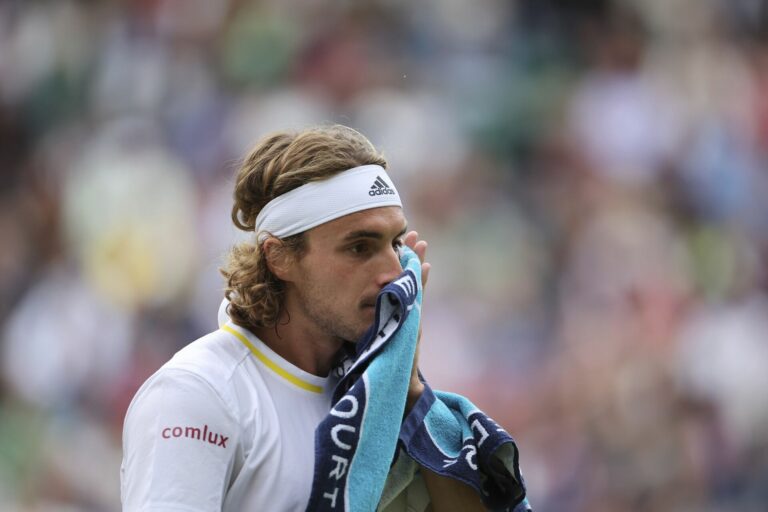 Apparently, Tsitsipas was arrogantly dismissive and barely shook Kyrgios' hand, not saying a word. The moment was cut off and BBC only posted the snippet on social media after fans around the world asked for the handshake to be shared.
Editor Lewis Steele slammed the British public broadcaster for its "horrific anti-Kyrgios bias in commentary" with "no alternate views offered" saying that the "BBC commentary of Kyrgios-Tsitsipas is embarrassing".
Commentator Daniel McDonnell also added: "This BBC commentary team's sniffy attitude towards Nick Kyrgios is definitely strengthening my view that we need more of Kyrgios and less of everybody else."
Kyrgios on the other hand appeared to be respectful of Tsitsipas on BBC saying that "He's [Tsitsipas] a hell of a player and it was a hell of a match. I'm just super happy to be through. He was getting frustrated at times — it's a frustrating sport. You all think you can play, but it's very frustrating.
"I've got ultimate respect for him. Whatever happens on the sport, I love him and I'm close to his brother so …"
The Greek, did not share the same sentiment telling reporters the Aussie "is a bully".
"It's constant bullying, that's what he does. He bullies the opponents. He was probably a bully at school himself. I don't like bullies. I don't like people that put other people down. He has some good traits in his character, as well. But he also has a very evil side to him."
However, it was only after he saw Tsitsipas' comments on the game that Kyrgios' feelings changed.
"I can officially say I have never given a handshake like that in my life," Kyrgios said in his post-match press conference.
"Every time I've lost, when I defaulted against (Casper) Ruud, I looked people in the eye and I say, 'Well done today, you were the better man', and he wasn't man enough to do that today."
"I just think he's making that match about me, like he's got some serious issues, like serious. I'm good in the locker room. I've got many friends, just to let you know. I'm actually one of the most liked. I'm set. He's not liked. Let's just put that there," he said, alluding that Tsitsipas is only saying that because he keeps losing to Kyrgios.
A quarter-finalist on debut as a teenager in 2014, the 27-year-old will play unseeded American Brandon Nakashima on Monday. Should Kyrgios win, he could meet Alex de Minaur in an all-Australian quarter-final — potentially for the right to take on Rafael Nadal in the semis.