After 26,400 kilometers and four continents crossed in more than two years, Marie Leautey has reached her goal.
In Sydney, on Tuesday 30 August, this 45-year-old ultra-athlete will win two World Records.
For most people, running a marathon is a lifetime achievement. But for French Marie Leautey that's just a warmup.
Marie is from France but has been living in Greece for many years and that's where I met her when we used to participate in various sports events around Athens as well as the classic Athens marathon back in 2004.
It turned out that running was not just a past time hobby for Marie, as for most of us, but developed into a way of life. Over the years, Marie participated as well as organised many sports events, including six ironman competitions. Her evolution into a long-distance ultra-athlete combined with her love for travel gave her the idea to run around the globe with the aim to become the fastest woman to circumnavigate the world.
Marie Leautey also known as "Lootie" is now on the last leg of her long journey of almost 30,000 kilometers. After Europe, North and South America, Oceania is her last continent as she will end her epic journey at the iconic Sydney Opera House on Tuesday 30 August.
At midday on Thursday 4 August, Marie arrived in the City of Melbourne where she was met by Lord Mayor Sally Capp and the Honorary Consul of France in Melbourne, Myriam Boisbouvier-Wylie. The welcoming committee also included the students of Caulfield Junior College and the famous Australian long-distance runner Pat Farmer who accompanied her in the last kilometers into the city. After three days in Melbourne, "Lootie" was on the road again, running from Melbourne to Sydney, her final destination.
From Europe to America
Marie's epic journey began on 6 December, 2019 from Cap Roca in Portugal without any suspicion that the global pandemic would be upon her just three months later.
"I was crossing Italy at the time and Italy was the first country in the world to declare a national lockdown. So I was immobilized for four months, I couldn't go anywhere because all of Europe was in lockdown," she remembers.
"I worked as a volunteer and delivered food to people who were in isolation running from house to house so I could continue my training while the borders were closed."
Despite the adversities, the crossing of Europe was completed in June 2021 in Turkey (15,450 km). She continued her journey in the United States, from Seattle to New York and then found herself in the mountains of Chile, in the Andes Cordillera.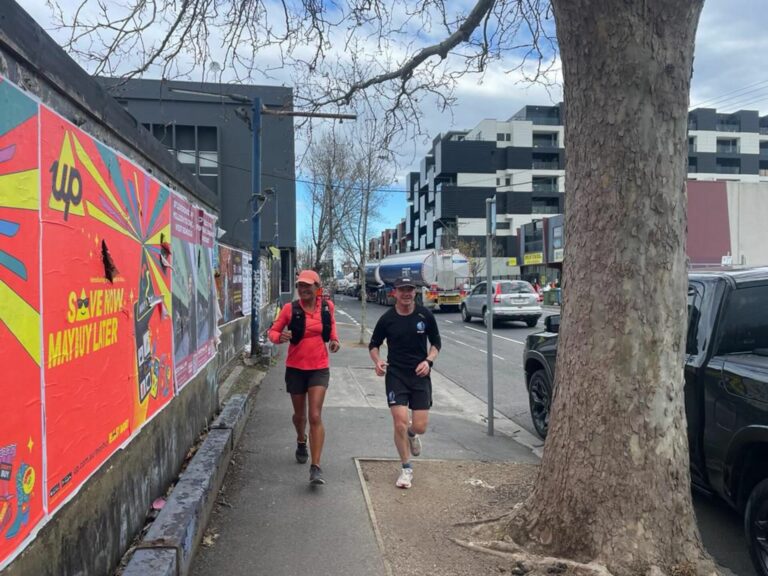 "I remember climbing a 4,000m mountain between Argentina and Chile. I was at sea a few days before and I saw their highest peak, Aconcagua, a few days later. "It was spectacular, that's why I'm doing this world tour," she describes passionately.
"Usually when I finish a continent I am often greeted by the French consulate or embassy. In Buenos Aires, there were children who came to accompany me to complete my last kilometers and it was amazing. It's a solo journey but when I meet people I come back to reality and rejoice in the feat achieved."
When asked why Asia or Africa are not on her itinerary, she replies: "I made a simple itinerary for a single woman. I couldn't see myself going from a country at war or a country that has special restrictions for women." To transport her things, Marie pushed a 29kg pram throughout her trip to the Andes. "It wasn't heavy," she says after training with it for over two years "I got used to it."
However, for crossing the Andes and for Australia, she needed support, which she found from a good friend and cyclist who accompanied her on the rest of the journey with a motorhome. Does this globetrotter feel like a wonder woman? Not really.
"I am aware that I am experiencing something unusual, but on a daily basis, it does not seem extraordinary, even if it is a unique experience. I think that many of us can make such a journey. But surely few of us want it the way I want it. To have this desire to be in this journey is what drives me", she confides. So every morning, for 780 days, she gets up with a smile.
Ready to run a marathon again, with a constantly renewed curiosity. Marie is running at a bearable pace, no matter the circumstances:
One marathon a day, six days a week, at an average speed of 9.2km/h.
So far, Marie has completed: crossing Europe (15,420 km) on 24 June, 2021, crossing North America (5,383 km) on 24 November, 2021 and crossing South America (3,002 km) on 10 March, 2022. Now she is covering the last kilometers from Melbourne to Sydney (4,550km) with the goal of completing the world run on 30 August at 12.30pm on the steps of the iconic Sydney Opera House.
Running for a good cause
Marie's adventure is 100 per cent self-financed but she dedicates her achievement to the NGO 'Women for Women International' which supports women's causes around the world. "When I started the world tour on December 6, 2019, I announced that I would run 26,232 kilometers on 4 continents. I also promised to raise $1 per kilometer for the NGO 'Women for Women International' who have made me an ambassador for their cause. I'm appealing to everyone who reads my blog posts and wants to support me in any way: please help me fulfill my promise and raise the amount of money I've pledged."
The unexpected is part of the trip…
Of course, she had more complicated days than others. Sometimes with adverse weather. At most, 40 degrees in Greece last August. At least, -10°C under the snow in Belgium in January 2021. The climatic changes and various hazards are part of her trip. Among the many stories, she recalls this day when, in the depths of Montana, she had entered a "private property" without knowing, in other words 'trespassing'. In this state, the law is clear.
If I "stumble" I can be shot at with live ammunition, without justifying self-defense. And there I was face to face with a furious little gentleman, a gun in each hand. He turns to me, very agitated and threatening. When I realise my mistake, I turn 180 degrees.
Then, hands in the air, pushing the stroller with my hips, I run as fast as I have ever run, shouting: "I'm sorry I didn't know!".
That day, I was very scared! "says Lootie.
This episode will remain, we hope, the only bad encounter of his incredible epic.
Two upcoming world records:
– Fastest woman running around the world (698 marathons in 825 days)
– 1st woman to run across four continents (from ocean to ocean)
Circumnavigating the world on foot (running) is a regulated discipline whose records are verified and ratified by the World Runners Association (WRA). To date only 1 woman and 5 men have achieved the feat. Lootey will become the second woman and 7th person to join this very exclusive club.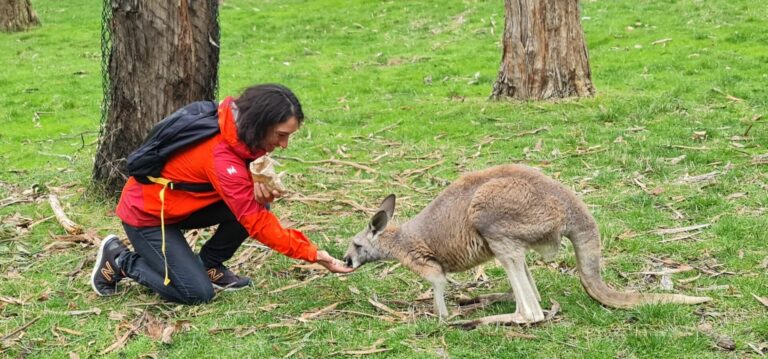 Australia was the biggest challenge
In Europe Marie crossed the Pyrenees, the Alps, the Ardennes, the Apennines and the Dinaric Alps. In North America she ran across the Rockies and the Appalachians.
Then the Andes in South America, where she climbed up to 4,000m to cross the border between Chile and Argentina. However it was in Australia and the crossing of the Nullarbor desert (over 1,200 km) that presented her with the biggest challenge.
Marie's world run goes beyond a sporting feat though. It is also a modern epic adventure, an inspiring human story across continents, peoples and cultures at a time in history where, for most of us, the world had stopped turning.
What's next?
Once the world tour is confirmed, 'Lootie' wants to write a book chronicling the epic journey: "'I wanted to do this journey when I read the works of my six predecessors. I want to convey this passion. In my journey there is something new every day. It gives an intensity to life that will inevitably be lost when it ends. Writing can help me turn the page." On 11th September she will return to her home town of Rouen where she is inviting people to join her for a run to celebrate her achievement.
Donations and information about Marie's fundraiser for the NGO "Women for Women International" can be found here: www.justgiving.com/fundraising/lootie-run
To follow Marie's journey you can see her blog which she updates daily after her run: lootie-run.com